Why Spec With TimberTech?
Architecture succeeds when function and art perfectly meet. TimberTech achieves just that,
offering premium performance against wood without sacrificing design and aesthetics.
TimberTech Advantages Over Wood
SUPERIOR PERFORMANCE
Masterfully engineered in the U.S. and backed by industry-leading 25-50 year warranties, …TimberTech offers unrivaled performance against wood. Our capped polymer and composite boards withstand the elements, and even in extreme heat or cold, will not crack, rot, or peel.
In addition, TimberTech will not splinter or scratch and is both fade and stain resistant, making it a better choice than wood for locations that are high-traffic, or require safety and durability, such as residential, restaurant and hotel projects.
LOW MAINTENANCE
TimberTech is extremely low-maintenance and will stay just as beautiful as the day it was installed …without the need to strip, sand, stain, paint or refinish. It's worry-free from the start and made to last.
IMMEDIATE BENEFIT
In contrast to a new wood deck, which typically requires a 6-12 month wait time after installation …before staining and finishing, TimberTech is ready to use immediately and looks "finished" from the moment it's installed.
TimberTech Advantages Over Other Composite Brands
PREMIUM AESTHETICS
Whereas many other leading composite brands appear fake or like plastic, TimberTech …materials look just like real wood. With sophisticated wood grain patterns, superior color blending and cascading technology, TimberTech can be substituted for premium hardwoods in any outdoor application.
TECHNICAL ADVANTAGES
Our proprietary TimberTech AZEK premium capped polymer boards are made from the most advanced …synthetic material — without the use of wood particles — offering unbeatable resistance to mold, mildew and moisture damage as well as unique properties not found in traditional composite boards.

TimberTech AZEK premium capped polymer boards are preferred for fire-zones due to WUI compliance and a Class-A Flame spread rating. Plus, they are 30% cooler to the touch, 40% more slip-resistant and up to 30% lighter than competitive decking products. They can also be installed using familiar techniques such as top-down fastening, providing a seamless visual look while potentially cutting labor time and installation costs.
BEST DESIGN FLEXIBILITY
TimberTech offers the broadest range of natural wood finishes and is the only brand to offer multi-width… options for maximum design flexibility. Our products can be configured for decking as well as porches, cladding and privacy screens. TimberTech AZEK capped polymer boards are also bendable to create curved decks for a one-of-a-kind look.
Sustainability Is at Our Core – Literally
Our products align with our core value: Always do the right thing. That means doing right by our customers and the planet. In fact, more than one-million trees and counting have been saved because our customers choose TimberTech decking over wood.

TimberTech decking is made with a majority of recycled materials, including recycled wood and plastics. We use more than 180-million pounds of recycled material every year.

Plus, our products are sustainably manufactured with hundreds of gallons of recycled water. In 2021 alone, we diverted approximately 500-million pounds of recycled waste and scrap from landfills.
View Completed TimberTech Projects
COLORS FOUND IN NATURE

New to the TimberTech AZEK Landmark Collection, French White Oak® is a unique, light-tone board with subtly blended shades of natural oak, warm gray and tannin featuring a crosscut texture and sophisticated matte finish that looks just like a traditional wood deck.

RUSTIC AND RECLAIMED

Our Reserve Colletion features distressed and weathered finishes that offer the texture and character of wood versus less realistic looking boards with repeating monochromatic patterns.

COASTAL / BEACHFRONT

Coastline decking is perfect for a coastal vibe as it looks very similar to weathered wood that you typically see along beachfront boardwalks and decks.

EARTHY, COOL, WEST COAST VIBES

Our Mahogany decking looks extremely similar to real Mahogany wood and IPE Brazilian hardwood which is popular on the west coast. Even the best hardwoods don't compare with the enduring character of TimberTech AZEK Vintage decking. See why.

PACIFIC NORTHWEST, RUGGED, NATURAL

Dark Roast decking offers a rich wood tone that is popular among this style home. It's inspired by rustic, reclaimed wood, so it will blend in well with natural wooded surroundings.
Educational Resources
AIA CEU OPPORTUNITIES OFFERED BY
TIMBERTECH / AZEK EXTERIORS
COURSE: CREATE BEAUTIFUL SPACES & PREVENT DEFORESTATION
This course examines capped composite and capped polymer building
products as superior wood alternatives. Participants will also learn
how engineered products combat deforestation, along with other
environmental and design benefits.
BIM LIBRARY
Access our products' Revit families, download technical documents,
and compare similar products side by side.
SWATCHBOX SAMPLES
Explore the materials and product lines that align with your project,
filter them by color, and order samples to experience the TimberTech
difference.
TECHNICAL RESOURCES
Get insight on product specifications and usage guidelines – plus
everything else needed to design your project.
Get Started with TimberTech Today
TimberTech Product Line Overview
OUR PREMIER
LINE OF DECKING
Best-in-class capped polymer. Defined by sophisticated, real-wood aesthetics that stay cooler on hot days. Ideal for everyday decks, pool surrounds, waterfront retreats, and rooftop escapes.
Backed by a 50-Year Fade & Stain Warranty and Lifetime Limited Product Warranty.
SURPASSES LEADING COMPETITORS' TOP-TIER PRODUCTS
Premium 4-sided capped composite that leaves the competition behind. Strong, reliable, and engineered to endure. Perfect for everyday decks.

Backed by a 30-Year Fade & Stain Warranty and 30-Year Limited Product Warranty.
A HIGH-VALUE, LOW-MAINTENANCE SOLUTION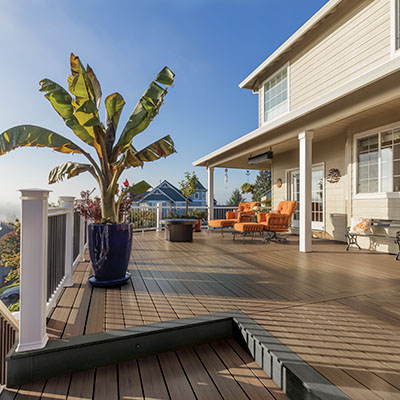 3-sided capped composite. The natural first step for the discerning deck owner ready to ditch wood decking for good.

Backed by a 25-year Fade & Stain Warranty and 25-Year Limited Product Warranty.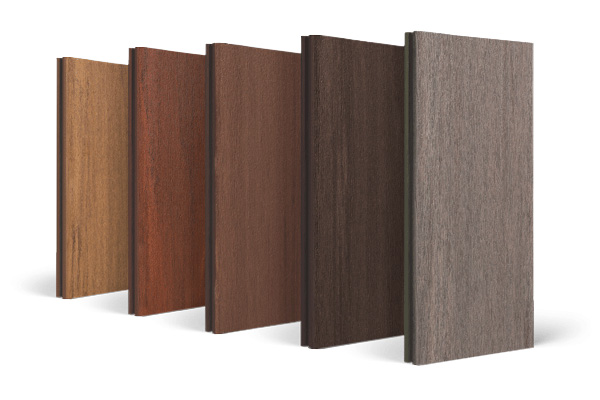 Request Your Free Samples
---
Order your free individual samples to see a wide variety of colors and styles. Our samples are sent immediately and free of charge.
The AZEK Family of Brands
TimberTech is the game-changing decking solution for outdoor living spaces, offering the beauty of real wood and engineered for superior performance. Made in the USA, and backed by the industry's best warranties, our high-design, low-maintenance decking is made from up to 85% recycled materials and will look good for decades with little to no upkeep.
Trusted for its durability, flexibility, and superior quality, AZEK Exteriors is a leading manufacturer of premium, low-maintenance exterior building products made from recycled content. AZEK Exteriors Trim, Moulding, Siding, Shingle and Cladding lines are esteemed by designers, builders and architects nationwide for their clean aesthetics and best-in-class performance.
We manufacture our adjustable Louvered Pergolas right here in the USA. Our structures are engineered from recycled aluminum and stainless-steel components, providing homeowners a low-maintenance product they can enjoy for years.