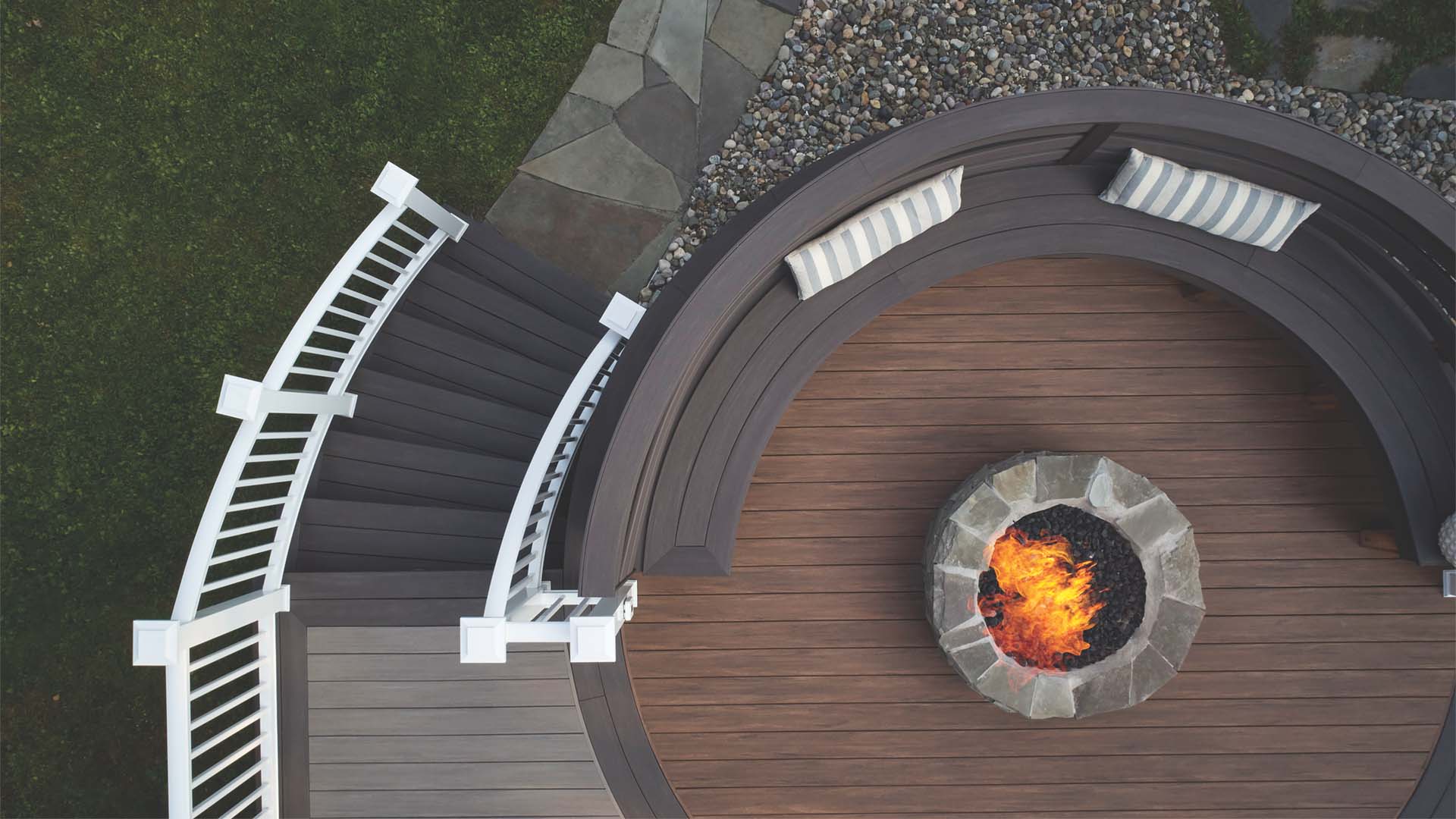 Engineered for superior aesthetics & performance
Using proprietary advanced technology, we engineer long-lasting, sustainable PVC and composite decking products that offer realistic wood looks and unparalleled performance compared to anything else on the market.
What Our Technology Means for You
We're revolutionizing outdoor living with products that capture the look of real wood without any of the drawbacks.
Realistic aesthetics
Our cutting-edge tech means you won't have to sacrifice beauty when you choose TimberTech Advanced PVC or composite materials. Our proprietary color-cascading technology delivers the most realistic wood look with natural color blending. The subtle nuances of our multi-tonal options and wood grain patterns are just like you see in nature.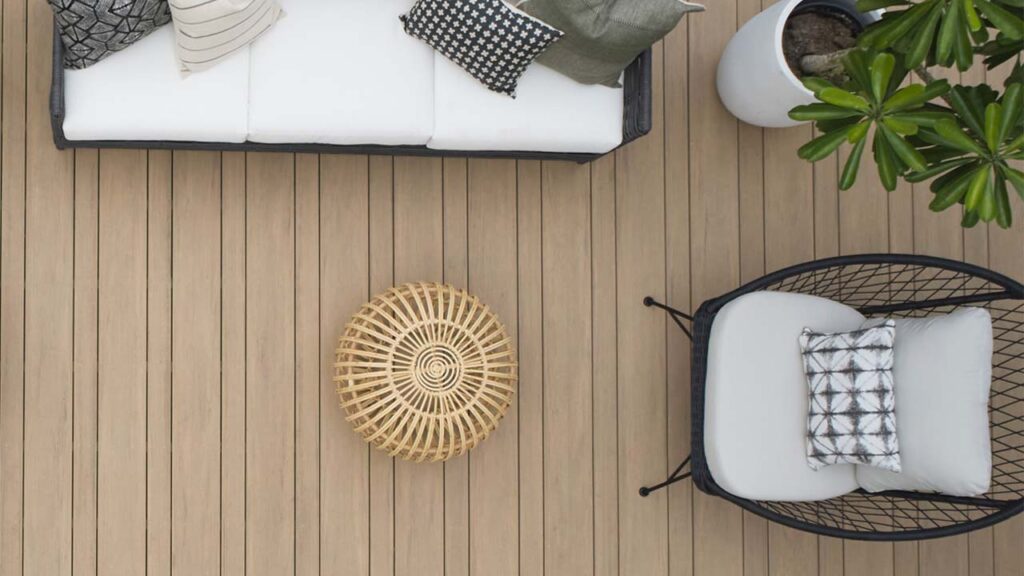 Easy maintenance
With TimberTech, you get the full aesthetic experience of wood without the strenuous, costly, and constant upkeep required of lumber. Our one-of-a-kind capped polymer material and protective cap technology offer unbeatable protection from the elements to safeguard your deck boards from mold, mildew, and moisture damage. Enjoy lasting, beautiful decking, all backed by industry-leading warranties.
Superior durability
With TimberTech decking, you won't have to worry about the kids scratching up your deck, or the sun and weather fading the color. Our boards are engineered to resist stains, scratches, and fading. Plus, our TimberTech Advanced PVC boards stay up to 30 degrees cooler* than competitive composite products, so they're friendlier to bare feet.
An easy install
From color-matched fasteners to hidden stainless steel clips, TimberTech offers a wide variety of fastening systems that secure your deck safely and stylishly for years to come. And our TimberTech Advanced PVC boards are 30 percent lighter than the competition's composite decking, which lightens the load.
A sustainable choice
TimberTech material scientists are constantly innovating to increase the sustainability of our products, and our rigorous Research & Design process ensures we thoughtfully grow our use of recycled materials without compromising performance. Products undergo more than 260 distinct tests, including accelerated weathering, to guarantee superior performance and longevity.
TimberTech Advanced PVC decking contains about 60% recycled content – the highest percentage of recycled PVC content on the market today – and our Composite decking contains approximately 85% recycled content. Because our largest raw material is recycled scrap and waste like wood dust, PVC pipes, plastic shopping bags, and other landfill-bound plastic waste, TimberTech decking has a lower lifecycle impact on the environment than traditional wood decking.
500M
POUNDS OF WASTE DIVERTED FROM LANDFILLS
99%
AMOUNT OF INTERNAL SCRAP USED
96%
WATER RECYCLED IN OUR CLOSED-LOOP PRODUCTION FACILITIES
Leading the way in innovation
We invest heavily in our technology, people, and facilities to make sure we deliver the best products.
Top-of-the-line capping technology
The TimberTech technology advantage starts with our approach to caps. We use proprietary capping technology to create 100% synthetic caps with no wood fillers in both our TimberTech Advanced PVC and Composite decking lines.
Investing in our facilities
Our facilities leverage sophisticated quality-management practices, including real-time monitoring and laser dimensional controls. This allows us to product consistently high-quality decking that looks like premium hardwoods.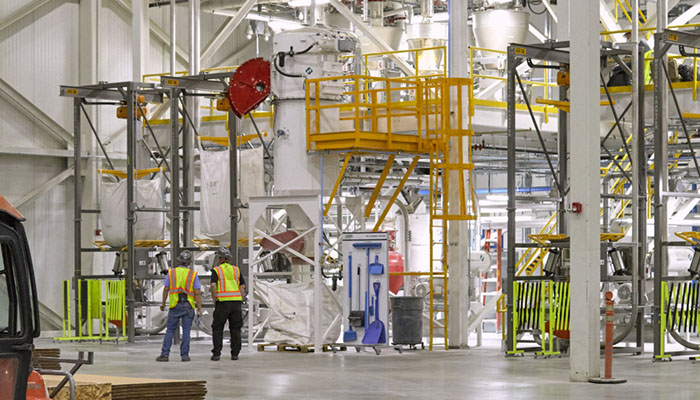 Hiring the best people
To have the most innovative products in any industry, you need to have the most innovative people. At TimberTech, we hire the best and brightest to make our products—including teams of engineers with Six Sigma Black Belt certifications.
Rigorous testing
We perform internal field testing to ensure every product meets our quality standards. From our smallest fasteners to our largest deck boards, every product undergoes stringent evaluations before making its way to your deck.
EXPLORE OUR HIGH-PERFORMANCE DECKING
Choose from two performance materials and get realistic wood aesthetics without the maintenance.
ADVANCED PVC DECKING
TimberTech Advanced PVC Decking delivers our most realistic wood looks with the highest performance to anything else on the market. Plus, you'll enjoy design versatility with Multiwidth Decking available for certain collections.
---