Why TimberTech?
High-quality products. Best in class service. Full support to grow your business. That's what you get working with TimberTech.
INSPIRING DESIGN MEETS INNOVATION
TimberTech decking looks the most like real wood, is engineered for superior performance, and meets …the most demanding customer criteria. Plus, you can select from a wide range of colors, natural textures, product specifications, and price points to meet the needs of any job. Click here to see our full product portfolio
INDUSTRY-LEADING WARRANTIES
TimberTech offers the most competitive warranties in the industry, with a Lifetime Limited Product Warranty, …plus a 50-Year Fade & Stain Warranty on our premium TimberTech AZEK line of capped polymer decking. TimberTech PRO and TimberTech EDGE capped composite lines offer 30-year and 25-year warranties, respectively. Worry-free, TimberTech is extremely low-maintenance compared to wood — so no more repeat visits to fix or replace materials. It will stay just as beautiful as the day it was installed without the need to strip, sand, stain, paint or refinish, and cleans easily with soap and water or our TimberTech Deck Cleaner.
UNMATCHED CUSTOMER SUPPORT
We are dedicated to offering the best service and support in the industry. Our team provides …on-demand service to ensure your project goes as smoothly as possible — from extensive product and installation training to the TimberTech digital deck design tool, we've got you covered.
EXTENSIVE PRODUCT DISTRIBUTION NETWORK
TimberTech decking, railing and accessories are sold through an extensive network of dealers …and retailers so that we can confidently fulfill product to meet the demands of any job. Our dealers are serviced by multiple distributors with back-up stock and supported externally by an extensive regional sales team. Our products are made in the USA, so we are able to maintain strong in-stock position. Also, our devoted customer service team is on call to ensure you get the materials you need as quickly as possible. Find a Dealer in Your Area
When you join the Contractor Program, you earn money back for every dollar you spend. You can begin earning funds immediately upon joining the TimberTech Contractor Loyalty Program.
---
EARN MONEY BACK
Get money back for EVERY dollar you spend on TimberTech and AZEK products. No minimum threshold required.
ACQUIRE NEW CUSTOMERS
Get priority access to homeowner leads who are actively looking to build a TimberTech deck.
NETWORK WITH OTHER PROS
Attend special roundtable events and tradeshows. Meet other contractors who know and love TimberTech.
LABOR WARRANTY
You and your customers can take advantage of our best-in-class labor warranties. Learn more about our product and Fade & Stain Warranties here.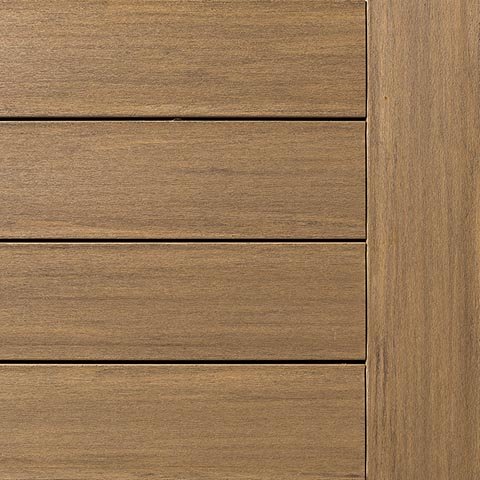 Request Your Free Samples
---
Order your free individual samples for any client or project. Our samples are sent immediately and free of charge.
Why Contractors Like You Choose TimberTech
Jeremy

"I like working with TimberTech decking because it is very easy to cut, yet super durable.  I really enjoy working with TimberTech for bending, the composition of the boards make it superior for our curved details. The AZEK PVC line, is by far the easiest to bend. The quality of it makes it effortless to build very intricate custom details."

Thacher

"TimberTech decking is really great to work with. It doesn't dull your saw blades and it's really easy to bend. I really like how well the plugs blend in and finish off seamlessly. They also have really nice colors, which lets you match it to anything."

Trent

"I love TimbertTech because it's easy to  work with and is definitely in my opinion the best product on the market. The hand rails are great looking, and fast and easy to assemble."

Nick

"I love Timbertech decking because the homeowner focused experience. We can provide a look and a style for every taste and budget. Pair that with a top tier performing deck board, great support from a company that cares and a product that's readily available! Timbertech sets us up for success from day one."

Black Tie Group

"We like working with TimberTech and AZEK products because they yield the best results, period. The product installs well and looks amazing. The end result is a gorgeous product for the client. The realistic patterns and colors are unmatched and continue to set the industry standard. We have been strictly AZEK/TimberTech for the past 2.5 years and we wouldn't change a thing."
Connect With a Representative
Speak to a representative to learn more about partnering with TimberTech and the value we can bring to your business.
Create An Account
Want access to our library of product information? Create an account on AzekNow where you can sign up for our Rewards Program, download product catalogs, and purchase product displays or promotional items. Already a TimberTech Pro? Log in here.
View Completed TimberTech Projects
COLORS FOUND IN NATURE

New to the TimberTech AZEK Landmark Collection, French White Oak® is a unique, light-tone board with subtly blended shades of natural oak, warm gray and tannin featuring a crosscut texture and sophisticated matte finish that looks just like a traditional wood deck.

RUSTIC AND RECLAIMED

Our Reserve Colletion features distressed and weathered finishes that offer the texture and character of wood versus less realistic looking boards with repeating monochromatic patterns.

COASTAL / BEACHFRONT

Coastline decking is perfect for a coastal vibe as it looks very similar to weathered wood that you typically see along beachfront boardwalks and decks.

EARTHY, COOL, WEST COAST VIBES

Our Mahogany decking looks extremely similar to real Mahogany wood and IPE Brazilian hardwood which is popular on the west coast. Even the best hardwoods don't compare with the enduring character of TimberTech AZEK Vintage decking. See why.

PACIFIC NORTHWEST, RUGGED, NATURAL

Dark Roast decking offers a rich wood tone that is popular among this style home. It's inspired by rustic, reclaimed wood, so it will blend in well with natural wooded surroundings.
Sustainability Is at Our Core – Literally
Our products align with our core value: Always do the right thing. That means doing right by our customers and the planet. In fact, more than one-million trees and counting have been saved because our customers choose TimberTech decking over wood.
TimberTech decking is made with a majority of recycled materials, including recycled wood and plastics. We use more than 180-million pounds of recycled material every year.
Plus, our products are sustainably manufactured with hundreds of gallons of recycled water. In 2021 alone, we diverted approximately 500-million pounds of recycled waste and scrap from landfills.
TimberTech Product Line Overview
OUR PREMIER
LINE OF DECKING
Best-in-class capped polymer. Defined by sophisticated, real-wood aesthetics that stay cooler on hot days. Ideal for everyday decks, pool surrounds, waterfront retreats, and rooftop escapes.
Backed by a 50-Year Fade & Stain Warranty and Lifetime Limited Product Warranty.
SURPASSES LEADING COMPETITORS' TOP-TIER PRODUCTS
Premium 4-sided capped composite that leaves the competition behind. Strong, reliable, and engineered to endure. Perfect for everyday decks.

Backed by a 30-Year Fade & Stain Warranty and 30-Year Limited Product Warranty.
A HIGH-VALUE, LOW-MAINTENANCE SOLUTION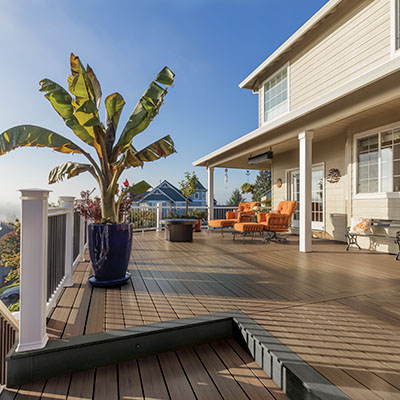 3-sided capped composite. The natural first step for the discerning deck owner ready to ditch wood decking for good.

Backed by a 25-year Fade & Stain Warranty and 25-Year Limited Product Warranty.
Helpful Resources
Installation Questions
Explore our Deck-Building Resource Center for installation guidance by product line and application.
Installation Videos
Easy-to-follow tutorials: How to Install Decking & Installation Help for Our Products | TimberTech
The AZEK Family of Brands
TimberTech is the game-changing decking solution for outdoor living spaces, offering the beauty of real wood, highly engineered for superior performance. Made in the USA, and backed by the industry's best warranties, our high-design, low-maintenance decking is made from up to 80% recycled materials and will look good for decades with little to no maintenance.
Trusted for its durability, flexibility, and superior quality, AZEK Exteriors is a leading manufacturer of premium, low-maintenance exterior building products made from recycled content. AZEK Exteriors Trim, Moulding, Siding, Shingle and Cladding lines are esteemed by designers, builders and architects nationwide for their clean aesthetics and best-in-class performance.
We manufacture our adjustable Louvered Pergolas right here in the U.S.A. Our structures are engineered from recycled aluminum and stainless-steel components, providing homeowners a low-maintenance product they can enjoy for years.