What We're All About
As part of The AZEK Company, we're dedicated to converting the building products industry from its uninspiring past to its dynamic and sustainable future. As the outdoor living arm of the company, we Go Against the Grain® by offering low-maintenance, world-class products that leverage innovations in materials science to make for enduringly beautiful outdoor living solutions.
Doing the right thing is in our DNA; it's what keeps us relentlessly focused on quality while making the best products possible – and backing them with industry-leading warranties – without harming our planet. We invite you to Go Against the Grain® with us.
We Innovate, Others Imitate
Unparalleled technology. Unrivaled design. Uncompromising performance. And unmatched warranties. We're leading our industry toward better products, better outdoor living experiences, and a better planet. Others have tried to imitate our innovative technology but haven't been able to recreate the magic. It's through innovation that TimberTech is able to offer products that look natural, are extremely durable, and are easy to install.
Sustainability Is At Our Core
We mean it literally. We deliberately source hard-to-recycle materials for the core of our capped polymer decking. Our capped composite decking contains up to 80% recycled material. Plus, because homeowners chose TimberTech decking over wood, more than 1,000,000 trees have been saved since 2015. Every day, TimberTech engineers work to accelerate the use of recycled materials across all our boards.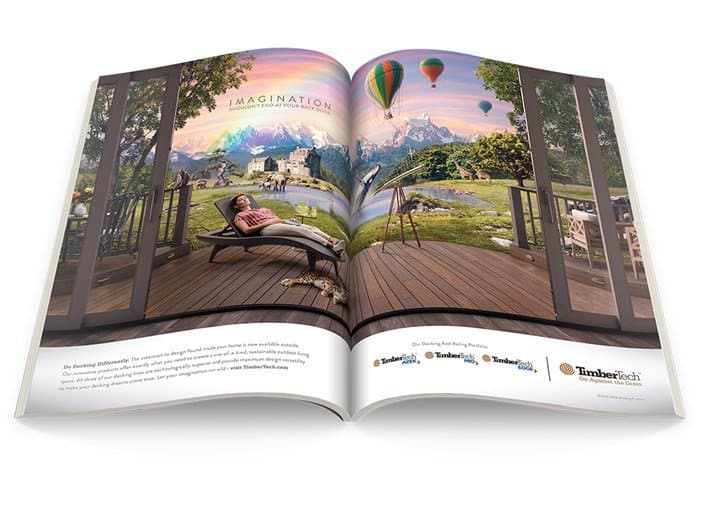 The TimberTech Brand
Every day we challenge ourselves to Go Against the Grain® by using our superior technology to create natural-looking decking and railing products that last longer, are more sustainable, and perform (and look) better than actual wood. At TimberTech, we operate a little differently than others because our customers have asked companies to step up their game. It's no coincidence we create superior products that perform better in tough environments, require such low-maintenance, and look good for decades – it's what our customers have asked of us. We're not just building great decks. We're building a brand everyone can trust.
Worldwide Presence
As one of the world's leading manufacturers of high-quality capped polymer and capped composite decking and railing products, we here at TimberTech prioritize making our product accessible globally. Our strong international distribution footprint covers over 55 countries on six continents. Explore our international product installation guides below.
AZEK® Exteriors
AZEK Exteriors is more than just what meets the eye – they're a one-stop shop for your home's, well, exterior. With multiple industry awards for the most-used and highest-quality brand, AZEK Exteriors sets the bar for trim and moulding. In addition to the commitment to quality, AZEK Exteriors focuses on pushing innovation to deliver premium products designed for improved installation and longer-lasting performance – all backed by industry-leading warranties.
Build Your Career
Want to work for a company driven by innovation, new opportunities, leading its industry and taking care of the planet? Of course you do.