Start your project
Every great deck begins with a plan. Let us help you make one.
Start your project
Every great deck begins with a plan. Let us help you make one.
Plan your deck in 6 easy steps
With so many options to choose from, planning your dream deck is a fun and rewarding project. To help you avoid getting overwhelmed, the best approach is to take it one step at a time. We've broken it down into 6 steps to give you the information and inspiration you need to get started. And since it also helps to have a checklist to keep you on track, we have one for you to download when you're ready.
1. Learn the anatomy of a deck
Whether you're planning a DIY project or want to work with a contractor, knowing the basics of decking and railing—from deck boards to infills and everything in between—will help get you started on your deck design plan.
A. Deck Boards: TimberTech Advanced PVC and Composite options are both resistant to fading, staining, scratches, and moisture damage. Both high-performance materials are available in a wide range of colors and styles.
B. Top & Bottom Railing: As their name says, these are the top and bottom parts of your railing and there are a variety of materials and design styles to choose from.
C. Riser: If your deck will need stairs, risers are the boards applied behind each step. Riser boards can be clean white or match the color of your decking—and, with the addition of decorative lighting, can also be a distinctive design element.
D. Fascia & Skirting: These deck boards run around the perimeter of your deck, providing a polished finish and hiding the substructure.
E. Railing Infill: You choice of infill, which fits between the top and bottom rail, can be the defining element of your deck style.
2. Know your decking options
Now that you've chosen composite over wood, your next big decision is between TimberTech Advanced PVC and Composite. Both offer collections that deliver the most realistic and beautiful wood looks—and the largest selection of colors and textures. Thanks to our innovative materials technology, all our boards are made to resist fading, staining, and insect damage—and won't splinter, peel, crack, or rot. So, your deck will look and perform beautifully for decades with minimal maintenance. Here's how they differ:
Made from approximately 60% recycled polymers, our Advanced PVC decking is a high-performance material made from a blend of polymers without using wood.
Our Composite decking is a traditional composite material—with a core made from a mix of wood fibers and recycled polymers, and a cap made from a blend of high-performance polymers.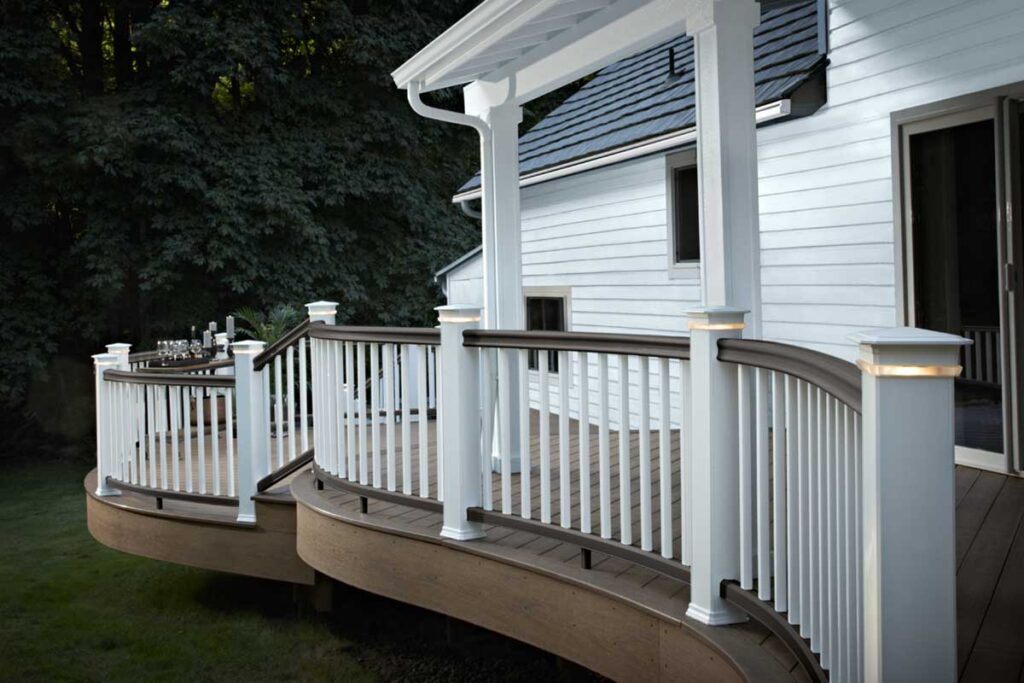 3. Discover different railing styles
Depending on how high off the ground it is, your deck may require railing. If it does, know that you have options, ranging from decorative to minimalist (to maximize your view). TimberTech railing is available in composite, PVC, and metal, with a variety of infill styles. With so many ways to customize, it's easy to create a unique look.
4. Understand deck-building costs
Building materials are just one part of your decking budget. Knowing all of the variables—from substructure and labor to size and design features—will help you find the right balance to suit your budget.
5. Plan your design
Now that you know the ins and outs, the fun part begins. From simple colors and textures to more complex designs—like color combinations, multiwidth designs, and intricate board patterns—we've got the inspiration you need to help you customize a truly unique outdoor living space.
6. Get ready to build
Now that you have a good idea of what you want in a deck, the next big decision is whether to DIY it or hire a contractor. Whichever way you go, we've got the tools to help.
Don't miss a single step—get your planning checklist
Fill out the fields below to access your free checklist PDF download.
*Premier Collection may have limited availability in some regions. Use our Where To Buy tool to contact your local dealer for availability.
Have questions? We can help.
We're here to support you every step of the way. If you have questions, call 1.877.275.2935 or send us a message and we'll connect you with a decking expert.