New Things On Deck
Explore the latest additions to our product portfolio, all designed to enhance the beauty and functionality of outdoor spaces.
New Things On Deck
Explore the latest additions to our product portfolio, all designed to enhance the beauty and functionality of outdoor spaces.
Decking Overview
Our most realistic wood looks with unparalleled performance​
VINTAGE COLLECTION® • LANDMARK COLLECTION™ • HARVEST COLLECTION® • PORCH COLLECTION
Composite in a class of its own, with unmatched wood looks​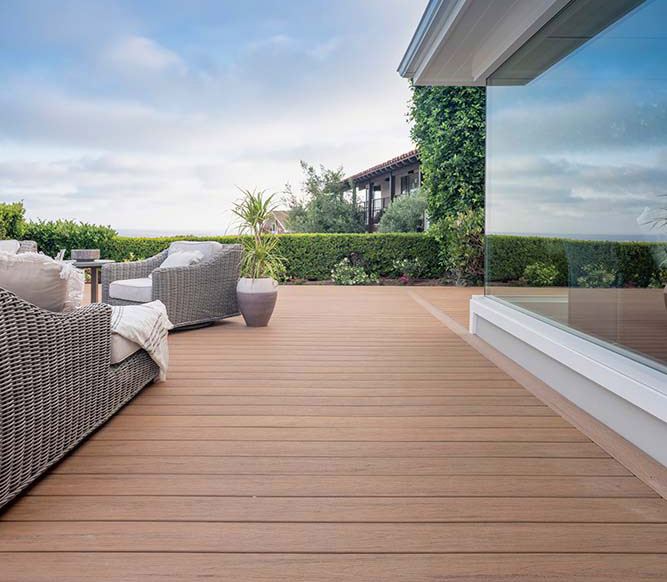 LEGACY COLLECTION® • RESERVE COLLECTION™ • TERRAIN COLLECTION® • TERRAIN+ COLLECTION™ • PRIME COLLECTION • PRIME & PREMIER COLLECTION
Decking: Terrain+ Collection™
​With new and improved color blending technology, these boards deliver sophisticated colors with a subtle grain pattern like sanded white oak and walnut​ for a versatile, natural wood look.
Curated palette of colors with low-gloss matte finishes that can be used in mixed-color patterns​

Compatible with CORTEX® hidden fasteners​

Four-sided capping for superior moisture resistance—even in the grooves​

Available in standard width and thickness, with a scalloped profile​

Covered by 30-Year Limited Product and Fade & Stain Warranties
WEATHERED OAK
NATURAL WHITE OAK
DARK OAK
Advanced PVC Porch​
The English Walnut and Cypress colors that you know and love in the Vintage collection are now available in both standard and wide-width tongue-and-groove profile for porch and cladding applications.
Standard (3.125″) available in all colors

Wide-width (5.5″) available in Coastline, Cypress, Dark Hickory, English Walnut,​ Mahogany, Weathered Teak
OYSTER®
SLATE GRAY
COASTLINE®
CYPRESS®
WEATHERED TEAK®
MAHOGANY
DARK HICKORY
ENGLISH WALNUT
Fasteners: Collated Cortex for Composite Decking
The most aesthetically pleasing top-down fastening system is now even more convenient.
​Collated plugs with pre-aligned grain pattern provide 50% faster installation​

Material-matched plugs now available in all TimberTech full-profile Composite collections and colors​ (NOT available for scalloped Terrain, Prime+, and Prime Collection boards)​

Convenient 300 sq. ft. kits available include: 1050 2 ½" carbon steel screws, 1200 plugs, 6 setting tools​ & 100 ln. ft. kits available include: 224 2 ½" carbon steel screws, 300 plugs, 2 setting tools​

One reminder, composite decking needs predrilling before installing Cortex screws
Railing : Impression Rail Express®​
Horizontal Cable Infill
Horizontal Cable infill for Impression Rail Express gives a new look—and almost unobstructed view—to this popular powder-coated aluminum railing system.​
For use with Classic, Drink Rail, and Modern top rail options​
Stainless-steel cables with no exposed hardware​
Available in 36″ and 42″ rail heights, 6′ or 8′ section lengths​
Level and Stair Kit includes: One 6ft or an 8ft support rail, pre-drilled support, and hardware kit (cables and posts sold separately)​
Fast and easy installation​
25-year limited warranty
Lighting : Impression Rail Express®​
A new small accent light and 3" post cap light are available for IRX. Bring safety and warm light ambiance to your deck with these efficient, reliable LED lights. 5-year Limited Warranty for peace of mind.​
SMALL ACCENT LIGHT​
Smaller, sleeker look​
Surface mounted on post​
Color matched to IRX: Black, Dark Bronze, & White
3" POST CAP LIGHT​
Slender, more modern look​
Installs with any IRX post cap​
Light only, so no color matching needed
CabanaX MOD​
Now with the innovation of the CabanaX MOD extensions, you can expand a custom covered space with the same CabanaX ease and quality. Appropriate for both homeowner and commercial spaces.​
Extend the 10'x10′ footprint to offer unique design applications​
Modular approach lets you expand in any direction​
Same high quality, recyclable, powder-coated-aluminum construction​
New connection system lets cabanas share posts side by side or corner by corner​
Mix or match colors, roof canopies, sides, and backdrops, for a customized cabana​
Simple, straightforward, permit-free assembly​
Pre-wired electrical features
Invite Collection: Lounge Rocker​
NEW Lounge Rocker
​Stylish evolution of the Adirondack Chair, perfected by TimberTech and Loll Designs​
Amps up the relaxation and comfort factor with long, smooth, easy motion​
Five color choices: Black, Cloud White, Storm Gray, Canvas, and Coral​
Designed for long life and ultra-low maintenance with marine-grade stainless steel hardware​
20-year Residential Limited Warranty with a 5-year Fade and Stain Limited Warranty
Coming Early 2024​
Look out for more announcements in the new year for details on these products:​
PVC Risers – Reduce waste and save time and money with Riser Boards now available for all Advanced PVC Collections​
TimberTech Aluminum Framing – do away with the uncertainties of lumber and start your project with a strong, easy to install, and high-end looking aluminum frame. Compatible with all TimberTech decking and railing systems, and backed by a 25-Year Limited Product Warranty.
Marketing Spotlight
TimberTech is already making a splash with consumer media and new products.
Product Overview
Decking Overview
What's New Sell Sheet