Erin's vineyard renovation
Set among lush gardens, the 1890s farmhouse on Hoopes Vineyard needed a deck that blended seamlessly with both the historic home's style and its surroundings. When Erin took on this renovation project for her longtime friend, she knew TimberTech decking was the perfect choice.
A flowing, indoor-outdoor floorplan that fits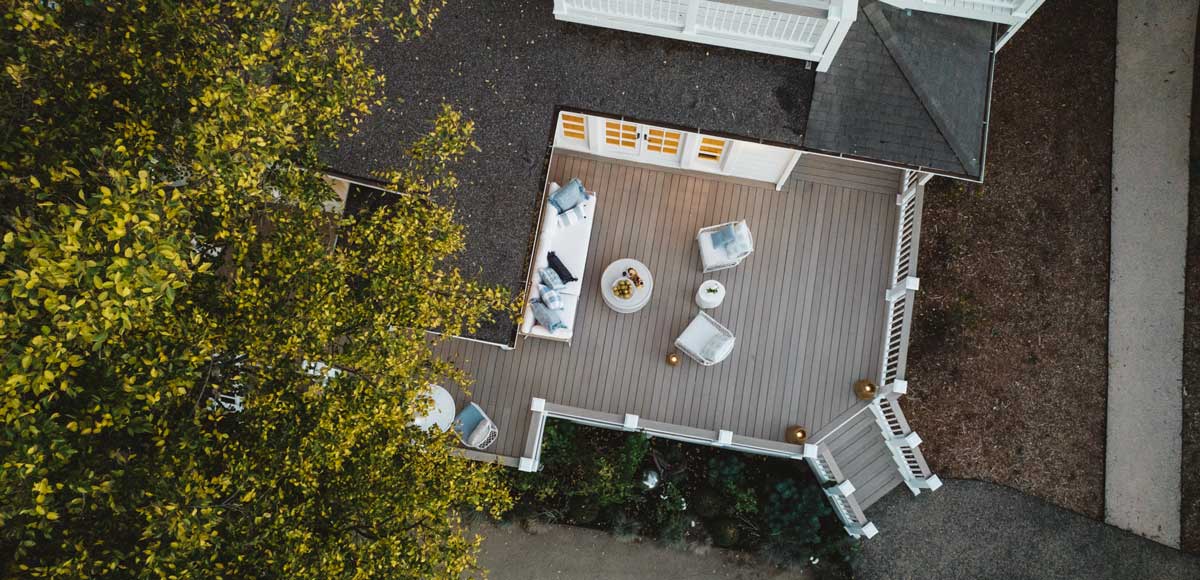 With the deck flowing out from the open-plan kitchen and overlooking the vineyard, Erin's design musts were clear — texture, color, and durability. "I wanted to create an indoor-outdoor floor plan, so the deck was crucial since I wanted everything to flow naturally," says Erin. "And because this is a vacation rental, I wanted a high-quality product that was low maintenance, long lasting, and durable for any season."
When planning the farmhouse's backyard retreat, Erin went with TimberTech Advanced PVC Decking — not only for its premium, realistic wood looks, but because these high-performance boards have a Class A Flame Spread Rating, making them a great choice for California fire zones.
A beautiful outdoor space for our guests that will last a lifetime
– Erin
Meet Erin
Before the Hoopes Vineyard farmhouse became a vacation rental, it was the family home of Lindsay Hoopes — childhood friend of LA-based designer, Erin Fetherston. Preserving the inviting, family feel she grew up with was important for making guests feel welcome, both inside and outside the home.
Shop Erin's TimberTech products
Shop Erin's TimberTech products
Erin's bright, light, and airy style paired flawlessly with TimberTech's French White Oak, from the Landmark Collection® — with its light, organic hue and subtle shades of oak, warm grays, and tannins that deliver the look of hardwoods prized by European craftsmen. "I wanted to pick a historically appropriate wood to fit the aesthetic. French White Oak has a beautiful weathered light gray undertone that fit into the design palette perfectly."
The crisp and classic look of TimberTech's Classic Composite Series Railing blends perfectly with the authentic farmhouse style. And with the addition of convenient drink rails in the same color as the decking, Erin's outdoor oasis is the perfect place to enjoy a glass of wine and vineyard views.
---
Inspiration from every angle
Inspiration from every angle
Durable TimberTech Advanced PVC can withstand the traffic that cozy outdoor spaces like this will invite.
Drink rails make this backyard space the perfect space to sip and socialize.
The convincing wood looks and classic railing blend flawlessly with the timeless style of the Hoopes Vineyard farmhouse.