Installing a new deck is an exciting home project that can yield beautiful results, but it requires some research and due diligence. Part of installing a secure and durable deck is understanding your local building guidelines, including the deck railing height code.
Most locations require deck railings 36″ or taller, but infill spacing, load limits, and local variations are important considerations, too. Learn more about deck railing codes below.
In This Article:
Height requirements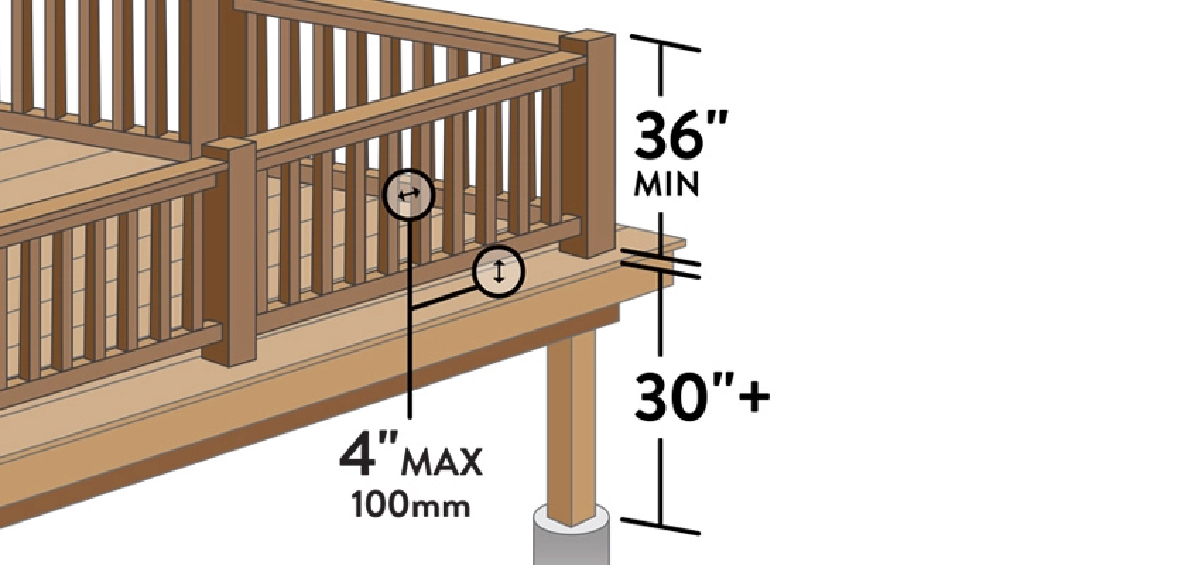 Decks higher than 30″ off the ground must have guardrails to satisfy a majority of local building codes. Most U.S. guidelines require railings at least 36″ tall between the decking and top rail, though this varies by location. California and Washington require 42″ or taller railings for decks.
Baluster spacing codes
Proper spacing for your railings is also an important aspect of a safe and sturdy deck build. Railings come in a variety of infill styles, so spacing and installation guidelines may vary between materials.
Generally, railing baluster and infill gaps must not exceed 4″ wide. The space between the decking and bottom rail also can't exceed 4″. The exception to this rule is with deck stairs, where the triangle-shaped gap between the tread, riser, and bottom rail mustn't exceed 6″.
Deck railing post spacing code requires manufactured railing posts stay within 8′ of each other to ensure railing meets strength requirements. IRC and IBC guidelines dictate strength requirements, including:
Uniform load on guardrail: 200 lbs.
Uniform load on infills: 50 lbs.
Uniform load on handrail: 200 lbs.
Concentrated load on guardrails: 200 lbs.
Concentrated load on infills: 50 lbs.
Linear load on guardrails: 50 lbs./linear sq. ft.
Choose the right deck railing options
Railing comes in a variety of styles and materials, so there's more to think about than the install alone. The good news is that manufactured composite and PVC, steel, and wood railing options are all permitted under deck railing codes.
TimberTech Advanced PVC, composite, and powder-coated aluminum guardrails all offer low-maintenance durability and customizable style to meet your performance and aesthetic expectations.
Once settled on a guardrail material, it's time to choose an infill and top rail style. Code-compliant infills are available in several styles, from contemporary cable designs to chic glass panels. TimberTech's panel railing systems are exceptionally easy to install for a DIY project.
Deck railing height codes require a minimum 36″ guardrail for decks higher than 30″ above grade, though this may vary by locality. There are also spacing and load requirements to know, so always consult your local building codes while planning your deck design.
Looking for more deck railing codes and advice? Check out these resources or consult a professional contractor for project details.