When it comes to envisioning your ideal outdoor living space, most of us think of deck color ideas first. Why? Because deck color schemes — whether monochromatic or multi-hued — influence décor, atmosphere, functionality, and the overall look and feel of your home's exterior.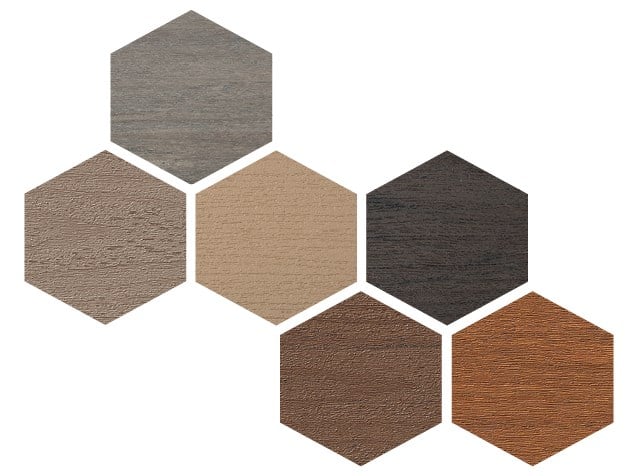 Right Color, Right Look & Feel
Think only wood can give you the breadth of nuanced color you love? Think again.
Discover the nature-inspired hues of TimberTech® capped polymer and capped composite decking.
TimberTech deck board colors come in a variety of shades and hues, giving you the best opportunity to find the right one for your space — but how to choose? When considering your color options, there are several factors that will influence your choice.
Factors That Influence Your Color Choice
While all three primary factors will likely play a role in your deck color choice, it's the one you prioritize the most that will have the biggest influence.
Complementing Your Home
Certain styles of homes are often associated with specific colors. For a cohesive look, match deck color schemes to your home's interior flooring as well as its exterior style.
Look & Feel
Colors play a big role in not only your deck's aesthetics, but also its atmosphere. Light colors will give you an open, airy feel, while dark hues will feel cozier.
Functionality of Your Space
Colors can affect your deck's use — decks in full sun benefit from light colors that hold less heat, so bare feet (and paws) don't get burned.
Deck Color Ideas to Complement Your Home
The style of your home can play a major role in the deck color schemes that best complete your outdoor space. While your deck should be a visually cohesive addition to your home exterior, that doesn't always mean it should match your home exactly.
Choosing a complementary hue, or even one with a slight contrast, can give your deck its own aesthetic personality while still making it feel like a seamless part of your home exterior.
Common home and deck color pairings include: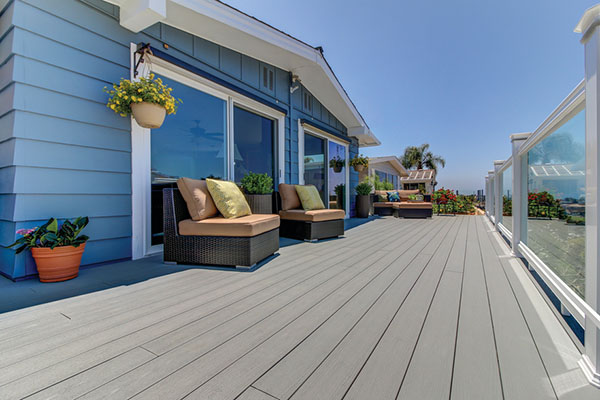 Coastal: Fresh & Light Colors
Coastal-style homes are known for their light color schemes of white, tans, grays, and blues that reflect this style's seaside origins.
For a perfectly paired deck, opt for bright composite decking such as light grays and tans. To complement your home's crisp white trim, go with a white composite railing for your deck perimeter.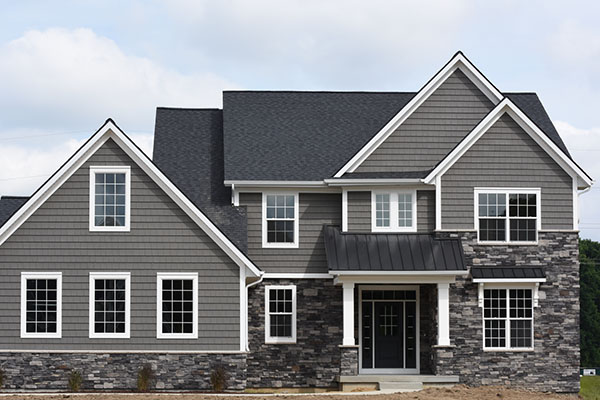 Craftsman-Style: Cool, Character-Rich Tones
The craftsman style emphasizes originality and an artisanal touch. Deck color schemes for these homes can range considerably, but most often lean toward cooler hues. Choose a medium-toned gray composite deck color with character-rich color variation, to complement the artisanal feel of these distinctive homes.
Deck Color Ideas to Achieve Your Desired Look & Feel
Color is one of the biggest influencers of your deck atmosphere. The color family, saturation of hue, and color combinations all play a significant role in not only how your deck looks, but how you feel in the space.
Get Familiar With Color Families
When you think of deck color ideas, you likely already have a certain color family in mind. Each color family will affect the atmosphere of your outdoor living space differently.
Gray
Cool and contemporary, grays range from dark and moody to light and airy.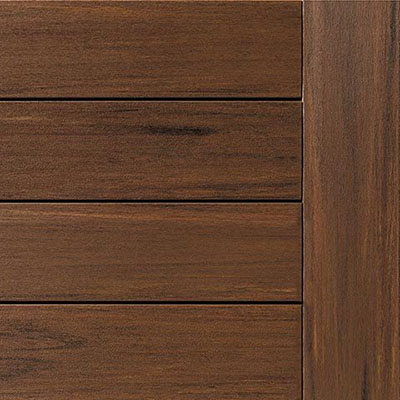 Brown
Warm and traditional, browns give your deck a classic look that feels inviting and familiar.
Tan
Beloved of Scandinavian design, tans give off an enticing energy that draws family and friends together.
Consider Saturation of Hue
Within each color family are different saturations of hue — which refers to how dark or light the color is.
White & Bright
Lighter deck colors including light grays and tans give your deck design a sophisticated, refined vibe.
Plus, light colors give you an ideal neutral backdrop to showcase your unique sense of style — so add in pops of color to your heart's content.
Contemporary Gray
When it comes to deck color ideas, gray is a trend-forward choice that gives your deck a decidedly modern feel.
Your deck décor choices will depend on the shade of gray chosen — but remember: Plants are a timeless accent, so don't be shy with on-deck greenery.
Better Than Black
Go with saturated browns and dark grays for a bold, striking aesthetic. Darker colors can also lend sense of coziness and a feeling of being grounded, as compared to their lighter counterparts.
Pair dark decking with light accents in your furniture and décor for contrast that lifts the ambiance of the space.
Think About Color Pairings
Who says you can only choose one color? Combining deck board colors can give you a totally different look and feel than a single color. Draw inspiration from these multi-tonal deck color ideas.
Pictured: Dark Hickory & Coastline®
Cool Tones
Mix cool tones, such as different shades of gray, for a contemporary color pairing.
Pictured: Dark Roast™ & Antique Leather™
Warm Tones
Warm things up by pairing rich brown tones for a sophisticated, woodsy feel.
Pictured: Dark Hickory & Mahogany
Eclectic Mix
Combine cool and warm tones for a statement-making outdoor living space.
TimberTech Advanced PVC Color Combinations
Discover color combination ideas with colors from our TimberTech Advanced PVC decking collections.
TimberTech Composite Color Combinations
Discover color combination ideas with colors from our TimberTech Composite decking collections.
Deck Color Ideas by Functionality
Sometimes deck color schemes are dictated more by functionality than purely style — but that doesn't mean your deck can't look good, too.
Best Deck Color for Pool Decks
For pool decks, or any deck in full sun, choose light colors like tans and light grays, which will naturally retain less heat than darker colors.
For an even cooler deck surface, go with TimberTech Advanced PVC capped polymer decking, which is designed to stay up to 30° cooler in the sun than competitive products.*
*Although TimberTech Advanced PVC decking products are cooler to the touch than many other deck board products, all decking products will get hot in the sun. Additionally, the darker the decking color, the hotter it will feel. For hotter climates, consider choosing a lighter color.
Pool Deck Inspiration
Check out these poolside decks to kickstart your own design process.
Whitewash Cedar®
Whitewash Cedar from the TimberTech Composite Legacy Collection is our lightest color option and brings a distinctive brightness to your backyard.
Slate Gray
Slate Gray from the TimberTech Advanced PVC Harvest Collection® is a beautiful, light tone that gives you a cool painted wood look.
Pecan
Prefer a warmer look for your pool deck? Pecan from the TimberTech Composite Legacy Collection is a rich tan that gives you a sunny, tropical feel.
Start Envisioning Your Deck Color Ideas
With inspiration and guidance into deck color schemes, you're ready to start envisioning your outdoor living space to see which deck color ideas work best for your style.
Use our 3D Deck Design tool to bring your deck design to life and play with deck board color combinations, railing designs, and even accessories like furniture and décor.