Reasons to choose diagonal decking patterns include:
An unexpected, eye-catching design.
A sturdier under-foot feel (due to closer joist spacing).
Diagonal decking patterns are those where the deck boards are laid at a 45-degree angle to the deck frame, as opposed to being laid straight across the frame. Laying your deck boards diagonally may seem like a simple change, but it can deliver big impact to your deck's design.
WANT EVEN MORE PATTERN PLAY?
Get inspired with different deck board pattern ideas. EXPLORE THE SERIES
How to Build a Diagonal Deck
Diagonal deck patterns demand specific substructure construction, including closer deck joist spacing, so you'll need to build a new substructure.
Substructure & Building Needs
For diagonal decking patterns, joists need to be spaced at 12″ on center, rather than the standard 16″, to keep the boards secure.
Diagonal decking patterns will also require more materials than a standard deck, which will affect your overall costs:
More joists to fit into your deck frame.
About 15% more deck boards than a traditional installation.
More fasteners to secure the additional deck boards.
THINKING OF DIY-ING IT?
Discover best practices, install videos, & more in our Deck Building Resource Center. EXPLORE RESOURCES
Ways to Use Diagonal Decking Patterns in Your Deck Design
Laying your deck boards diagonally is an eye-catching design choice. Create an even more dynamic look by combining diagonal decking patterns with other design elements.
Create a Sense of Depth
Diagonal decking patterns do more than add visual interest to your deck design – they can add a sense of depth by drawing the eye outward.
This is especially useful in smaller spaces, where diagonal deck boards can help the area feel more spacious.
Juxtapose High-Impact Diagonals
If you have a multi-level deck, place each level of diagonals at perpendicular angles to each other. Not only does this help differentiate your deck levels, but it creates a unique, striking design.
Add a different colored deck board to picture frame each level for a clean, finished look.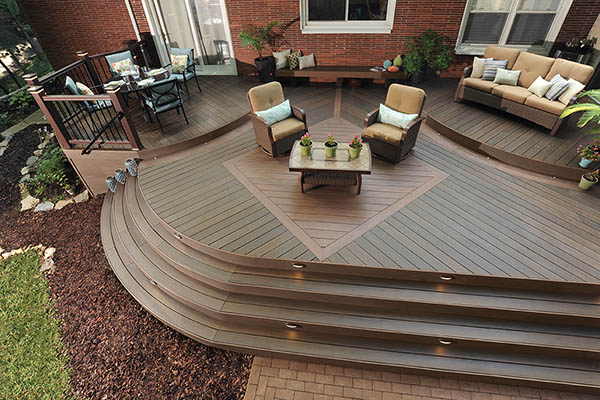 Get Bold With a Diagonal Inlay
Instead of laying diagonal boards across your entire deck surface, create a compelling focal point with a diagonal inlay.
Use different colored deck boards than the rest of your deck's surface to really make your inlay pop.
Ready to bring your diagonal decking patterns to life? Discuss your design ideas with a TimberTech-registered contractor who can lend their expertise to build you the perfect outdoor living space.