Deck material options range from traditional wood to innovative capped polymer decking. But not all deck materials are created equal.
Differences in material can impact:
Material performance
Deck maintenance needs
Long-term costs of your deck
Overall value of your investment
Making the right investment for your home means finding the deck material that fits both your investment and lifestyle needs, so you can trust you lock in the best decking material for you.
Need a Guide to Decking Boards?
Learn more about the types of composite decking, to make the right choice for your outdoor living space.
Want to Compare Composite vs Wood?
You've heard about each. But who wins on durability, cost, maintenance, and aesthetics?
NEED THE 411 ON ALL THINGS DECK BOARDS?
Get the insight you need on everything you need, from types of composite decking to budgeting your project.
EXPLORE THE DECKING SERIES
Common Deck Material Options
Popular options for decking include:
Pressure-Treated Lumber
Typically made from pine, a softwood.
Other Softwoods
Most commonly cedar (pictured) or redwood.
Hardwoods
Most commonly Ipe (pictured), but can also include other exotic hardwoods like mahogany, tigerwood, etc.
Composite Deck Boards (Uncapped)
A blend of synthetic material and wood fibers; roughly a 50-50 mix of wood and plastic. Uncapped composite is usually made using original technology from the 1990s.
Composite Deck Boards (Capped)
A blend of synthetic material and wood fibers protected by 3- or 4-sided capping, typically made of polyethylene (PE) or polypropylene (PP). May have wood in the cap (but TimberTech® boards do not).
Capped Polymer Deck Boards
A blend of polymers (typically PVC and/or PP) and featuring 3- or 4-sided capping. The best capped polymer does not have any wood in its core, nor its cap.
Now that you know what materials you'll be considering for your deck material options, you're ready to dive into why some are better than others.
The Top-Performing, Lowest-Maintenance
The best indicator for top performance when it comes to your deck material options? The power of the technology behind the boards. Why? Because the degree of innovation behind your decking tells you just how engineered it is to withstand the elements.
The greater the technology, the lesser the maintenance.
Traditional Wood
In reaching for greater performance, traditional wood purveyors introduced preservation methods. Preservation methods for deck material options made from traditional wood are largely chemical.
Chemical treatments seek to "penetrate" the wood and infuse the lumber with protective chemical agents.
The degree of penetration — how deep into the board core the chemical goes — depends on the treatment.
Common Chemical Treatments for Wood
---
1.) Staining & Sealing
These are two different processes, but both share the goal of protecting the wood from degrading. Penetration of the boards is comparatively surface-level.
Stains are tinted chemical treatments applied to minimize fading and prolong the color of the boards — but even the best stains fade.

You will have to re-stain your wood deck every 2 to 5 years.
Sealants are clear or semi-transparent and largely sit on the surface of the deck boards. They're supposed to provide a protective barrier.
You'll be re-sealing every 1 to 3 years.
REMEMBER: Wood decks typically require some combination of sanding, staining, sealing, and/or brightening annually or every other year.
2.) Pressure Treating

Typically regarded as one of the "best" methods for protecting traditional softwood boards. Compared to sealing and staining, pressure treating gets protection deeper into the boards — but as you will see, this protection is less than that offered by capped composite and capped polymer decking.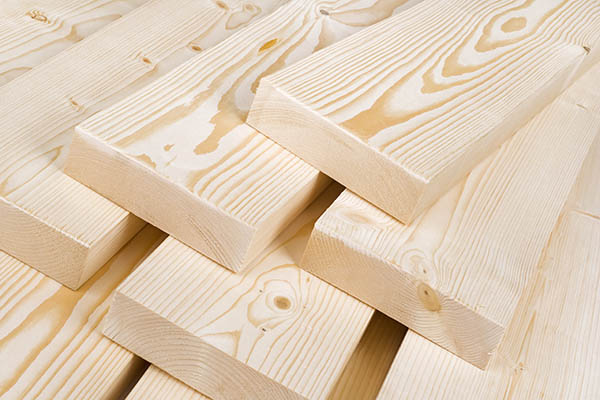 Pressure treating: Wood boards are first placed in a pressure chamber that is next sealed, like a vacuum.

The chamber then applies over 100 pounds of pressure to drive the chemical treatment into the cell structure of the wood.
The goal of pressure treating lumber: Pervade the organic material with chemical deterrents to erosion and other performance-weakening agents.
The reality: While pressure treating might sound impressive, no amount of pressure treatment can make wood an inorganic material — and all organic materials are susceptible to erosion. In moist or oxygenated soil, few treatments can protect vulnerable wood from bacteria or fungi.
THE TAKEAWAY: Traditional wood decking has limited protection against weathering agents like moisture, insects, and UV rays as compared to leading composite decking.
Uncapped Composite Deck Boards
This first-generation material came onto the scene in the 1990s, and while it was more technologically sophisticated than traditional wood, it had its drawbacks.
Drawbacks of First-Gen Composite Tech


The boards don't feature protective caps, meaning the entirety of the board is made of a blend of plastics (inorganic) and wood fibers (organic).


The plastics "fortified" the boards against mold, mildew, and other degrading agents — but without a cap, these boards were akin to sending a knight into battle without a shield.
Maintenance for uncapped composite decking involves annual cleaning.
When you compare uncapped composite boards to capped composite, the cleaning ask will be much higher for uncapped. You may want to use a cleaning treatment for mold and mildew — which won't be the case for boards manufactured with a protective cap. Be sure to closely review the relevant cleaning guides for your product.
As deck material options go, this isn't enough of a departure from traditional wood.
Capped Composite & Capped Polymer Deck Boards
Want Top Performance? Choose Capped
What you should know: Engineered decking that features protective capping is better equipped to perform than traditional wood and uncapped composites.
What you should also know: Not all your options are created equal. Some brands still use wood fibers in their caps, and/or recycled plastics.
Prefer truly low-maintenance living? Choose deck material options with minimal maintenance needs: capped polymer or capped composite decking.
Why Better Tech, Better Deck.™ matters: TimberTech decking — both our capped composite and our capped polymer lines — features protective capping made from high-performance polymers. That means superior protection for a deck that looks better and performs better, for years to come.
TimberTech: Your Low-Maintenance, High-Performance Choice
TimberTech capped polymer and capped composite deck material options are designed to require an occasional clean and rinse to stay in top condition.*
*NOTE: Always fully review your decking line's Care & Cleaning Guide, including the guidance on appropriate brush type for your deck material, before starting.
THE TAKEAWAY: Want top performance? The combination of our materials formula and leading technology mean it's hard to choose any but TimberTech.
The Least Expensive Upfront

While some deck material options do have a lower upfront price point, it's important to realize that lower upfront costs don't always translate to long-term cost savings.
It all comes back to maintenance.
Deck material options with the lowest upfront costs typically include pressure-treated lumber and some composite products. However, despite a popular belief in the marketplace, wood isn't inherently less expensive than composite decking.
And after those upfront costs for wood? Then come those maintenance demands you've read so much about.
The Accumulated Price of Wood
Traditional wood decks need regular, often costly maintenance, such as:
All of which can break not only your back, but the bank as well.
Plus, significant variation exists between traditional lumber choices. Exotic hardwoods like Ipe can be even more expensive upfront than some premium engineered decking products — but with less optimal performance and extensive upkeep needed to maintain aesthetics.
What's more, even with consistent maintenance, traditional wood boards will deteriorate in time and require replacement — adding on yet another expense to your deck budget.
Comparing Material Costs: Wood vs Composite Decking
---
Ipe Premium Hardwood vs. TimberTech AZEK Vintage Collection:
Estimated Upfront Costs

Ipe Premium Hardwood vs. TimberTech AZEK Vintage Collection:
Estimated 10-Year Costs

Pressure-Treated Lumber vs. TimberTech EDGE Prime+ Collection:
Estimated Upfront Costs

Pressure-Treated Lumber vs. TimberTech EDGE Prime+ Collection:
Estimated 10-Year Costs
NOTE: The estimated average cost of capped polymer deck boards and Ipe hardwood decking costs are based on the national average for a 16' x 20' deck. The estimated average cost of composite deck boards and pressure-treated lumber decking costs are based on the national average for a 16' x 20' deck. Meant for visual representation only. Actual costs may vary.
THE TAKEAWAY: Upfront material cost is not the only factor that determines your project budget (upfront) and accumulated costs (long-term); you also have to consider long-term value for the cost.
The Best Value for the Cost
When you invest in your outdoor living space, you want to know you're putting your money into something that will add value to your home thanks to enduring beauty and optimal performance.
Pressure-treated wood, other softwoods, hardwoods, and uncapped composite decking are all vulnerable to fading and deterioration. When it comes time to sell your home, these decks likely won't be a pretty sight, unless you opt for a costly full deck replacement.
Materials With the Least Long-Term Value
These deck material options don't offer the same protection as their engineered counterparts and will therefore end up accumulating more repair and/or replacement costs over time.
Pressure-Treated Wood
Pressure treatments help fight moisture and insects, but not as effectively as protective capping.
Other Softwoods
Cedar and redwood, while often touted as being naturally rot- and insect-resistant, are still vulnerable to general wear and tear.
Materials With Middling Long-Term Value
These materials were designed to outperform their organic wood counterparts, but less-than-ideal materials science means they are still susceptible to moisture and weathering from the elements.
Hardwoods
Exotic hardwoods like Ipe may have strength and durability thanks to their density, but they will quickly change from richly hued to silvery-gray when exposed to UV rays. High maintenance needs also eat away at value.
Uncapped Composite Decking
The blend of recycled plastics and wood fibers arguably strengthen the boards against weathering agents — but the lack of protective capping means moisture can still easily access the board's core.
Materials to Choose for Optimal Long-Term Value
Capped Composite Decking
A PREMIUM CHOICE. Capped composite decking wards off moisture and weathering thanks to protective capping. Like with capped polymer decking, not all capped composite products perform the same—for long-term value, beauty, and performance, TimberTech wins.
Capped Polymer Decking
THE BEST. While several brands offer capped polymer products, TimberTech capped polymer decking is some of the most innovative, with elevated aesthetics and superior durability.
If you want the best of the best? Choose TimberTech.
Claim Long-Term Value & Enduring Beauty
Both our capped polymer and capped composite decking lines are designed to look as gorgeous on day 1 as day 1,000, which means greater value added to your home.
High performance also means less maintenance to keep your TimberTech deck in top condition.
THE TAKEAWAY: Choosing decking with greater long-term value means you'll enjoy a durable, enduringly beautiful outdoor living space for years to come.
Choose the Best Decking Material for You. Choose TimberTech.
Choosing the best decking material for you ultimately depends on which of the above categories you prioritize.
But if you value:
Material performance
Deck maintenance needs
Long-term costs of your deck
Overall value of your investment
All equally? Choose TimberTech.