Deck stairs are much more than a functional structure. Stairs can be a design element all their own with creative angles, railing styles, and many pre-fabricated designs to choose from. Even the simplest stairs can add dimension and depth to your deck design. It's no surprise then that deck steps ideas can range from simple and chic to elaborate and sophisticated.
Explore these deck steps ideas to discover new inspiration for your own build.
IMPORTANT:
Keep in mind that stairs should be designed with safety and local building codes in mind. Be sure to check with your local building department before pursuing any of the ideas below yourself.
In This Article:
1. Keep it creative with curves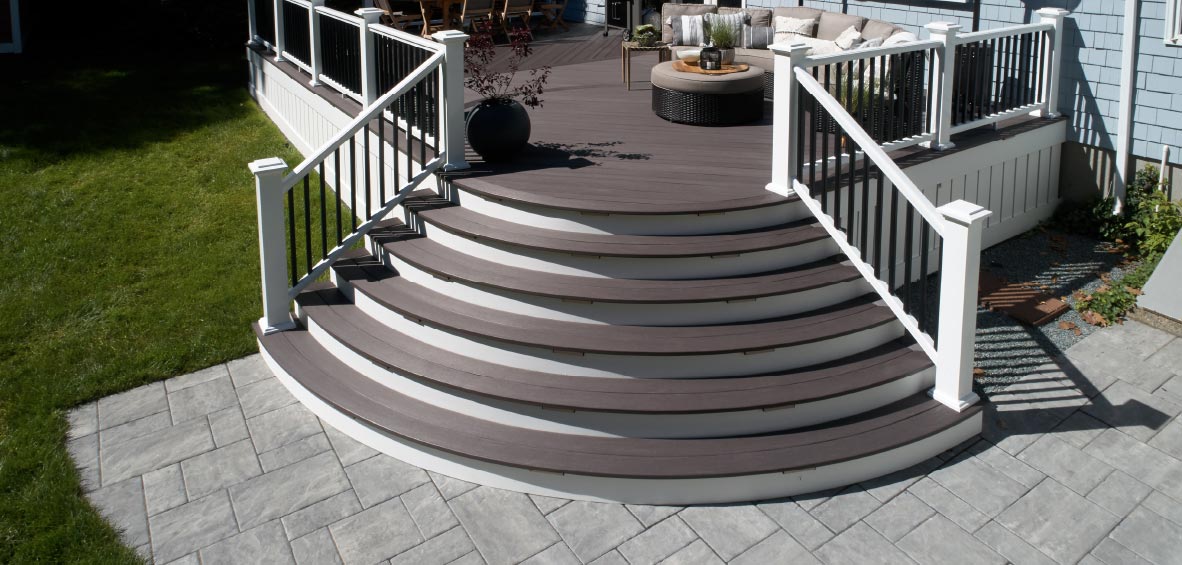 Give your deck stairs a unique, unexpected shape with curved deck steps. Curved decking elevates your deck design and naturally blends with your landscaping.
While all TimberTech Composite™ Decking can be curved, TimberTech Advanced PVC decking is best suited to the process of curving boards, called heat-bending. If you're considering a curved build, consult a contractor with heat-bending experience. Heat bending isn't suitable for DIY builders.
2. Showcase stacked steps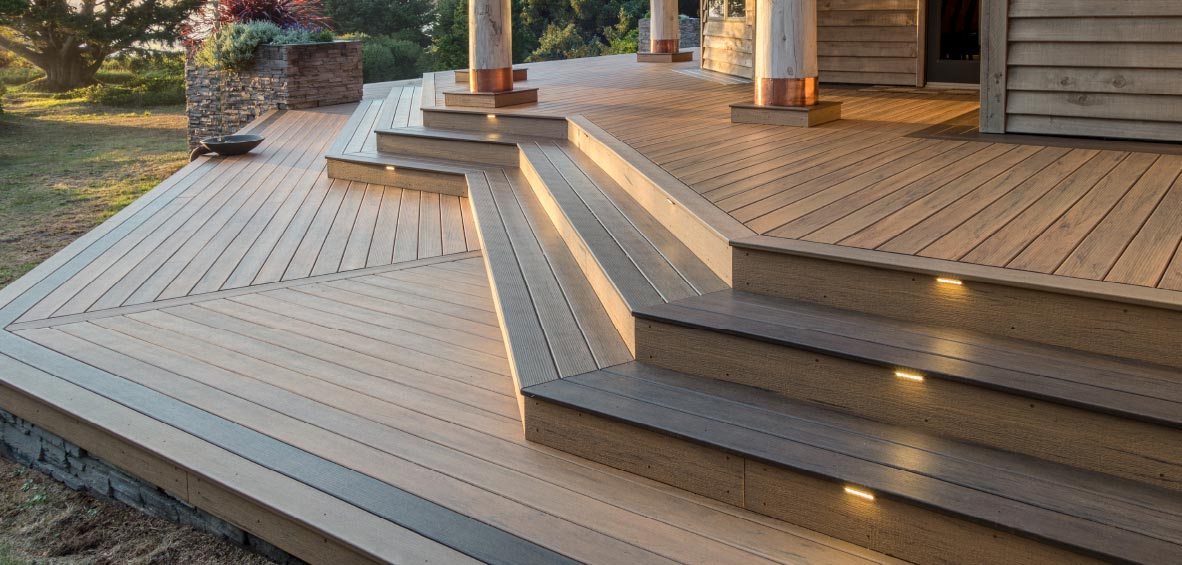 Stacked steps cascade gently into your yard with a shallow rise that blends into your deck. This design can create the appearance of an extended deck as each step peeks out from the last. You can build stacked steps into a single end of the deck or stretch them along the perimeter for accessibility from every angle.
3. Design with spirals in mind
Playing with shapes is a great way to design a unique deck that's as beautiful as it is functional. Creating spirals with custom decking patterns or built-in benches provides a seamless elegance you'll love for years to come.
4. Install a wide and welcoming entrance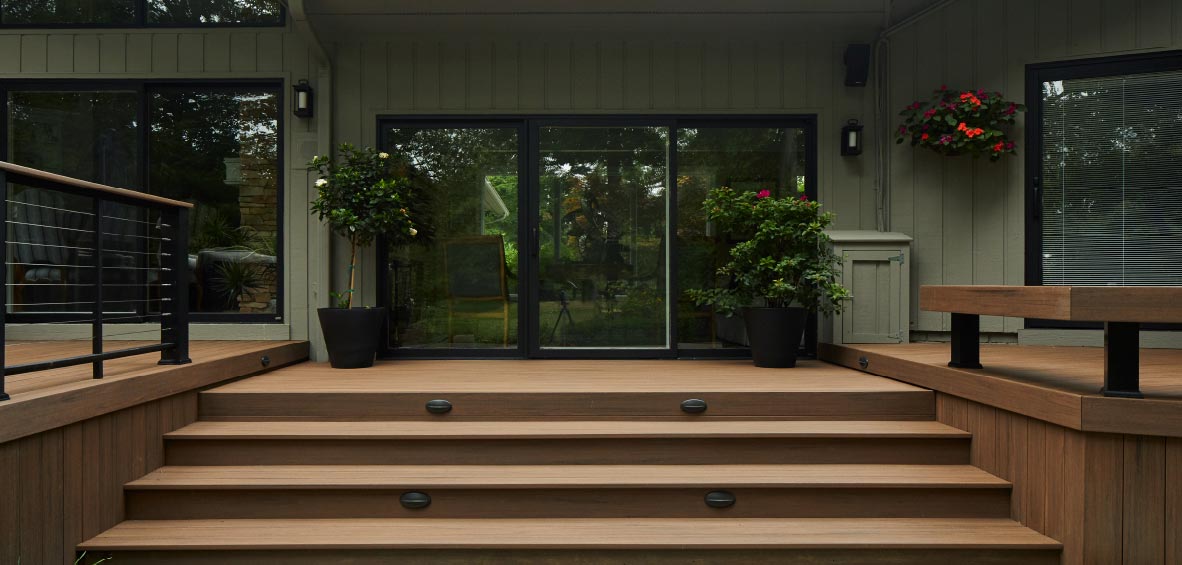 Extending your deck steps' width a couple of feet creates an ultra-accessible and welcoming entrance for you and your guests. This also provides an opportunity to decorate your steps with planters and other decor favorites.
5. Be bold about color
Colors can change up your deck design without planning an elaborate or costly remodel. Two-toned designs are sleek and stylish, and when choosing colors for your treads (the steps) and risers (the back of each step), contrast colors such as a gray tone with a brown tone. Alternatively, choose a bold color that speaks to your personality for a custom style.
6. Line it with landscaping
Your garden doesn't have to end at the edge of your deck. Tiering your landscaping to complement your steps with rising plants or vining flowers creates an intentional design that adds color and beauty to your stairs.
7. Step into comfort
Make steps a part of your design rather than an afterthought with varying deck levels. You can start with two or three levels for an interesting design, or go retro with a custom conversation pit that drops in the center of your deck.
8. Stay sleek and classic
A classic and chic look is always a good choice for your deck or patio. Any neutral color scheme will work — a crisp white step and railing looks great with any home aesthetic. If you're after a traditional look for your steps, consider:
A classic white composite railing featuring a traditional milled wood look
Crisp white PVC trim for stair risers to match the railing
Minimal decoration to keep things clean and open
9. Take in the views with glass railing
Glass railing is always a sleek choice and it won't obstruct the view of your garden. It works well with any color combination you'd like and helps open the appearance of your deck and stairs. Just know that you'll have to keep up on maintenance to clear any fingerprints and debris.
10. Consider wraparound steps
Wraparound steps are the ultimate choice for a wide open view of your garden. They're best for low-lying decks that don't have railing requirements. You can enter your deck from any direction and decorate the steps as you like since there's plenty of room to navigate.
11. Save space with a spiral staircase
Amp up your deck's style with spiral stairs. Spiral stairs are ideal for a second-story or raised deck with enough height for the spiral to repeat. Due to this design's unique construction needs, it's highly recommended you work with a contractor if you're considering spiral stairs.
Spiral stairs were originally designed with the intent to save floor space, and they're perfect if you have a small landing area or simply want to keep things compact. In addition to its functionality, a spiral step design gives your deck a truly unique look that will stand out in the neighborhood.
12. Leave the lights on
Lighting is always a nice addition to your deck design, both to prioritize safety and allow you to enjoy your deck day and night. Steps are an especially important place to plan for lights for easy navigation after dusk. You can install rail post caps and risers with built-in lighting, or choose your favorite garden or string lights to add a gentle glow to your outdoor living space.
13. Make the most of a platform
Need deck steps ideas for a raised or second-story deck? An important consideration to keep in mind is the height of your stairs. Intermediate landings are recommended for every 12 feet a stairway rises.
Another reason to add a landing is if you need a change in direction in your stair design. Landings aren't only beneficial for the safety of your deck — they also give you another surface to decorate.
14. Double your space with a second story
If you weren't already planning for a second-story deck, they're a great way to extend your space based on use. Different sections of your deck may be better suited for dining and entertainment, while other sections are great for a kids' play space and toys.
15. Open it up with floating stairs
Floating stairs are a nice contemporary aesthetic that come in a few alternatives depending on your preference. The classic floating stair design is built without stringers or risers with the supports hidden so each tread looks like it's floating by itself. You can also build steps with just one or the other for a partially floating appearance.
16. Go contemporary with cable railing
Cable railing is a top choice for sleek and modern railing designs, showcasing your deck and the surrounding view rather than calling attention to the railing itself. Stairs in a neutral color may complete a contemporary industrial design, while a pop of color on your steps can shine through the unobtrusive railing.
17. Step it up with shapes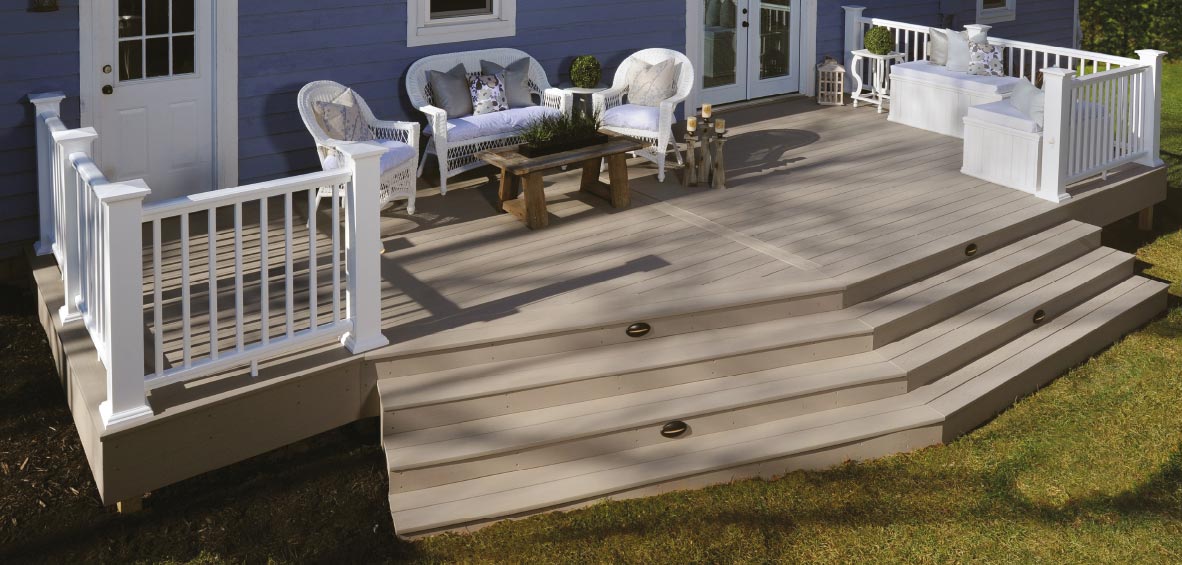 Tiered deck stairs, staircases, and even spiral designs are all relatively common step shapes, but there's no limit to the shapes you can build into your deck steps design. A single-angle design can create a chevron illusion, while three angles on wide steps create a soft arch in a hexagonal shape. For a more organic look, lean into curves with a wave pattern or even a long oval that extends into a garden or pool area.
18. Play with patterns
Patterns are a fun way to customize your decking with alternating colors, creative shapes, or focal points. Designs can be enhanced with careful step placement, like spiraling stairs that feed into a spiral decking pattern or curved steps that follow the flow of an existing deck design.
19. Enjoy a low profile
A low-profile deck may not require railings, which means you can choose low-profile steps for a seamless transition between your lawn and living spaces. Matching colors between your decking and steps creates a simple and timeless design. Alternatively, choose contrasting colors to emphasize your steps or distinguish between sections of your deck.
20. Add function with a drink rail
There's a vast selection of railing types for your deck and stairs, including your choice of infill, bottom railing, posts, and more. This includes the top rail, which is the top section of a railing for you to hold onto. Functional options like the TimberTech Drink Rail are extra-wide top rails so you can place decor or drinks on top and make the most of every inch of your deck.
21. Switch up your materials
Regardless of your decking material preference, you can switch up your design with new textures like stone or logs. Include complementary materials in your landscaping, railing posts, or walkway to your deck steps to create visual continuity. The above-and-beyond design elevates your deck for a classy and true-to-you look.
Stairs can be an afterthought in an initial deck design, but creative deck steps ideas add polish and flair to a well-designed outdoor living space. Whether you're thinking of a modern look that will impress for years or customizing the fun and funky deck of your dreams, your stair and railing options are limited only by your imagination and building codes.
Design your dream deck today to explore decking colors, railing styles, structure shapes, and more.