If you're considering building a deck, you've likely come across terms like "composite" in your search. But what is composite wood?
Composite generally refers to man-made materials created with an engineered mix of ingredients. It's an umbrella term for manufactured products made with a blend of wood fibers and inorganic materials like plastic. Depending on the product additives, each composite blend offers a range of benefits like increased weather resistance or durability.
There are several types of composite wood products available, and many have different functions, from low-maintenance decking to affordable interior trim. Learn more about how composite wood varies and what projects it's best for below.
Composite wood materials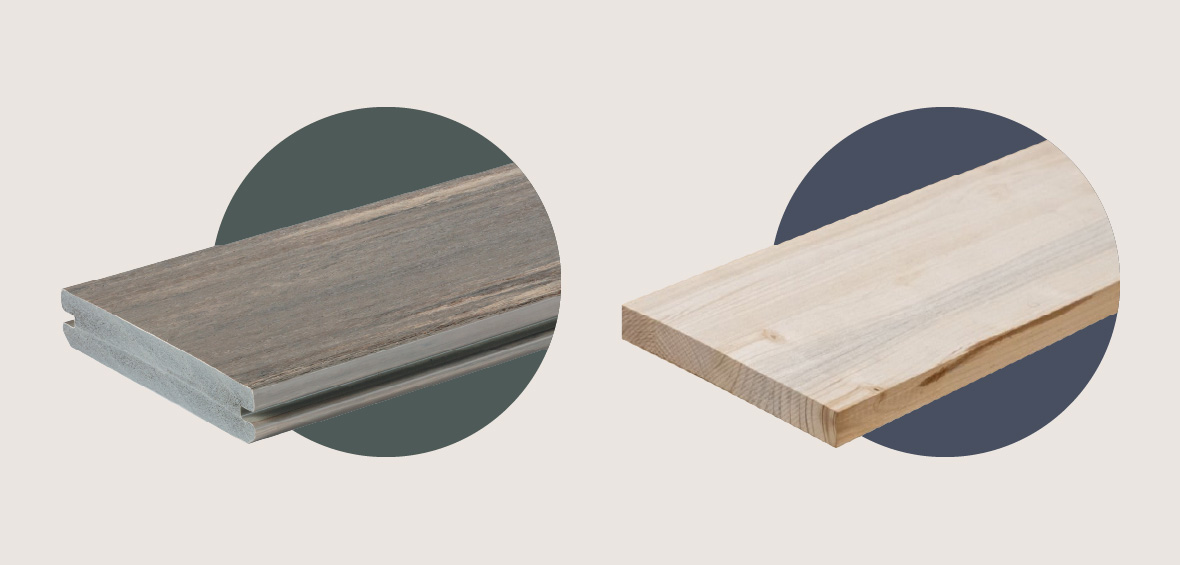 Wood composite materials are sometimes called manufactured wood and they always include wood fibers like sawdust or lumber particles. They're typically blended with plastics into a wood-plastic composite, though they can also be wood-cement composites or created out of adhesives like particleboard. 
For example, TimberTech Composite decking is made of organic wood fibers and post-consumer recycled plastics for a sustainable and sturdy deck, featuring proprietary polymer caps for improved weather resistance. The term "composite" can be tricky, since it's often used as an umbrella term for any manufactured decking, including TimberTech's Advanced PVC products that are 100% synthetic and made of 60% recycled materials.
How is wood composite made?
The process of making composite wood depends on the end product and its purpose. Generally, manufacturers repurpose excess wood by grinding scraps into small particles that can be combined with plastic or other additives. 
When creating wood-plastic composites, manufacturers may mix wood fibers with thermoplastic resin, or form the mixture into composite pellets that are used to create the final product. Other popular wood composites like particleboard are made by pressing layers of wood chips together with adhesive to form a final wood composite material. 
The composite can be enhanced with additives like UV stabilizers, colors and dyes, lubricants, and other elements for bonus properties like fade resistance. A finished composite product is typically formed into a solid sheet or board for construction use.
Composite wood products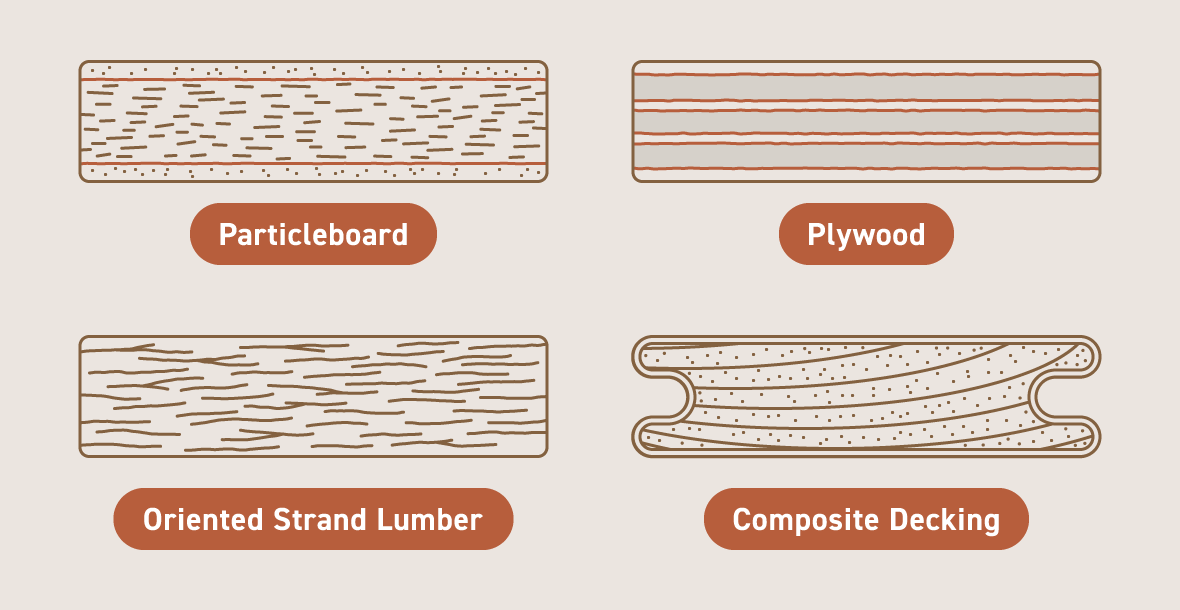 Composite wood products are featured everywhere, from kitchen cabinets to furniture made of particleboard. Decking is an especially popular structure for composite materials because of its increased weather and UV resistance and overall durability. This means a composite deck won't splinter or rot like traditional lumber, and requires less annual maintenance.
While some wood composites look more plastic than wood, other items like plywood, which is made of cross-laminated veneer, are almost entirely made of wood and retain that authentic look and feel. As composite technology advances, even plastic-heavy engineered materials can mimic a stunning real wood look.
Here are some other popular wood composite products you may be familiar with:
Cross-laminated timber
Laminated veneer lumber
Plywood
Fiberboard
Particleboard
Oriented strand lumber
These composite woods are used to create several products in homes and construction, including:
Trim
Siding
Flooring
Decking
Fences
Furniture
Is composite wood real wood?
Composite wood is at least partially made of wood fibers, like veneers, scraps, or sawdust, but it isn't true lumber directly from a tree. It's mixed with a number of other materials and additives to provide additional properties wood alone wouldn't have.
Lumber may be treated with chemicals to improve durability, like pressure-treated pine, but it isn't made of anything but real wood.
Is composite wood better than real wood?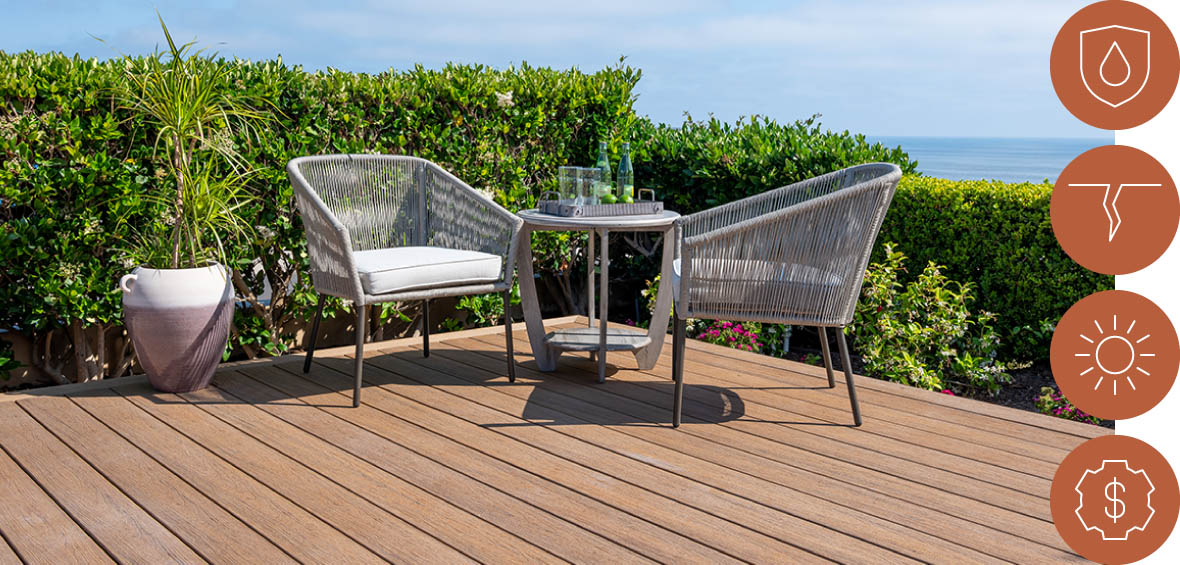 Depending on the composite wood, it can offer a number of low-maintenance advantages over real wood, including:
Water resistance
Splinter resistance
Fade resistance
Modern wood-plastic composite materials are also getting better at replicating the real wood look with natural grain patterns, so you don't have to sacrifice appearance for durability.
Cost comparisons depend on your project and materials. If you're considering installing a deck, real wood can be more affordable than composite decking — especially if you're looking at pressure-treated pine or other low-cost lumber options. However, real wood is prone to decay and needs extra maintenance to last, so composite decking is still more affordable in the long run.
Does composite wood look fake?
The look of your composite wood depends entirely on the product and manufacturer of the boards.
Plywood layers wood veneers with adhesives, so a plywood board has the same wood color, grain, and texture as real lumber. On the other hand, plastic-composite trim has a manufactured wood grain and texture, so the quality varies.
Modern high-quality composite materials can look very convincing, even if they're not made of veneers. For example, TimberTech's Composite decking comes in a variety of colors with wood looks that rival the real thing — but with significantly less maintenance.
Composite woods are manufactured for several added benefits over natural wood, and there's an array of products available for everything from flooring and decks to furniture and trim. The specifics of what composite wood is and how it's manufactured depends on the final product, but it always contains real wood particles mixed with additives.
Want to see the advantages of composite materials for yourself? Order free samples of our composite decking to compare the real wood aesthetics of TimberTech at home.