A new deck can be a great addition to your house and may make for a nice DIY project, but navigating your local building codes can make it not so beginner-friendly. Your project has to meet certain deck building codes to ensure your family and property are safe, and to maintain local property regulations.
From the height of your deck to how you install your deck stairs, local building regulations vary. Check in with your local building authority and apply for all necessary building permits before you begin your project.
Otherwise, there are general installation best practices to consider when you plan your new deck. Check out these deck code requirements to get started, and be sure to consult your manufacturer's guidelines when installing composite or PVC decking.
In This Article:
Deck code requirements to know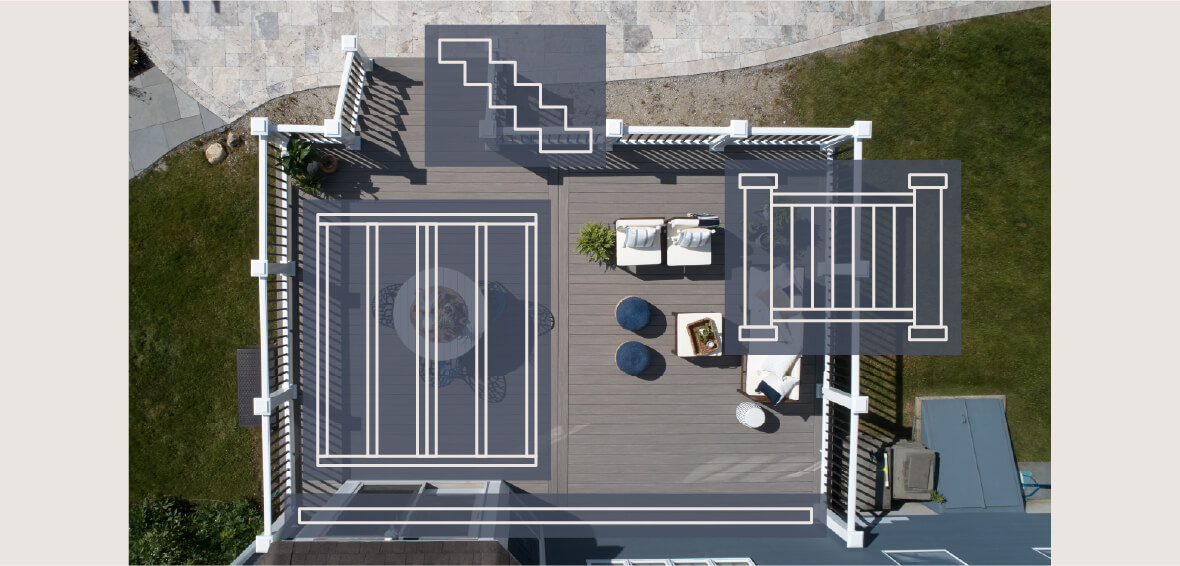 Building codes are written to protect homeowners and provide for safer, more durable installations. They also help maintain homeowners insurance coverage and provide peace of mind to a prospective buyer when it's time to sell.
Critical elements like stair and railing requirements, substructure guidelines, and requirements by material choice are all addressed by building codes.
Building codes can be localized, as a beachfront home in California has very different needs than a Midwest cabin in the woods. One of your first stops should be your local building authority for specific guidelines and permits.
However, you can start with these general deck building codes and best practices:
Wood decking should use 5/4 or 2″ x 6″ for the given span.
Composite decking must be installed to manufacturer specifications with listed span requirements.
Guards (railings) are required for decks higher than 30″ off the ground.
Stair handrail height must be between 34″ and 38″ measured vertically from the nose of the stair tread, or the overhang at the edge of a step.
Load strength minimum of 50 pounds per sq. ft. is required.
Stairway width minimum of 36″ is required.
Variations between riser heights or tread depths on stair steps may not exceed ⅜".
Footing posts can be either 4′ x 4′, 4′ x 6″, 6′ x 6′, or 8′ x 8′ sized lumber, depending on your local building codes.
Codes may also vary depending on your deck's design, like whether it's attached to your house or not.
Building codes for a deck attached to the house
Decks are commonly connected to homes, which makes them structural alterations that require a building permit and specific guidelines for a safe and durable deck. If you're building an attached deck, here are some specific details you'll need to know to meet common building codes:
Remove exterior finishes like siding before attaching the ledger board.
Ledger boards must be 2x lumber with a depth greater than or equal to the deck joists.
Flashing should be installed along the ledger to house interface.
Attach ledger boards to house foundation or framing per local requirements.
Use hold-downs or other tension devices with a minimum load capacity of 1,500 pounds to connect decks to foundations and to connect parallel or perpendicular floor and deck joists.
TimberTech Tip:
Dimensions marked 2x indicate to use lumber with a nominal thickness of 2″ and the minimum width depends on the supporting beam spans.
Freestanding deck building codes
Freestanding decks are self-supporting structures that won't connect with your home's foundation or floor joists. This means that installation and building codes vary, and you may not even need a building permit for smaller platform decks.
Many of the attached-decking guidelines apply to freestanding decks, but there are some specific guidelines to know before choosing a platform deck. Always consult your local code requirements before construction.
Deck joist and framing codes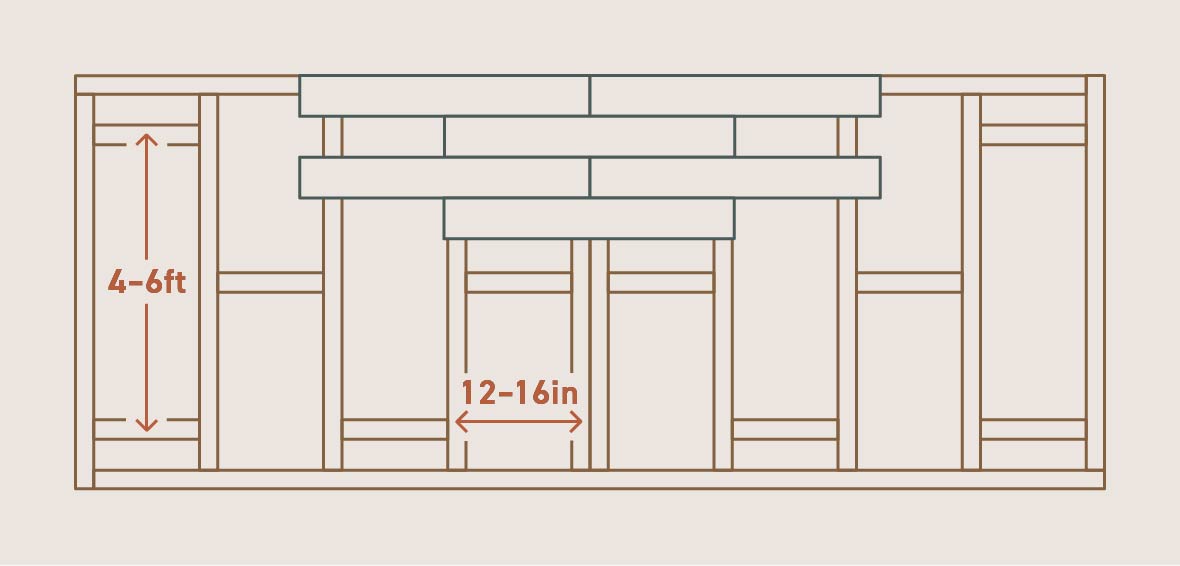 Your deck's substructure, including footings, posts, and joists, ensure your deck has a structurally sound foundation for years to come. Things like joist spacing and post height are integral to the rest of your deck's build and impact load capacity and strength.
These details can vary based on your location, so check with your local building codes and consider what elements may impact your deck, like exposure to salt water or extremely dry climates. This may impact your choice of fasteners or deck design, but the chart below will provide a good overview of substructure building guidelines.
Joist and beam cantilevers must not exceed ¼ the length of the joist or beam span.
Joists must not exceed the below lengths based on its dimensions, joist spacing, and design plan (with or without cantilevers). Guidelines are for southern pine lumber projects.
Deck Joist Spacing
| Joist Spacing | Joist Size | Without Cantilevers | With Cantilevers |
| --- | --- | --- | --- |
| 12″ | 2″x6″ | 11′-1″ | 7′-5″ |
| 12″ | 2″x8″ | 13′-8″ | 10′-9″ |
| 12″ | 2″x10″ | 17′-5″ | 15′-6″ |
| 12″ | 2″x12″ | 18′ | 18′ |
| 16″ | 2″x6″ | 9′-7″ | 6′-9″ |
| 16″ | 2″x8″ | 12′-5″ | 10′-9″ |
| 16″ | 2″x10″ | 15′-10″ | 15′-6″ |
| 16″ | 2″x12″ | 18′-10″ | 18′ |
| 24″* | 2″x6″ | 7′-10″ | 5′-10″ |
| 24″* | 2″x8″ | 10′-2″ | 10′-2″ |
| 24″* | 2″x10″ | 13′-1″ | 13′-1″ |
| 24″* | 2″x12″ | 15′-5″ | 15′-5″ |
Source: AWC
*Not recommended for manufactured decking unless otherwise specified by the manufacturer. TimberTech's Advanced PVC Decking is designed to span up to 24″ on center.
Deck joist spacing 12" or 16" on center is recommended for most materials, though wood decking and some manufactured materials can be installed with 24″ on-center spacing.
Install equal blocking rows with 4′ to 6′ spacing.
Rim joists and ledger width must be no less than the joist and be secured to the end of each joist.
Deck beam bearings must have a minimum bearing of 1.5″ on wood or metal materials, or 3″ on masonry or concrete.
Joist bearings must be attached to beams and joist hangers, and match joist hanger capacities outlined below.
| Joist Size | Joist Hanger Capacity |
| --- | --- |
| 2″ x 6″ | 350 lbs. |
| 2″ x 8″ | 600 lbs. |
| 2″ x 10″ | 700 lbs. |
| 2″ x 12″ | 800 lbs. |
Multi-span beams should splice over interior posts for support.
Posts must not exceed a 10' height if 4″ x 4″, or 18′ height if 6″ x 6″.
Footings shouldn't impose lateral pressure on the adjacent structure's foundation. Depth, size, and distance from the foundation are dictated by the local environment, while distance from the foundation is determined by local building codes. .
Deck stair codes and safety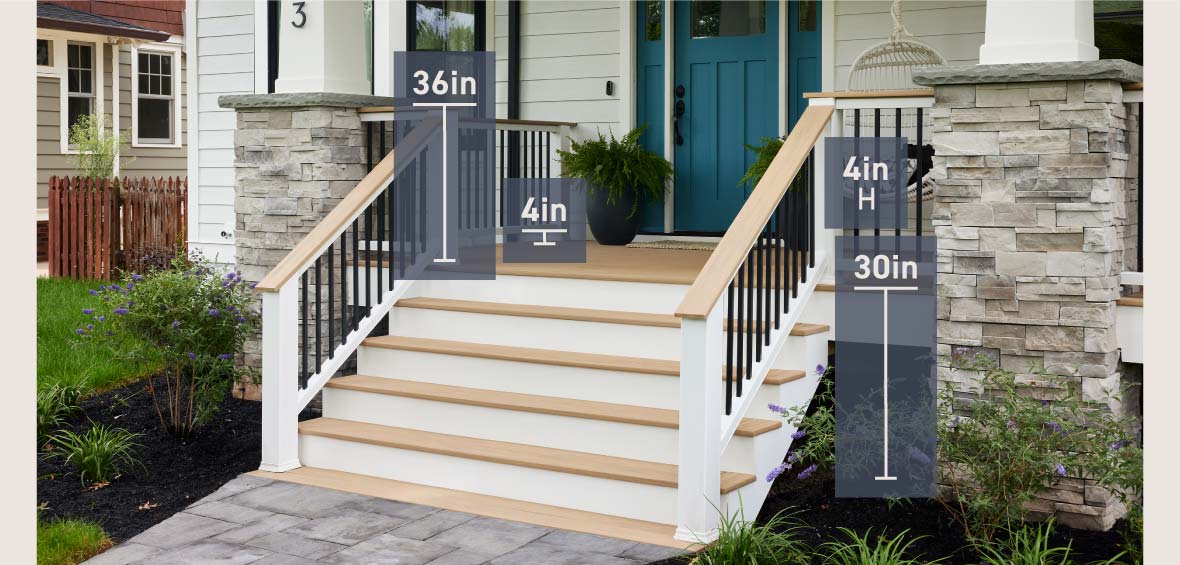 Many decks are attached to existing homes and are at least 30″ above the ground, so deck stairs and adequate railings are a must. Stairs can be tricky, since a riser that's too high or a tread depth that's too small can make them difficult to use at best, and a tripping or health hazard at worst. This is why the building code states that within a run of stairs the vertical rise of a step and depth of a tread can not vary by more than 3/8″.
These deck stair and railing codes help ensure you're in compliance with building best practices and that you and your guests can enjoy your deck without worry.
Construct stair stringers with sawn nominal 2″ x 12″ lumber and a maximum span of 6′ if cut, or 13′ 3″ for solid stringers.
Construct sawn stringers 18" on center and with a 5″ throat. This can vary for manufactured decking, so be sure to consult relevant installation guides. 
Attach stringers with joist hangers designed for stair stringers (minimum capacity of 625 pounds) and place on footings at grade.
Construct stair treads with nominal 2" x 6" boards, or use boards provided by a manufacturer.
Stair tread depth must be at least 10″. Treads with a less than 11″ depth require a nosing of ¾" to 1¼".
Construct risers of nominal 1" lumber or use risers provided by a manufacturer.
Openings in risers may not exceed 4″ in height, and rise may not exceed 7.75″ if they're taller than 30″ from grade.
Stair Anatomy:
• Treads are the stair's steps
• Risers are the vertical sections between treads
• Stringers are the structural members, typically made of wood, that carry the stair treads and risers
Deck railing codes
Deck railings are often required to prevent serious falls or injury. You'll find a variety of railing styles so you can choose what's best for your lifestyle and aesthetic.
Regardless of the type of railing you install, you'll need to consider these railing codes to pass inspection:
Install deck guard posts at the corners (inside or outside) of rim joists for railings. Spacing and attachment guidelines vary locally.
Don't exceed a 4" gap between the deck and bottom rail, or between balusters. Local requirements for bottom rail gaps may be as low as 2″.
Maintain a minimum 36" height for deck surfaces more than 30″ above grade. California residents must maintain a minimum 42″ height.
Deck ledger board codes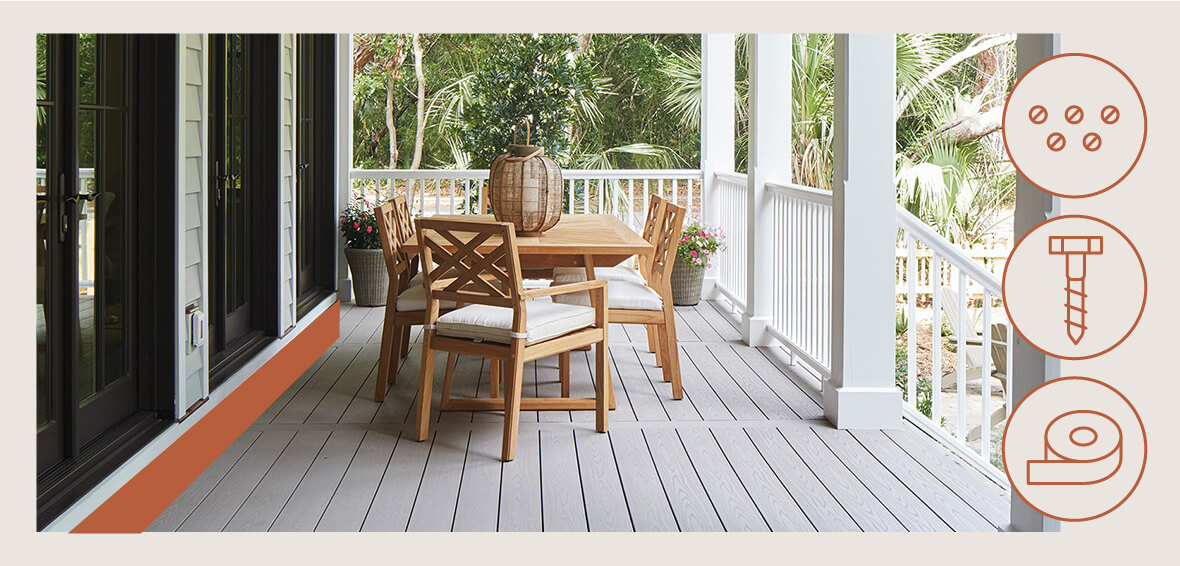 Ledger boards are rim boards used to attach a deck to a house and its floor structure. One of the major causes for deck failure is improperly attached ledger boards, which should always connect structures with lag screws or bolts — not nails.
This connection is critical to the health and safety of your deck, so be sure you consult your local building codes and follow installation guidelines to the tee. If you're unsure of your build, contact a professional for help.
Of course, there are several factors that impact your structure's strength when installing a deck with a ledger board, so be sure to read up on these building codes as well as your local guidelines.
Ledger boards must be at least 2" x 8", and equal to or greater than the deck joists' width, but equal to or smaller than the rim joists' width.
Attach ledger board fasteners in two staggered rows with a 2″-5″ gap between rows, and 2″ between the fastener and ledger edge.
Attach ledger boards to a home with a 2x lumber band board or an approved engineered deck rim board that's at least 1″ thick and manufactured for deck supports.
Ledger boards must resist a 1,500-pound horizontal load at the end of each joist.
Bolts with washers or lag screw attachments must be ½" in diameter or larger, or other code-recognized fasteners designed for ledger attachments per manufacturer installations. Don't install a ledger board using nails.
Install flashing on ledger boards.
A new deck is an exciting project that may seem easy enough for beginners, but there's a lot that goes into a safe and structurally sound deck. Whether you're planning an all-wood deck or investing in low-maintenance composite materials, these deck building codes will help ensure your new structure passes inspection and has years of life to come.
Decide DIY isn't right for you? Find a qualified contractor to plan your new project with confidence that your deck will be beautiful and up to code.