Nothing says enjoyment like kicking back with loved ones for hours on your cozy composite deck – but when the late afternoon turns to evening, without deck lights, you may find yourself wishing for both enhanced illumination and safety. Fear not: we've got the deck rail lighting and compatible composite railing systems you need to keep the party going well past sundown.
WANT TO EXPLORE ALL YOUR OPTIONS FOR DECK LIGHTS?
Get the bright ideas you need with our Deck Light Inspiration Series. READ THE SERIES
Why Opt for Deck Rail Lighting
Deck rail lighting promises some serious benefits when it comes to optimizing your outdoor living space.
Deck Rail Lighting Delivers On Safety, Value, & Style
Improves Deck Safety
Permanent lights installed within your railing system mark borders and illuminate transition points, like stairs, for secure steps. A well-lit deck also provides nighttime security when Man's Best Friend decides it's time to go out.
All-Weather Durability
Choosing permanent deck rail lighting means you won't have to replace your luminaries or lanterns as you would with temporary lighting solutions, or scramble to bring temporary lighting inside during inclement weather.
Unifies the Look & Feel
Lighting highlights your outdoor living design and cultivates a warm and inviting atmosphere. Your deck should feel like a work of art – framing your project with the right railing and outdoor lighting just makes sense.
Deck Rail Lighting Options to Light the Night
Now you know the benefits of deck railing lighting – but just what are your options to choose from?
Within the TimberTech lighting portfolio, you have four deck rail lighting solutions to choose from (or combine), depending on your backyard build and the railing system you choose.
Deck Rail Lighting to Pair With Your Perimeter
---
All four lighting options offer a soft, warm glow to trace your perimeter with visibility- and atmosphere-enhancing illumination.
WANT MORE LIGHTING OPTIONS?
Review the full lighting portfolio for even more ways to light the night, like riser lights and in-deck lights. EXPLORE LIGHTING
Note that installing permanent outdoor lighting can be a meaningful undertaking, especially if you already have a fully installed railing system that does not include lighting. The good news? We have TimberTech-registered contractors ready to partner with you on lighting your deck.
How to Combine Lighting With Your TimberTech Railing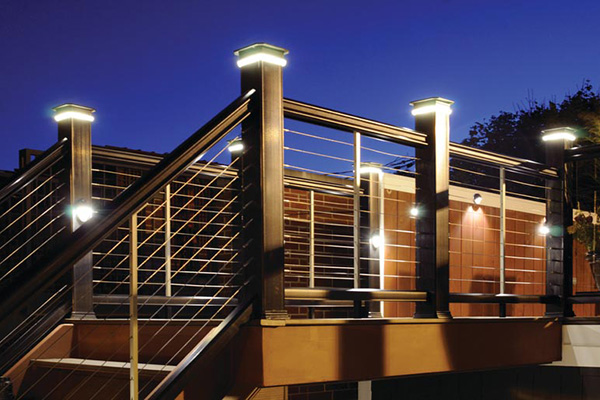 Since all our deck rail lighting options brighten your space and increase visibility, deciding which lighting choice is right for your outdoor living space will likely come down to two things:
For a Traditional Feel
Deck rail lighting such as post-cap lights and lighted island caps very literally highlight the stateliest element of your railing system: the caps.
If you've chosen a railing from the Classic Composite Series, the traditional millwork-inspired profiles of Premier Rail®, RadianceRail®, and Trademark Rail™ pair perfectly with elegant cap lighting.
For a Modern Feel
Want to break with the expected?
If you've opted for a more modern railing system – for example, Impression Rail Express® – then keep your lighting simple to show of the clean lines of your polished perimeter.
Choose from deck rail lighting options like accent lights or under-rail lights – then enjoy a subtle glow that improves visibility while letting your contemporary style shine through.
Explore the full spread of our modern metal and eye-catching composite railing systems in the Outdoor Living Catalog.
Then, once your creative juices are flowing, jump into our 3D Deck Design tool and start bringing to light your ideal outdoor living space.