From get-togethers with family and friends to relaxing afternoon naps, your deck or patio can be the perfect place to enjoy the outdoors. But what about those summer days when it gets too hot? Instead of heading indoors, you can get the best of both worlds by adding shade to your patio.
Whether you're looking for temporary shade in a pinch or permanent sun protection, following one of these patio shade ideas can help you transform your patio or deck from sun-scorched to a cool refuge.
In This Article:
1.) Break out the umbrellas
Adding umbrellas to your patio or deck is an easy way to cover your patio with portable shade. Whether you go for a market or cantilever umbrella, you can easily reposition them to keep up with the afternoon sun. With plenty of different options, you can choose an umbrella that best fits your taste, from earth tones to bright pops of color.
2.) Install a pergola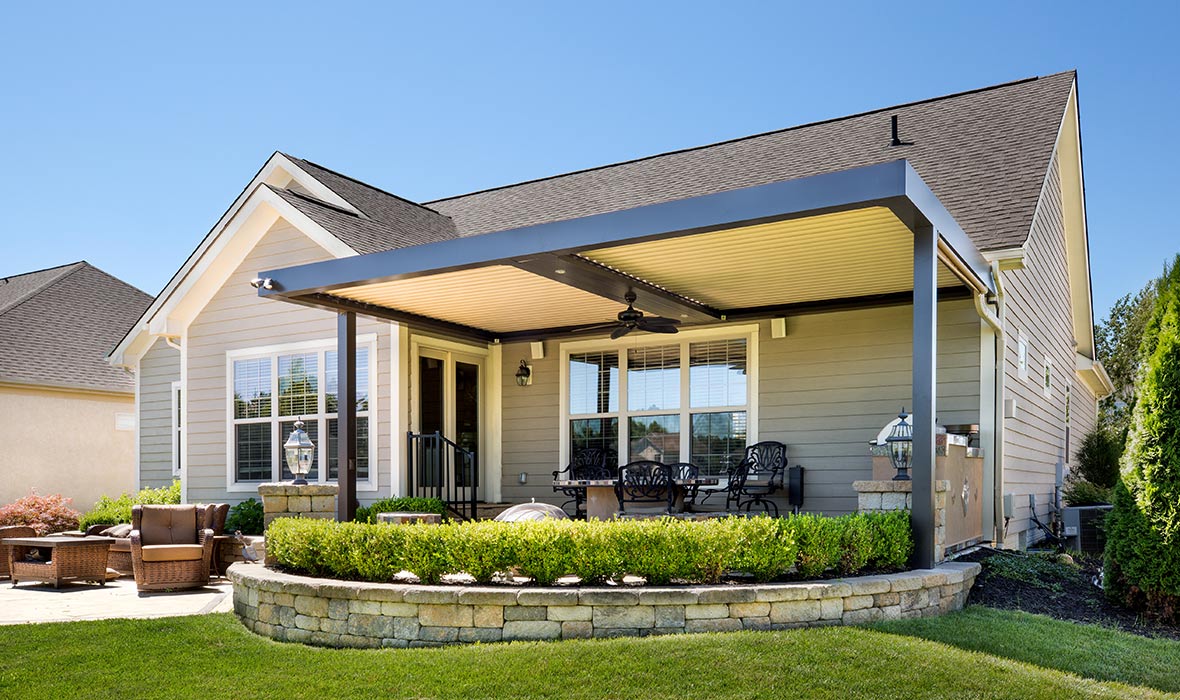 Pergolas are beautiful rectangular structures with open walls that can help shade you from the sun without blocking the breeze. With a Pergola X, you can customize your shade experience by adding fans, backyard lighting, and heating, ensuring your pergola is the perfect place to hang out all year round.
3.) Relax under a covered daybed
Who said beds are only for indoors? With a covered daybed, you can lounge on your patio or deck no matter the time of day. Whether you're curled up with a good book or resting after a long day in the garden, having a daybed to escape to is a cozy and luxurious option when considering deck shade ideas.
4.) Put up an awning
Adding an awning to the side of your house is a great way to maximize your outdoor shade. This form of overhead protection can also help keep you dry, making it one of the best outdoor shade ideas for those looking to enjoy their patio or deck year-round.
TimberTech Tip:
If you'd still like to lounge in the sun from time to time, consider getting a retractable awning.
5.) Go green with shade trees
If you're a nature lover, you may want to go all out and plant some of your favorite shade trees around your outdoor space. Not only can this help keep you cool on a hot summer day, but shade trees can help provide privacy to your outdoor space.
6.) Install a cabana
While they are frequently found near beaches and pools, you can bring shade and a tropical vibe to your deck by adding a cabana. With a Cabana X, you can customize your shade experience with ease using its motorized adjustable louvers or Sunbrella fabric curtains. In addition to protecting you and your guests from the sun, a cabana will also help protect your outdoor furniture, ensuring it will last for the seasons to come.
7.) Hang out under a loggia
Converting your patio or deck into a loggia is one of the most luxurious covered patio ideas. A loggia is a covered outdoor space that attaches to your home and is supported by columns, making it perfect for those looking for a permanent shade solution.
8.) Add adjustable shades
Similar to the ones used indoors, adjustable shades can be added to the top or sides of an existing structure, such as a pergola or cabana, to provide some extra sun protection. Plus, adjustable shades give you the freedom to adjust how much of your area is shaded.
9.) Hang wraparound curtains
Depending on the location of your patio or deck, overhead sun protection may not be enough. To help keep the sun from sneaking in through the sides, consider adding wraparound curtains. Whether they're attached to the sides of your cabana or strung up around the edges of a pop-up canopy, adding wraparound curtains is an easy way to increase your shade and privacy.
10.) Get a gazebo
Adding a gazebo is another inspiring deck idea for turning your outdoor space into a shaded getaway. Depending on your needs, you can opt for a portable pop-up gazebo or build one as a permanent structure. Whether lounging in your favorite chair or enjoying a family gathering, adding a gazebo to your outdoor space provides a beautiful structure you can enjoy for years to come.
11.) Take it poolside
While your pool may be your go-to area to catch some rays, adding umbrellas or a custom overhang to your poolside area can convert it into a luxurious shaded patio or deck. That way, when you need a break from the sun, you won't have to leave your stunning pool view behind.
12.) Fence the sun away
If you're looking for a more permanent way to block off the sun from the sides, consider fencing off the edges of your patio or deck. From there, you can use the fence as a blank canvas to add some style to your deck or patio.
13.) Build a custom overhang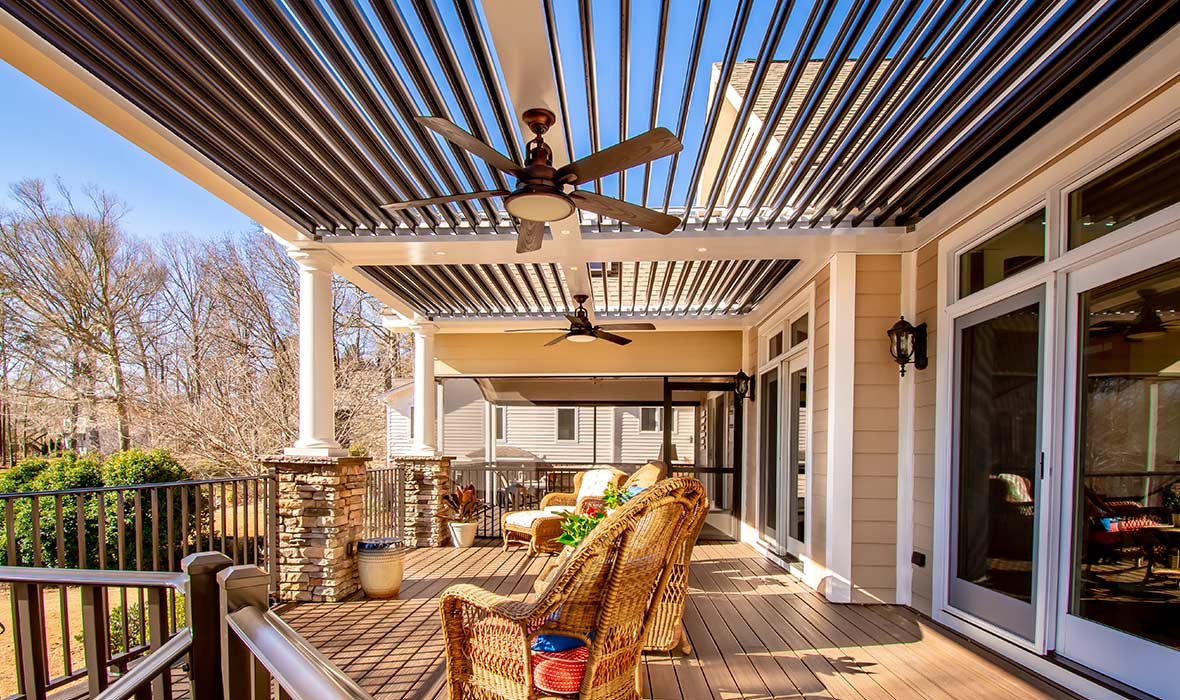 If you're most comfortable at the hardware store and don't mind getting your hands dirty, you might consider building a custom overhang. Whether you want to attach the overhang to your home or build something away from your house, spending a few weekends building a custom overhang can lead to endless hours of shaded patio or deck enjoyment.
14.) Plant a wall of hedges
For those who love gardening, planting a wall of hedges is a green way to add a splash of color to your outdoor space while also blocking off the sun. Plus, a hedge wall is a natural way to increase the privacy of your patio area.
15.) Pop up a canopy
Are you looking for a temporary option to add shade in a pinch? Adding a pop-up canopy to your patio or deck is one of the most simple patio cover ideas. These easy-to-assemble shade canopies come in a wide variety of colors, sizes, and price points, ensuring you'll find the best one to fit your deck or patio needs.
TimberTech Tip:
To help preserve the life of your pop-up canopy, be sure to disassemble and put it away during the winter.
16.) Add a covered bar
If you commonly use your deck or patio for entertaining, adding a covered bar can help elevate your gatherings while also providing an option to get out of the sun. Whether this is an awning or a custom overhang, a patio with a covered bar is sure to be the home of many summer memories for years to come.
17.) Throw up a sun sail
Adding a sun shade sail to your outdoor space is a quick and easy way to give yourself some added sun protection. Sun shade sails come in numerous shapes, sizes, and colors and can help bring shade and personality to your patio or deck. To help maximize your shade coverage, you can hang as many sun shade sails as you need, often from trees, poles, or the edge of your house.
18.) Consider a palapa
Commonly found on the beaches of Mexico, a palapa is an open-walled structure with a roof made of dried palm leaves. If you're looking to bring the beach to your backyard, a palapa can liven up your outdoor space while also protecting you from the hot sun.
19.) Add shade panels
Either building or buying portable shade panels can provide your patio or deck with easily movable shade wherever you need it most. Depending on your specific needs, you can invest in freestanding shade panels or ones you can fix to an existing structure such as deck railing.
20.) Add a covered dining area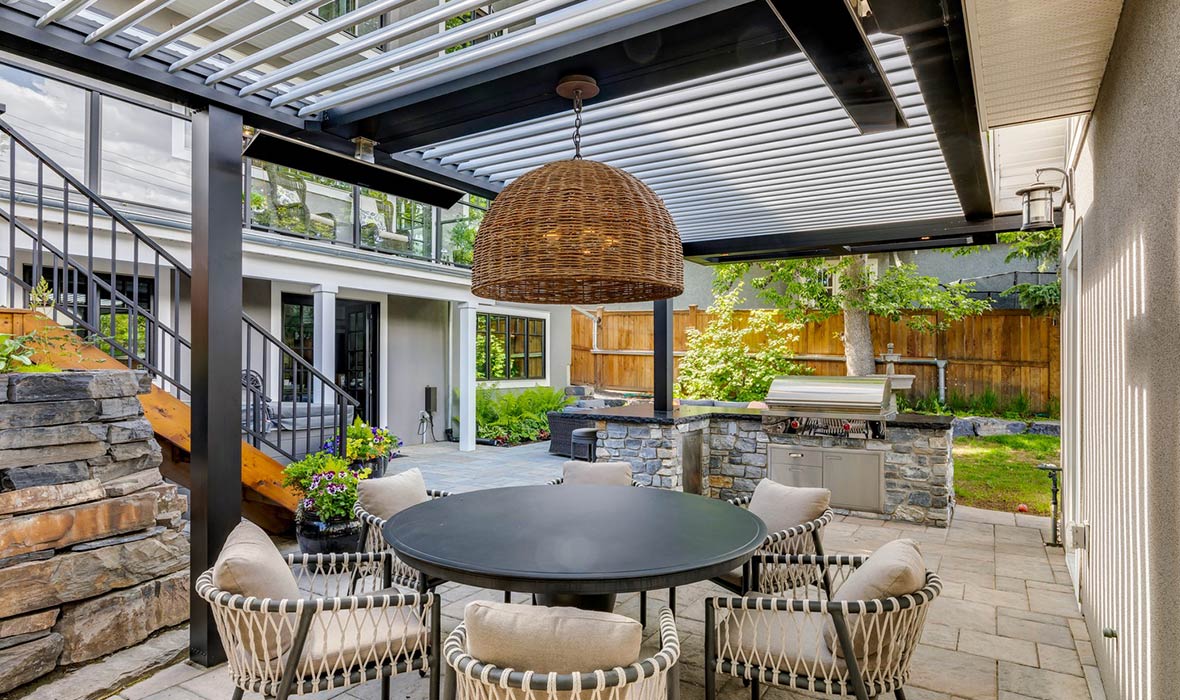 Whether you're hosting an outdoor party or just love to cook outside, adding a covered area specifically for dining can be an excellent home improvement project. You can do this by adding a sun shade sail, awning, cabana, or any overhead structure, as well as some nice outdoor furniture.
21.) Use pots to plant portable shade trees
Want natural shade but don't want to commit to planting a tree in your yard? If so, consider planting small shade trees in pots. This will allow you to move your shade trees around your deck as needed without having to dig up your backyard. Plus, fruit trees like peach and lemon trees can be grown in pots, providing you with shade, privacy, color, and fresh fruit.
22.) Build an elevated deck
Have you ever dreamt about adding a balcony or elevated deck to your home? If so, it could also double as a shaded overhang for a relaxing patio deck. Then, once it cools down, you can take the party upstairs to enjoy the marvelous view.
Not only can these patio shade ideas help keep you cool, but they can help boost the quality of your outdoor time. If transforming your outdoor space into a shaded oasis sounds like the next move for your home, you may want to consider installing a new deck to enjoy all year round. Compare deck styles and designs to help you envision your dream patio.