Now more than ever, you may find yourself craving a relaxation-ready outdoor living space. But where to start? How do you navigate the different elements that make for an enviable backyard build? No sweat. When it comes to top deck ideas and trends for 2020, we've got the info — and inspiration — you need.
Fresh Deck Ideas: Nature-Inspired Composite Decking
Your outdoor living space should capture enduring beauty while adding value to your home. Traditional wood decking can't measure up: even pressure-treated wood will fade, warp, and weather over time, leading to costly maintenance. Luckily, there's an alternative: TimberTech® composite decking.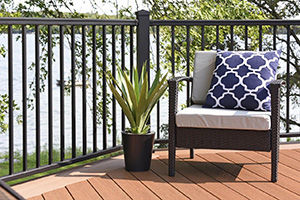 TimberTech Capped Polymer Decking
TimberTech AZEK®.
100% synthetic core engineered for performance.
Overall board composition of up to 54% recycled material.
Alloy Armour Technology® in the proprietary synthetic capping.


TimberTech Capped Composite Decking
TimberTech PRO® and EDGE®.
Composite core made of a proprietary blend of recycled wood and materials as well as additives.
Overall board composition of up to 80% recycled material.
3-sided synthetic capping and 4-sided synthetic capping with Mold Guard® Technology.
TimberTech decking combines the nuanced beauty of natural hardwoods — including Brazilian Ipe — with sustainable manufacturing practices and industry-leading technology. By opting for a capped composite or capped polymer deck from TimberTech, you lock in:
A gorgeous backyard escape that resists fading, staining, and weathering.
Long-term savings thanks to minimal maintenance — and no need to stain or replace boards due to weathering.
Serious curb appeal and bolstered home value.
With three decking lines to choose from — all defined by multiple collections with distinct hues, grain patterns, and finishes — you're sure to find the right price point and eye-catching aesthetics for your outdoor living space.
Fresh Deck Ideas: Multi-Width Decking in Unique Patterns
Traditional wood decking isn't just traditional as far as building materials go — it also only allows for classic design options. But what if you're looking for design-forward and unique deck ideas? Enter Multi-Width Decking.
With Multi-Width Decking, your deck ideas and inspiration are almost endless. Try out design-forward patterns like these to make your deck stand out from the rest:
Eye-Catching Inlays
The inlay is the portion of the deck you walk on. While classic deck designs typically feature single-width boards all applied in the same direction, TimberTech Multi-Width Decking means you can create visual texture and dimension with conversation-starting designs.
Pinstripe Pattern
Use a combination of narrow, standard, and/or wide-width deck boards to create a subtle-yet-elegant pinstripe pattern like this Minnesota build, or draw your deck ideas from this stately escape in College Grove, Tennessee:
With Multi-Width Decking, you have the option to elevate the look and feel of your outdoor living space, all while showing off your personal style.
Fresh Deck Ideas: Personalized Railing That Suits Your Style
Speaking of elevating your deck design, nothing completes your outdoor living space like railing. Our railing portfolio includes both metal and composite choices, including the easy-to-install panelized railing system Impression Rail Express®.
TimberTech Composite Railing
Includes the Classic Composite Series: Drink Rail (pictured above), Trademark Rail™, Premier Rail®, and RadianceRail® — plus more.
Extremely durable and low maintenance.
Resists mold, mildew, rotting, splintering, cracking, and warping.
TimberTech Aluminum Railing
Impression Rail™ and Impression Rail Express®.
Made of durable powder-coated aluminum to resist rust, fading, chipping, and peeling.
Offers a clean profile for clear sightlines.



Go traditional, modern, or minimalist with your railing and showcase your unique style while adding a layer of safety to your space.
Fresh Deck Ideas: Eye-Catching Lighting
Picture this: your laughter-filled summer day is melting into evening as you lounge with family and friends on your deck. Iced tea and jokes are flowing, and you don't want the fun to stop. With TimberTech outdoor lighting, it doesn't have to.
With options ranging from in-deck lighting to under-rail lights, you can keep the entertaining going long after the sun goes down. What's more, with in-deck lighting, you get the benefit of:
Improving safety by highlighting transition points like stairs or railings.
Evoking a welcoming atmosphere thanks to a warm glow.
Punctuating and elevating your design with perimeter-tracing illumination.
Fresh Deck Ideas: Polished PVC Trim
If you've invested in a TimberTech capped polymer or capped composite deck, you've already locked in enduring beauty and premium performance for years to come. But did you know you can expect the same durability and attractive appearance from cellular PVC trim by AZEK Exteriors — including at the level of your deck?
Crisp white and crafted from weathering-resistant PVC, AZEK® Trim comes ready to apply and doesn't require paint. If you already have AZEK Trim applied to your home's exterior, the addition to your backyard living space will seamlessly unite your home's aesthetics for some serious curb appeal.
Just a few of the ways you can apply PVC trim include:
Ready to turn your deck ideas into your ideal outdoor living space this summer? Order up to four free decking samples and get them delivered right to your door — no shoes required.
See & Feel the TimberTech Advantage
Our capped polymer and capped composite decking lines combine recycled material with all the beauty of traditional wood.