Looking for the best composite decking for full sun? Look no further than TimberTech® capped polymer and capped composite decking. TimberTech deck boards are far superior to traditional wood in several ways, including in their ability to handle direct sunlight with less heat retention and minimal color fading.
Find out why TimberTech decking is the best composite decking for full sun decks.
Why Traditional Wood Is No Good in the Sun
Traditional wood is a poor choice for decking in full sun for several reasons:
X Gets hot and stays hot – Traditional wood absorbs heat easily and retains it for longer.
X Splinters and cracks – Direct sun causes the moisture in wood to evaporate more quickly, causing cracking and splintering.
X Fading – UV rays beating down on your wood deck will fade the color.
Best Composite Decking for Full Sun: TimberTech AZEK®
TimberTech AZEK decking is engineered to withstand the elements — including full sun exposure.
How TimberTech AZEK Decking Keeps Things Cool
Several ways our capped polymer decking line stands up to direct sunlight include:
✓ Up to 30° cooler* than competitive products – TimberTech AZEK decking is designed to mitigate heat absorption, meaning a cooler barefoot surface for you — and your pet's paws.
✓ No cracking or splintering – TimberTech AZEK decking is made from 100% synthetic materials and is resistant to moisture, meaning no cracking or splintering from contraction and expansion like traditional wood.
✓ Protective capping means little to no fading in direct sunlight – UV rays are harsh on color — they affect the chemical makeup of an object and cause the color to fade. Designed with advanced materials science that blocks UV rays from penetrating the deck boards, TimberTech AZEK resists fading in direct sunlight and boasts a 50-Year Fade & Stain Limited Warranty.
Not only is TimberTech AZEK great in full sun, it's also perfect for poolside decking. Our capped polymer decking is engineered with a textured surface that makes it 40% more slip-resistant than competitive products.
*Although TimberTech AZEK decking products are cooler to the touch than many other deck board products, all decking products will get hot in the sun. Additionally, the darker the decking color, the hotter it will feel. For hotter climates, consider choosing a lighter color.
Why Fade Resistance Matters
When looking for the best composite decking for full sun, fade resistance is one of the most important factors to consider. Choosing decking with long-lasting fade resistance:
Helps your deck look new for longer.
Protects the look and feel of your home's exterior.
Improves your home's resale value by ensuring the next owners will enjoy the same beauty you do.
For Full-Sun Decking, Choose Light-Colored Deck Boards
For even greater heat mitigation, choose lighter color deck boards. Lighter colored deck boards, across all decking lines including TimberTech AZEK, TimberTech PRO®, and TimberTech EDGE®, will perform better in the heat than darker colors.
The best composite decking for full sun includes our gray and tan colored deck boards. The following deck boards will stay the coolest in direct sun:
Grays
---
Coastline®
Coastline blends tones of gray and tan for subtle, natural beauty.
Collection: TimberTech AZEK Vintage Collection®
Slate Gray
Slate Gray is a beautiful, light tone that gives you a chic, painted wood look.
Collection: TimberTech AZEK Harvest Collection®
Whitewash Cedar™
Whitewash Cedar is our lightest color and brings a brightness to your outdoor space.
Collection: TimberTech PRO® Legacy Collection
Tans
---
Weathered Teak®
This light tan with complex multi-color blending gives your deck a warm, sunny feel.
Collection: TimberTech AZEK Vintage Collection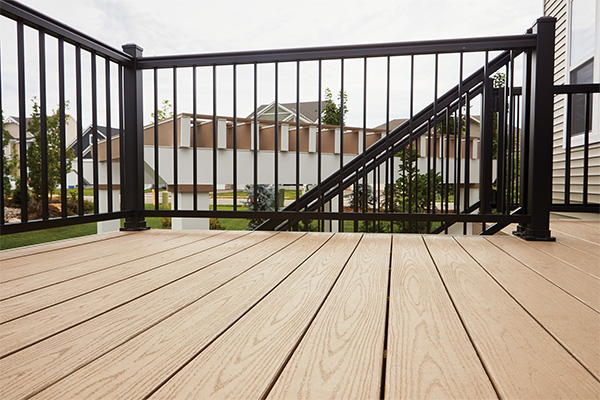 Brownstone
Monochromatic coloring gives these tan boards a sleek yet welcoming vibe.
Collection: TimberTech AZEK Harvest Collection
Now that you know what makes TimberTech decking the best composite decking for full sun, see our deck boards for yourself by ordering up to four free samples of our lighter colored boards. Place them in the sunny area your future deck will be to see just how well they perform under heat.