As the temperature rises, few things are more refreshing and enjoyable than a dip in your backyard pool – and few things are as bothersome as a pool deck marred by moisture or heat buildup. Fortunately, if you're looking for the best material for pool deck builds, you don't have to look far. With TimberTech capped polymer and capped composite deck boards, you can take advantage of benefits like moisture-resistant capping and a lower heat index.
Because you should be thinking about perfecting your cannonball form, not the integrity or comfort of your pool deck.
NEED HELP WITH THE HUES?
Get the deck color ideas you need with our Deck Color Ideas Guide. GET COLOR IDEAS.
Why TimberTech Composite Decking Is the Best Material for Pool Deck Projects
When it comes to pool decks, three elements will be especially important:
How well your deck material protects against moisture (and subsequent mold and mildew growth).
How well your deck material provides traction ('slip-free, please').
How your deck material fares in the heat (slower to build heat means longer enjoyment).
TimberTech decking is specifically engineered to capture the nature-inspired beauty of traditional wood – including exotic hardwoods like Ipe – but leave behind its less-than-ideal qualities. When it comes to the best material for your pool deck, TimberTech outperforms alternatives.
Banish Moisture & Stabilize Steps With TimberTech AZEK Decking
When you're thinking about the best material for pool deck builds, your first thought should be TimberTech capped polymer boards. The capped polymer boards of the TimberTech® AZEK® line feature no organic material in either their core OR cap – meaning no porous surface or organic material for moisture to invade and spawn mold.
TimberTech® AZEK® Decking
Crafted from 100% synthetic material in both the board and cap – no wood fillers for moisture to invade and erode.
Boasts a 50-Year Limited Fade & Stain Warranty – two times that of leading competitors, and critical for a pool deck exposed to sun and spills.
30% lighter than competitive decking products – saving you time and money on installation, and saving your back.
TimberTech AZEK decking is particularly well-suited for pool decks thanks to innovative materials engineering that keeps it cooler*, plus mold-, splinter-, and slip-free. Talk about Better Tech. Better Deck.™
NOTE: If you would rather opt for a capped composite alternative to the TimberTech AZEK line, turn to TimberTech PRO decking. Our premium composite decking line also protects against mold and mildew growth thanks to 4-sided capping and Mold Guard® Technology inside the capping that gets in the grooves of the board profile.
Beat the Heat with TimberTech AZEK Decking
Competitors' composite decking is notorious for heat buildup issues. The good news? When it comes to TimberTech, that just isn't true.
In third-party lab tests, TimberTech® AZEK® decking was found to be up to 30 degrees cooler* than competitors' composite decking when it came to heat build. That means your little ones can play in the sun longer without you having to worry about their bare feet being burnt by our boards.
*NOTE: Although TimberTech AZEK decking products are cooler to the touch than many other deck board products, all decking products will get hot in the sun. Additionally, the darker the decking color, the hotter it will feel. For hotter climates, consider choosing a lighter color.
Because of the way they're engineered, all TimberTech AZEK deck boards have the potential to stay cooler than competitors', but lighter-colored boards in particular will retain less heat. Another benefit to lighter-colored boards? They bring a contemporary, coastal feel to your outdoor living space.
The Best Material for Pool Deck Builds Keeps the Look – And Feel – Cool
Coastline®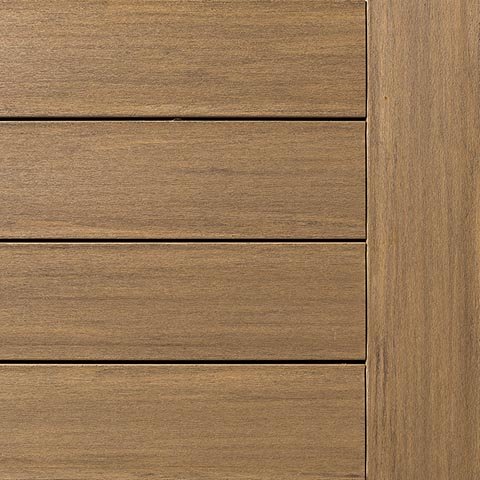 Weathered Teak®
Slate Gray
Brownstone
Opt for high-traction, lower-temperature boards from TimberTech AZEK, or the mold-combating durability of TimberTech PRO, for the best material for pool deck builds in your backyard.