Wondering if you can curve composite decking? With TimberTech, you can. Curved composite decking is possible with all our TimberTech® decking lines using a process called heat bending. However, the TimberTech AZEK® line is the most suitable option for heat bending.
Reasons You May Want Curved Composite Decking
---
Gives you a unique, unexpected deck shape.
Suits your home's landscaping.
Can be a statement-making element of your deck design.
WANT EVEN MORE PATTERN PLAY?
Get inspired with different deck board pattern ideas. EXPLORE THE SERIES
What Is Curved Composite Decking?
Curved deck boards are formed through the process of heat bending which allows the boards to be molded into curved shapes.
This is an option for engineered decking, only — wood deck boards cannot retain their structural integrity when heat is applied. We believe Better Tech, Better Deck™, so we've developed capped polymer decking that can be heat-bent into eye-catching shapes.*
What Is Heat Bending?
Heat bending involves heating the deck boards up to high temperatures. Once heated, the boards can be bent into a curved shape. When the boards cool, they retain the new, curved profile.
Due to the high temperatures needed, our capped polymer decking line, TimberTech AZEK, is the ideal decking line for this process.
Because of the complex process of heat bending, you'll need to work with an experienced contractor who is well-versed in TimberTech capped polymer decking. Remember that labor is an important part of your overall deck building cost, and budget should be considered as you learn whether a heat-bent deck is right for you.
What to Ask Before Choosing Curved Composite Decking
Before you dive into planning your curved composite deck design, you need to ask yourself these questions to ensure a curved design is the right one for you.
1.) Have I gone through the process of researching the factors that influence my cost to build a deck?
Factors that influence your costs include labor, deck design, substructure construction, materials used for the build, and fastening.
2.) Am I comfortable with potentially higher labor costs and an extended timeline for my project?
One of the larger cost factors to consider with a curved deck design is labor costs because of the heat bending process. The installation process may also take more time due to the specific substructure needed to suit your design.
3.) Do I know I want capped polymer decking (TimberTech AZEK®) for my deck?
TimberTech AZEK is the ideal material to use for curved designs thanks to its fully synthetic core and cap.
4.) Have I researched the municipal building codes for my area? Do I have the kind of space that lends itself to curved composite decking?
Your local building codes must allow you to build a curved deck design in the space available to you. If a curved deck is not code-compliant, you will need to alter your design.
5.) Will my curved deck require a railing?
In most areas of the US, decks over 30" tall will require a railing. Curving a railing and ensuring it is securely supported to the deck frame along the curve requires specific construction.
HAVE QUESTIONS ABOUT CURVED COMPOSITE DECKING?
Talk to a TimberTech-registered contractor who can help you determine the right design for your space. FIND A CONTRACTOR
Curved Composite Decking Design Ideas
Get inspiration with these ideas that incorporate curved boards into deck designs in unique ways.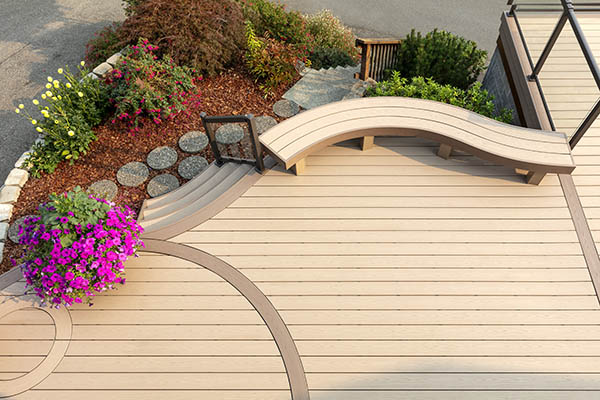 Curving With the Landscape
Curved composite decking designs pair beautifully with a curving landscape. Incorporate greenery around your deck's perimeter to make your space feel natural and fluid.
To take in the lovely garden views, add a curved built-in bench that complements your design.
Dramatic Curved Stairs
Nothing says elegant like curved deck stair designs that sprawl out from your deck to your yard.
Make the staircase even more magical with ambient deck lights in the stair risers and railings
Curved Bench Section
Create a curved built-in bench section as a focal point in your deck design. Place the deck bench around a fire pit or outdoor dining area to encourage gatherings.
Further distinguish the section by encircling it with curved deck boards in a contrasting color.
With ideas for curved composite decking designs and a better understanding of the factors that will influence a curved deck project, it's time to contact a TimberTech-registered contractor. Our expert contractors will help you design the perfect curved deck for your space — then build it to last.