There are several factors that go into making your imagined deck the real deal. You'll of course have to think about aesthetics and design, plus the decking material that best aligns with your goals for your outdoor living space. But perhaps the most practical consideration you'll have to make is determining your budget and then calculating for deck cost.
We're here to help the dollars make sense.
What Factors Go Into Deck Cost?
You might be tempted to think that the only – or at least, the main – components to calculating deck cost are build material and labor cost. But there are actually more factors to keep in mind as you determine budget.
Upfront Costs
For both traditional wood and composite decks, factors that will influence your overall deck cost include:
Cost of labor (depending on whether you DIY some or all of your project)
Design
Substructure
Materials (decking line, railing, etc.)
Fastener type
Design

The more complex your design (think a herringbone pattern or unique inlay), the more you will pay in labor costs.

Substructure

If you already have a substructure that's in good shape, you can save some money by just replacing the boards on top.

 

Materials

Price will vary depending on whether you choose capped composite or capped polymer decking, plus which collection you pick within a given product line.

 

Fastening

Often overlooked, fastening options range from basic screws to advanced color-matched plugs and hidden clips, impacting your overall cost.
Labor
Where you live, the size of your deck, and the contractor or contracting company you go with – all this and more will play into your labor costs. Learn how to find the right local contractor and enjoy the confidence that your deck will be built right.
Design
The more complex your overall deck design – whether that involves heat-bending boards or introducing an intricate inlay – the more joist support you will likely need at the substructure level and the more complicated the application process and overall cost.
NEED DECK INSPIRATION?
If you're not sure just how intricate you'd like your deck design to be, we've got the inspiration you need. EXPLORE THE GALLERY
Substructure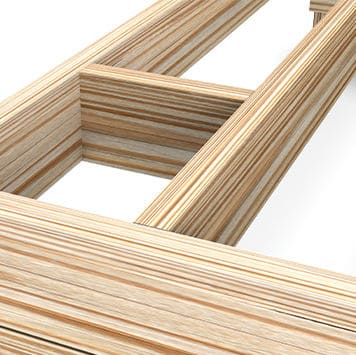 Build on an Existing Substructure,
or Start Fresh
If you're replacing your deck, you'll already have an existing substructure. If the substructure is healthy enough to keep and the same size as your new deck, you can save on upfront deck cost by simply building atop the same frame.
If you're DIY-ing your deck: Make sure you thoroughly inspect your substructure to find any signs of mold, mildew, or structural damage before you build.
If you will be building a new substructure from scratch, make sure you follow best practices for deck joist spacing.
Materials
The type of decking you choose will also impact your overall deck cost. If you want to forego the labor-intensive, costly upkeep of traditional wood decking, choose TimberTech composite decking.
Capped Polymer Decking
Superior resistance to moisture.
Advanced design options including Multi-Width.
Capped Composite Decking
Explore Railing Ideas
Like a great work of art shines with a complementary frame, railing elevates the design of your deck – plus, increases safety. Choose from composite or aluminum railing systems.
Fastening
With TimberTech, you have a variety of fastener options. Choose from color-matched or hidden fasteners for the exact finished look you want.
Looking for different pairings of TimberTech decking with different fasteners? Check out how to install TimberTech PRO with CONCEALoc, TimberTech AZEK with Cortex – and more – over on the Deck Building Resource Center.
Accessories / Lighting
Your deck sets the stage – but add-ons like lighting or railing steal the show. Be sure to factor in the cost of installation when considering your overall deck cost.
Explore Lighting Ideas
Lighting increases visibility (and therefore, safety), showcases your design, and maximizes the time you can spend in your outdoor living space.
Explore Accessories
From smaller items like deck spacers to must-haves like TimberTech® DeckCleaner™, we have what you need to build and maintain your deck.
Long-Term Costs
This is where the difference between TimberTech composite decking and traditional wood – including exotic hardwoods like Brazilian Ipe – really shines. Why? Because composite decking does not require the long-term maintenance and replacement expenses associated with traditional wood.
For traditional wood decks, keep your pocketbook handy. Over the years, you can expect to have to shell out for any combination of the following:
Staining
Traditional wood – even pressure-treated lumber – will lose its original color as UV rays and other weathering agents wreak havoc on the unprotected organic material.
Power-Washing
Since mold, mildew, dirt, and other weathering agents can begin to grow throughout wood deck boards, the only respite may be power-washing. Power-washers can be costly to rent and/or difficult to use.
Repair/Replacement of Boards
Before composite decking would require it, a wood deck will need repairs – and depending on the weathering, even replacement. That means more material and potential labor costs.
The Knock on Wood
The performance issues that plague traditional wood? They just don't apply to composite decking.
How Do I Explore Relative Deck Cost?
You Know the Factors. Now Let Us Help You Crunch the Numbers.
Now that you know the factors that contribute to your overall deck cost, you're ready to jump into our Decking Cost Calculator and begin determining your line items.