Any deck stairs design should combine style, safety, and durability all in one. Your deck's stairs are bound to garner a lot of foot traffic from family and friends, and your guests' safety is of utmost importance. That said, there's no reason your stairs can't be eye-catching and stylish, too.
Before you dive into imagining your perfect deck stairs design, you need to first understand deck stair anatomy. Then, you'll need to consider the factors that will influence your design:
Building code requirements.
Product application requirements.
Deck shape and height.
Understanding Deck Stair Anatomy
Treads are the horizontal deck boards of each step.
Stringers are the wide boards beneath the stairs that run at an angle from the deck to the landing. They support the treads and risers.
Risers are boards that cover the vertical spaces between the treads. Risers are also called "toe kicks."
Skirts are usually pieces of trim, like fascia board, that cover the end-cuts of the treads as well as the open underside of the stairs.
Deck Stair Building Code Requirements: What You Need to Know
Your deck stairs design must meet residential building code requirements in order to be considered safe for use. Building codes vary by state and municipality, so you'll need to check with your city or town hall for your local code requirements. However, there are some standards for stairs that are generally consistent across regions:
Product Application Requirements for TimberTech Composite Decking
In addition to local building code requirements, our composite decking products have application requirements depending on several factors such as:
The product line.
The collection.
The board profile.
Span Rating Differences
One example of a product application requirement is that many of our deck boards have different span ratings (the maximum distance between the stringers). Be sure to follow the installation guides for TimberTech® AZEK®, TimberTech PRO®, and TimberTech EDGE to ensure your stairs are built according to application requirements.
How Deck Shape & Height Influence Your Deck Stairs Design
Deck shape and height will influence your deck stairs design in several ways including:
Whether you need a railing for your stairs. Typically, if your stairs have four risers or more, they require a railing.
If your stairs require an intermediate landing. A flight of stairs should not be taller than 12 feet without a landing. If your deck is higher than 12 feet, you'll need to install an intermediate landing between your deck and the ground.
The need for a stair entryway and walkway. Deck stairs require space immediately in front of the entry to the stairs, as well as a 3- to 4-foot walkway across the deck to and from the stairs. Your deck's shape will need to accommodate these requirements.
As always, be sure to check local code requirements before starting your deck building project.
Customize Your Stairs
Your deck stairs design needs to comply with code regulations, but that doesn't mean it can't reflect your unique style. The deck board colors you choose, the railing style, and other add-ons like deck lights all contribute to a look that is all you.
Deck Boards
TimberTech composite deck boards offer nature-inspired aesthetics to suit any style. Feeling bold? Choose two different colored boards for your treads and risers to ensure your deck's stairs are truly one-of-a-kind.
Railing
Match the railing exactly to your deck board color for a chic minimalist look or choose a complementary color for a dynamic look.
Deck Lights
Add an ambient glow to your risers and/or railings while improving deck stair safety with deck lights. Keep in mind that some deck lights can only be added at the time of build.
Deck Stairs Design Inspiration
Now that you have a better understanding of some of the requirements for deck stairs design as well as some of the style elements you can customize, it's time to have some fun with a bit of design inspiration.
Stick to the Straight & Narrow
Ideal for medium-sized decks below 12-feet tall, a straight and narrow staircase is perfect for emphasizing its surroundings.
Perfect for: Homes in scenic, natural areas.
Accentuate the Angles
Celebrate geometric shapes with an angled staircase that features lots of planes and corners for a dynamic look.
Perfect for: Mid-century modern homes with spacious backyards.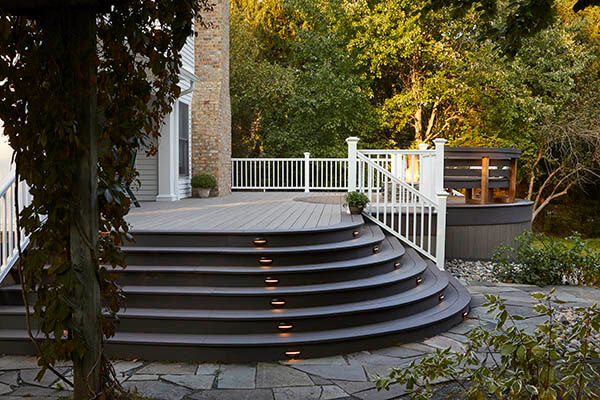 Go Bold With Curves
Be bold and choose an eye-catching curved design for your deck staircase that offers a gentle transition from home to lawn or patio.
Perfect for: Blending in with elegant landscaping.
Note: Curved designs are only possible with TimberTech® AZEK® capped polymer decking.
Exude Style With a Spiral Staircase
Kick your deck style up a notch with a gorgeous spiral staircase that offers a new point of view with every step.
Perfect for: Second-story decks with a view.
Ready to get started designing your deck build? Partner with a TimberTech-registered contractor who can lend you their product-specific expertise toward planning your perfect deck stairs design.