Any deck stairs design should combine style, safety, and durability all in one. Your deck stairs are bound to garner a lot of foot traffic from family and friends, and your guests' safety is of utmost importance. That said, there's no reason composite steps to patio or lawn landings can't be eye-catching and stylish, too.
Before you dive into ideas for your deck stairs design, you need to first understand deck stair anatomy and the factors that will affect your design.
Factors That Will Influence Your Stairs Design
---
Building code requirements
Product application and framing requirements (based on which decking material you choose)
Deck shape and height
Understanding Deck Stair Anatomy
Knowing what the different components of a stair system are will help you in designing your deck stairs — as well as building them if you're considering DIY-ing the design.
✓ Treads are the horizontal deck boards of each step.
✓ Stringers are the wide boards beneath the stairs that run at an angle from the deck to the landing. They support the treads and risers.
✓ Risers are boards that cover the vertical spaces between the treads. Risers are also called "toe kicks."
✓ Skirts are usually pieces of trim, like fascia board, that cover the stringers and often the entire under-stair area. Skirts may also cover the end-cuts of the treads, depending on the application.
Deck Stair Building Code Requirements: What You Need to Know
Your deck stairs design must meet local residential building code requirements to be considered safe for use. Building codes vary by state and municipality, so you'll need to check with your city or town hall for your local code requirements.
NOTE: Standards for stairs are adapted from residential applications under the residential code (IRC Section 311.7). These are generally consistent across regions, although regions may only be working with prior code years (2015, 2018, etc.), as codes are revised every three years and not always immediately adopted.
IMPORTANT
Before building deck stairs, take care to check local building codes and the requirements outlined in the Codes & Standards of the American Wood Council DCA6 or latest edition. LEARN MORE
NOTE:
Guard height is 36" unless the top rail is also serving as a handrail; then it can be from 34-38" above the leading edge of the stair tread.

TimberTech composite rails do not meet the requirements as a handrail so the guard needs to be 36" high from the leading edge of the stair tread and a separate handrail provided.

Tread width 10" with a nosing of ¾" to 1 ¼". For treads 11" and greater no nosing is required.
Landings must be min of 36" in direction of travel. Width is dependent upon the handrail requirement as detailed in point 1
Product Application & Framing Requirements
How you build your deck stairs substructure will depend on which decking material you choose, as different materials have different span ratings (the distance a board can span without a support).
Traditional wood stairs are typically made using 2 x 12 stringers spaced 12" to 16" apart. Engineered decking products like capped composite or capped polymer decking may have different application requirements due to variations in material composition.
TimberTech® Composite Decking Span Ratings for Stairs
Our capped polymer and capped composite decking products have different stair span ratings (starting at 9" spans) depending on:
The product line.
The collection.
The board profile.
IMPORTANT
Always carefully read the installation guidelines for your chosen deck material before beginning your build. REVIEW INSTALL GUIDES
How Deck Shape & Height Influence Your Deck Stairs Design
The shape and height of your deck will naturally influence your deck stairs design in several ways, including: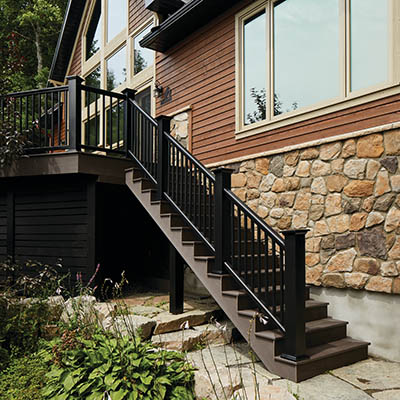 Stair Railing
Typically, if your stairs include four risers or more (or are 30" above ground level), they require a railing.
Always check local building codes to decide whether your deck stairs design needs a railing.
Intermediate Landing
Composite steps to patio or lawn landings should not be taller than 12' without a landing.
If your deck is higher than 12', you'll need to install an intermediate landing between your deck and the ground.
Stair Entryway & Walkway
Deck stairs require space immediately in front of the entry to the stairs, as well as a 3' to 4' walkway across the deck to and from the stairs.
Your deck's shape will need to accommodate these requirements.
Ways to Customize Composite Steps to Patio or Lawn Landings
Your deck stairs design needs to comply with code regulations, but that doesn't mean it can't reflect your unique style. The deck board colors you choose, the railing style, and other add-ons like deck lights all contribute to a look that is all you.
Deck Boards
TimberTech decking delivers nature-inspired aesthetics to suit your style.
Feeling bold? Choose two different colored boards for your treads and risers, or incorporate white PVC trim for a one-of-a-kind design.
Railing Design
Deck railing designs can incorporate different materials and colors for a truly custom deck perimeter.
Create your own unique look that's as bold or subtle as you want by mixing and matching colors and components.
Deck Lights
Add an ambient glow to your stair risers and/or stair railings while improving deck stair safety with deck lights.
Keep in mind deck lights require electrical wiring that will need to be run at the time of build by an electrician or contractor.
Deck Stairs Design Inspiration
Now that you have a better understanding of some of the requirements for deck stairs design as well as some of the style elements you can customize, it's time to have some fun with a bit of design inspiration.
Stick to the Straight & Narrow
For medium-sized decks below 12' tall, a straight staircase emphasizes its surroundings with an understated — but by no means mundane — design. Choose black metal railing for your design for a sleek, minimalist perimeter that keeps your eyes on the view.
Simple, straight composite steps to patio or lawn landings are also an easier DIY build if you're interested in taking the project on yourself.
Pairs well with: Homes in scenic, natural areas where they won't take away from the view.
Accentuate the Angles
Celebrate geometric shapes and create a dynamic look with angled stairs that feature lots of planes and corners. Accentuate the angles further by using darker or lighter colored boards for your treads. Opt for a picture frame border as well for a defined deck perimeter.
Angled composite steps to patio or lawn landings can be difficult to DIY and may require the help of a contractor.
Pairs well with: Mid-century modern homes with spacious backyards where the angles have plenty of room to jut in and out.
Go Bold With Curves
Be bold and choose an eye-catching curved design for your deck staircase that offers a gentle transition from home to lawn or patio. Shine a light on the uniqueness of your design with in-decking lighting along the stairs or railing for an ambient glow.
Keep in mind that curved designs require a qualified contractor to build.
Pairs well with: Elegant landscaping where the bends of the deck complement nature's organic lines.
Exude Style With Custom-Built Spiral Stairs
Kick your deck style up a notch with a gorgeous spiral staircase that offers a new point of view with every step — while saving space with its compact design. Both composite and metal railings can be bent to form the railing for this sophisticated design.
Spiral stairs, with their unique shape, will require a qualified, specialty contractor with the skills needed for this build.
Pairs well with: Second-story decks with a view that lack space for the rise and run of traditional stairs.
Ready to get started designing your deck build? Partner with a TimberTech-registered contractor who can lend you their product-specific expertise toward planning your ideal deck stairs design.