Thinking about covering your old concrete slab or patio with a beautiful new deck? We like the way you think. Building a deck over concrete can transform your space into a more enticing and functional outdoor living locale, but making sure you follow best practices will be key.
OUR RECOMMENDATION
Build a standard deck substructure (complete with posts, beams, and joists) above the concrete with properly installed footings. Do NOT use a sleeper system.
When installed properly, a deck over concrete has several long-lasting benefits — especially when you choose durable TimberTech® capped polymer or capped composite decking.
Recommended Best Practice for Building a Deck Over Concrete
For a structure you can count on for years to come, opt to build a standard deck substructure, rather than a sleeper system. A standard substructure is elevated above the concrete with posts attached to footings that are properly installed in the ground through the concrete or in the ground surrounding the concrete.
This method for how to install composite decking over concrete requires that your backdoor threshold is high enough above your existing patio to fit a standard substructure. If your threshold is too low for a full substructure, this project will not work for you without tearing out the concrete slab before building your deck.
Good Candidate for a Deck Over Concrete
The backdoor threshold for this home is more than a foot (12") above the original stone patio, making it high enough to support a standard deck substructure.
Poor Candidate for a Deck Over Concrete
The backdoor threshold on this home is only one step up (less than 12") from the concrete patio, which will not leave enough room for a standard substructure.
Thinking About a Sleeper System?
While you may be tempted to use a sleeper system to build your deck directly on the concrete, this is not the best method. A sleeper system could seriously affect the structural integrity of your deck as well as its aesthetics, as the deck boards will follow the contour of the substructure, potentially creating a wavy surface. Contrary to how you may perceive concrete, it is a building material with flaws. Concrete will crack, settle, sink, and heave, making it a poor foundation for a deck.
Don't Compromise Your Investment
If you're choosing to invest in a TimberTech deck for your backyard, then you're looking for a high-performance outdoor living space that will last for years to come.
To ensure you get the very best results from your deck over concrete patio project, it's essential you follow the recommended best practices for TimberTech decking installation.
Best Practices for Installing a Deck Over Concrete
Once you've established your back door threshold is 12" or higher above your patio to support a standard substructure, you're ready to start your deck build.
Create a Smooth Transition From Indoors, Out
Building a deck over concrete patio surfaces raises the level of your outdoor living space to that of your first floor.
Creating a level surface from the indoors to the outdoors gives you a smoother transition and helps prevent trips or falls. It also creates a sense of unity between the inside and out, so you experience one seamless living space ready to be used to its full potential.
Follow these best practices for how to install composite decking over concrete to ensure your deck build gives you and your family a beautiful, safe outdoor living space for years to come.
Step 1: Construct a Securely Attached Substructure
To construct your substructure, first measure out the perimeter of your deck design with string line to find where support posts and footings will need to go along the frame. The locations of the posts will depend on the size of joists you're using, and what their span rating is. After you locate post placements, install the concrete footings, making sure the footings sit below the frostline in your area. If any footing locations land on your concrete slab, do not attach the post to the old slab. Remove that section of the concrete so you can pour a proper footing through the slab and into the ground, so that it sits below the frostline.
IMPORTANT
If you have any doubt about how to properly dig and pour concrete footers through the slab and into the ground, contact a qualified contractor. FIND A CONTRACTOR
Once your perimeter is outlined and your footings have set, you can start building out your frame.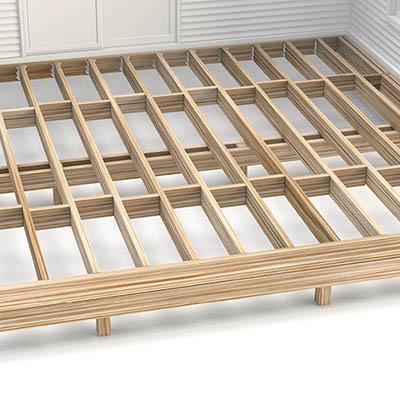 Deck Substructure Best Practices
✓ Ensure proper installation of your ledger board (the board that secures your deck to your home).
✓ Space your joists 12" to 16" on center.
✓ Install blocking 4' to 6' apart between joists.
✓ Continually check that joists are in plane and level across the tops.
See proper spacing and blocking for yourself.
IMPORTANT
Always refer to the appropriate installation guidelines for your chosen decking line before breaking ground on your project. READ INSTALL GUIDES
Step 2: Protect Your Substructure With Joist Tape
Since your substructure is made of traditional lumber, you'll need to protect it from moisture damage. Why? Because traditional wood, including pressure-treated lumber and exotic hardwoods, is vulnerable to mold, mildew, and rot, which can decrease the lifespan of your deck.
To ensure your substructure lasts just as long as your TimberTech decking, protect your joists with TimberTech PRO-Tac™ Flashing & Joist Tape.
Why Joist Tape Is Important
Applying deck joist flashing tape to the tops of your joists:
✓Seals them against moisture accumulation.
✓ Prolongs their structural integrity by resisting the growth of mold, mildew, and rot.
✓Can prevent costly repairs and replacements caused by moisture damage.
Step 3: Ensure You Have the Proper Tools Available
To install a deck over concrete patio surfaces, you'll need the right tools. If you don't own one or more of the tools below, you may be able to buy or rent them from a local hardware store.
Cutting Tools
✓ Miter saw
✓ Jigsaw
Fastening Tools
✓ Cordless driver
✓ Hammer
Step 4: Choose Your Decking Material
Deck material options vary in terms of upfront and long-term costs, performance, and aesthetics. Your most common options include:
Your most common options include:
Traditional
Wood
Includes pressure-treated lumber, other softwoods like cedar, and hardwoods like Ipe or mahogany.
Expect regular maintenance and the potential to replace the deck after just 10 years.
Capped Composite
Decking
Boards made of a mix of organic and non-organic fibers, protected with 3- or 4-sided engineered capping.
Enjoy low-maintenance, high-style decking backed by 25- and 30-Year Limited Product Warranties.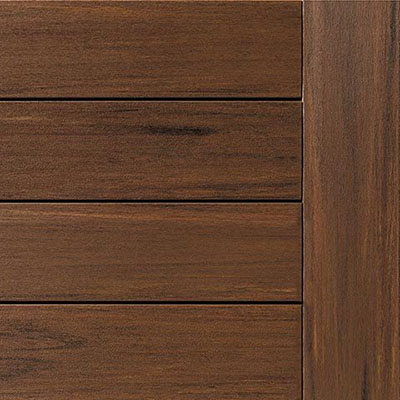 Capped Polymer
Decking
Boards made of 100% engineered material from core to cap for high performance and exceptional durability.
Live your best life outdoors with one-of-a-kind, premium decking backed by a Lifetime Limited Product Warranty.
While traditional wood may be the first deck material option that comes to mind, it is not the best material.
For a moisture-resistant, enduringly beautiful deck, an engineered decking option will last far longer than traditional wood thanks to its innovative capping technology.
The Best Choice for a Deck Over Concrete? TimberTech AZEK® Capped Polymer Decking
Step 5: Install Your Deck Surface Boards
The exact steps for how to install composite decking over concrete will depend on the decking line, board profile, and fastener you've chosen. However, there are some universal best practices for composite decking installation.
Best Practices for Composite Decking Installation
---
Cut the Boards
✓ Use the proper saw and blade for your chosen deck material.
✓ Cut boards with the grain facing upward.
✓ Always measure twice, cut once.
Fasten the Boards
✓ Keep in mind that different decking lines and board profiles require certain fasteners.
✓ Some decking lines will also require pre-drilling before applying fasteners.
Deck Over Concrete Patio: Your Improved Outdoor Living Space
Ensure your finalized deck over concrete project is just the way you envisioned — and what you deserve — by partnering with a TimberTech-registered contractor. Minimize stress and get ready to enjoy your enduringly beautiful deck over concrete for years to come.