The anatomy of a deck includes components from both the substructure (framing under the deck) and the deck surface. Each part plays a vital role in the structural integrity of your deck as well as the aesthetics. Understanding what the different parts of a deck are and why they matter to the overall structure of the deck can help you in several situations, including:
Designing a new deck.
Repairing an existing deck.
Building a deck yourself.
Working with a contractor to build your deck.
Learn more about the anatomy of a deck, and why each piece is important to the whole.
Anatomy of a Deck: Terms You Need to Know
The anatomy of a deck has two major parts: the deck substructure and the deck surface. The deck substructure is the frame and structural support for the deck surface.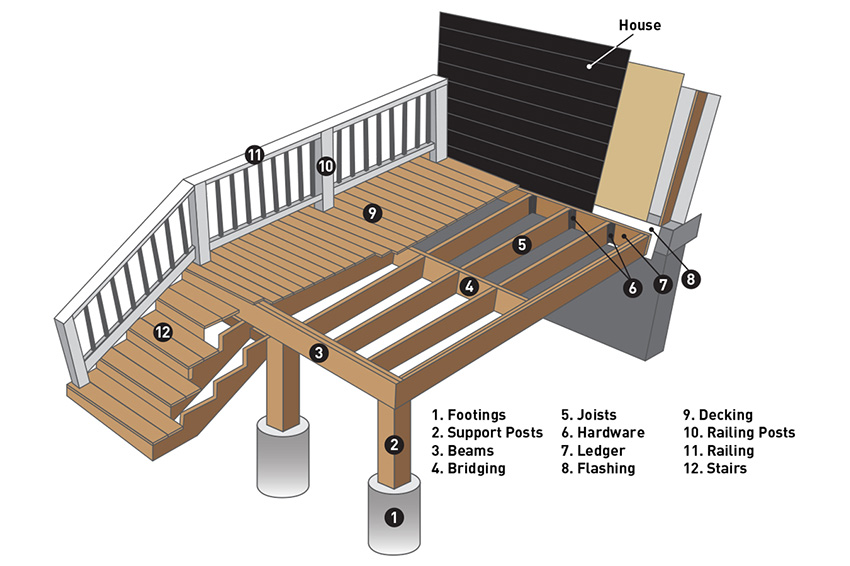 Within the substructure and deck surface are several individual parts, which include:
Substructure:
Deck Surface:

1.     Footings




2.     Support posts

3.     Beams

4.     Bridging

5.     Joists

6.     Hardware

7.     Ledger

8.     Flashing

9.  Decking

10.  Railing posts

11.  Railing

12.  Stairs

 
Substructure Components
The substructure is the framework underneath your deck boards. It provides the structural support your deck needs to be safe and secure. Substructures are usually constructed of traditional wood, which is vulnerable to moisture damage and weathering. Because of this, your deck substructure – and all its components listed below – should be inspected every year.
1.) Footings
Footings, often made of concrete, provide a solid foundation for your deck. They are often installed below the frost line in colder climates and help to spread the weight of the deck across the soil.
2.) Support Posts
Support posts are mounted within the footings and support the frame of the deck. Decks that are ground-level do not require support posts.
3.) Beams
Beams, also called girders, outline the frame of the deck. For larger decks, a beam may also be installed in the middle, under the joists, for extra support.
4.) Bridging
Bridging Provides Support to Joists
Bridging, also called blocking, is a small, but essential part of the anatomy of a deck.
Bridging/blocking refers to the blocks of wood that fit in between the joists. These blocks help secure the joists and prevent them from bowing or sagging over time.
5.) Joists
Joists are installed between beams to provide structural support to your deck floor. Joist spacing should be no more than 16 inches on center, but can be 12 inches for a sturdier feel. The number of joists your deck will need will depend on the size of your deck and the way the deck boards are arranged on the surface.
6.) Hardware
Hardware Keeps Your Deck Secure
Hardware is just as important to the anatomy of your deck as the boards that make up the frame. Hardware pieces include the fasteners and screws that secure all the components of your deck to one another. Using the proper fasteners for each component of your deck is essential to your deck's structural integrity.
7.) Ledger Board
The ledger board is an essential part of the anatomy of your deck. A ledger is a piece of wood that secures the deck to your house. A properly installed ledger keeps your deck from pulling away from your home, which can happen if the ledger board's fasteners loosen over time. Annual deck inspections can help catch this potential issue early and prevent a full-fledged replacement.
8.) Flashing
Protect Your Substructure With Flashing
Flashing protects your substructure and the gap between your home and ledger board from water damage. Flashing can either be L-shaped sheets made of stainless steel or vinyl that fit over your ledger board, or a roll of flashing tape you can apply to your ledger board.
PRO TIP
Apply flashing and joist tape on the tops of your joists as well as your ledger board to protect your entire substructure from water damage. EXPLORE FLASHING & JOIST TAPE
Deck Surface

Your deck surface includes the visible parts of your deck that you can customize. When designing your deck, think about the overall look and feel you want for your deck when choosing your deck boards, railing materials, and stair design.
9.) Decking
Decking refers to the deck boards you use across your deck surface. Your deck boards can be arranged in a number of different patterns, like a herringbone pattern, for a truly unique look. Certain deck boards will also require certain fasteners, so be sure to do your research or speak to a contractor before starting your build.
Deck Board & Fastener Combinations
Looking for cheat-sheet of board and fastener pairings? Check out the installation resources in our Deck Building Resource Center.
Or, check out these specific projects below:
10.) Railing Posts
Railing posts are typically made of 4×4 inch wood boards, but can also be made of metal, that are securely fastened to the deck surface. Depending on the style of your deck's railing, wood posts can be covered by a decorative composite post sleeve that give it a clean finish.
11.) Railing
A railing includes the handrail and balusters that fit between the railing posts. Railing adds an extra element of safety to your deck, and is essential if you have a second-story deck. Proper installation is vital to the railing's security, so work with a contractor if you don't feel confident installing a railing yourself.
12.) Stairs
Depending on your deck's height, you may have only one to two steps, or a whole flight of stairs. Your deck's height plays an important role in your deck stair design so be sure to consult local building codes before building out your staircase.
LOOKING FOR DECK INSTALLATION TIPS?
Get tips for installing composite decking, using different fasteners, inspecting your substructure, and more in our Deck Building Resource Center. EXPLORE OUR RESOURCE CENTER
Get Started on Designing Your Deck
Now that you understand the anatomy of a deck and all the different parts that make up the structure, its time to apply that knowledge to your deck's design. Launch our 3D Deck Design tool to try on different deck shapes, deck boards, railing, and so much more.