Your deck railing will be one of the first things your neighbors see when they pause to take in your outdoor living space. As the frame to your decking masterpiece, your railing will polish, emphasize, and unify the overall look and feel of your deck. In order to know which of the available deck railing systems is right for your build, you need to know:
The components that make up a deck railing system.
The different materials you can choose from.
How to customize your deck railing to your design and installation needs.
What Is a Deck Railing System?
Your railing is actually made up of multiple rails — as well as other interconnected components. Knowing the names and function of the different components will help you decide which of the deck railing systems available are right for you.
Deck Railing Systems: Components & Definitions
The top rail is the uppermost piece of rail that connects to the top of the infill.
The bottom rail is the piece that runs along bottom beneath the infill.
The infill is what fits between the top and bottom rail, filling the inside of the rail. It can be made of glass, composite or metal balusters, or CableRail.
The skirt is a covering that surrounds the bottom of the post.
The post is a vertical piece that sits in between the infill and connects the top and bottom rails.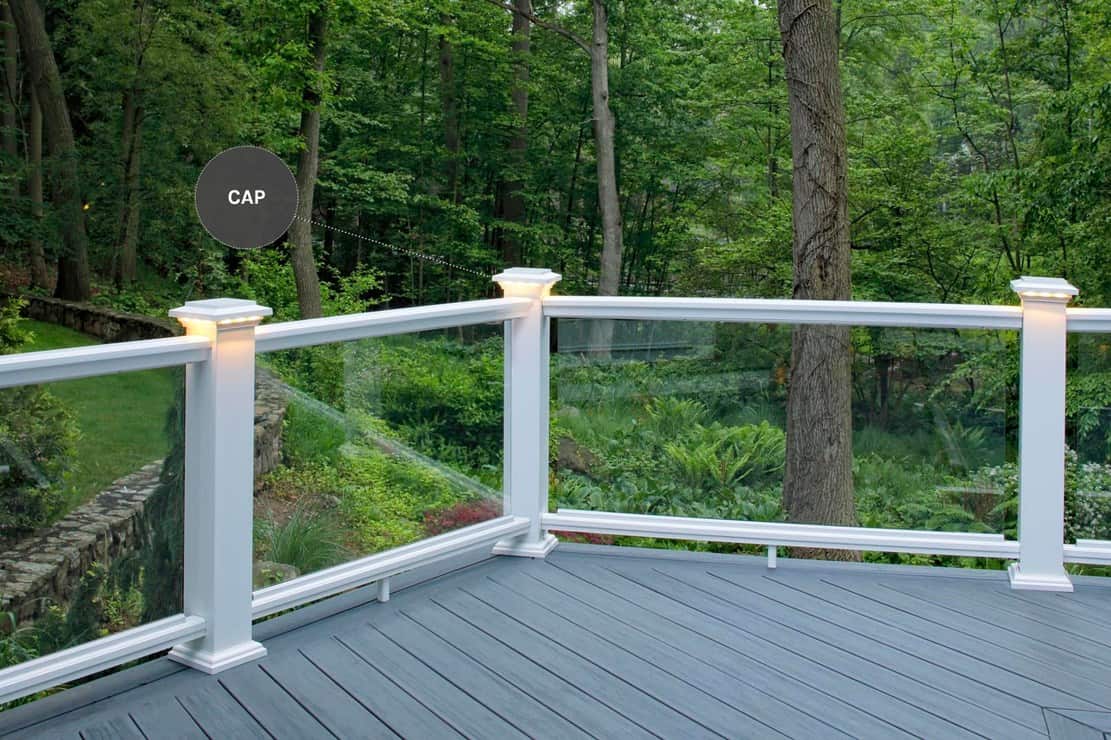 The cap is the piece that sits on top of the post. It can sometimes include lighting.
What Types of Deck Railing Systems Can I Choose?
With TimberTech, you have your choice of two deck railing materials: metal railing or composite railing. Each offer their own benefits and design options.
Benefits of Both Aluminum & Composite Railings
Low maintenance: No costly or labor-intensive sanding, staining, sealing, or painting required.
Value added over time: Although the initial cost of composite and aluminum deck railings may be higher than that of pressure-treated wood railings, less maintenance means more savings. You'll see lower lifetime costs compared to wood railings.
Aesthetic beauty: With profiles ranging from classic to contemporary, our full railing portfolio has just what you need to complement your outdoor living space.
Benefits of TimberTech Composite Railing
Impervious to moisture damage: A composite core with a 4-sided cap covers the backside and grooves and contains no organic wood filler.
Enduringly beautiful: Whether you go traditional or modern, your composite deck railing system won't weather like wood railings do.
Environmentally friendly: Composite railings from TimberTech are made from up to 50% recycled material.
Want to customize your railing to your outdoor living space? Curated deck railing systems don't get easier than the Classic Composite Series. Lock in your ideal railing by choosing from a variety of top rail options and infills, plus a universal bottom rail and universal fastener system. That means you:
Choose Your Infill
The infill can be composite, cable, aluminum, or glass panel (not included).
Certain composite railing systems will offer the choice of different post caps. See the 2020 Outdoor Living Product Catalog for more guidance on building your own custom composite railing system.
Metal Deck Railing Systems
Our metal deck railings are made of powder-coated aluminum and can even be matched with components from our composite deck railing systems for a truly unique look. There are numerous benefits to choosing the right aluminum railing for your space.
Benefits of TimberTech Aluminum Railing
An attractive wrought iron-inspired look:Powder-coated aluminum keeps the look sleek and inviting, and the timeless profile ensures clear sightlines.
Incredible durability: Won't rot or deteriorate and resists fading, staining, and scratching. Plus, exceptional moisture resistance protects against corrosion, fading, or warping.
Easy installation, with no special tools required and options for a thoughtfully designed and thoroughly tested panelized system with Impression Rail Express®.
Our two aluminum railing systems are defined by durable beauty sure to make an impression.
This minimalist aluminum railing system offers a narrow profile that keeps sightlines clear. For Impression Rail, select a bottom rail, post sleeves, and infill type, then enjoy your fade-, chip-, and peel-free perimeter.


This contemporary, convenient aluminum railing system promises a clear view of the horizon, hidden fasteners, and fuss-free installation thanks to a panelized system (pre-routed and pre-assembled balusters). Durable powder-coated aluminum means no fading, chipping, or peeling.
For more deck railing ideas, download the 2020 Outdoor Living Product Catalog and visit our Railing page. Once the creativity strikes, jump into our 3-D Deck Design Tool to visualize your new railing system and claim the power of perimeters.
Turn Your Deck Dream Into Design
Play with shapes, colors, lighting, and railing to bring your deck ideas to life with our custom Deck Designer tool.