Code-compliant guardrails are important for every deck design, but proper pool deck railing is an essential safety component. Guardrails and gates around a pool protect people from falling off the deck and prevent unaccompanied children or pets from diving into the water.
Of course, choosing the right look for your outdoor living aesthetic is important, too, as you compare railing designs.
There are several railing options available for your pool needs and aesthetic preferences. Check out our pool deck railing ideas below for deck design inspiration and advice.
In This Article:
Crystal clear glass
Glass is a great aesthetic choice to match your crystal clear pool. It won't obstruct your backyard view or sight line to the pool, which is perfect for pool parties and parents keeping an eye on the kids.
Glass infills are just as safe as other railing designs, so no worries there. However, smudges and splashes will leave a visible mark on your glass railings, so just expect some extra cleaning with your regular deck maintenance.
Horizontal slats
You can maintain a classic railing look with an interesting visual twist by swapping vertical balusters for horizontal infills. Level it up with extra-wide slats for a unique and private railing. You can experiment with the spacing between slats, but keep it within your local building codes.
Contemporary cables
Cable railing is another popular choice to preserve beautiful views, and it won't smudge or collect dust like glass. It's a contemporary look that works well with several styles, from modern minimalism to rustic industrial designs.
Customize your railing with vertical or horizontal cable infills. The railing around the infill is also versatile, with many color and material options and special features like extra-wide drink rails. 
Mix-and-match materials
If you just can't decide between the aluminum wrought iron imitation or the classic appeal of cool-colored composite railing, consider mixing the two. You can choose composite for your railing and posts, then install a contrasting aluminum infill to modernize your look. 
Privacy panels
If peaceful and quiet pool days are your idea of a good time, privacy panels are an excellent way to reduce visual and noise pollution from neighbors or nearby roads. You can install custom privacy deck railing from the start, or place standalone privacy fences or trellises around your guardrails. 
Classic vertical balusters
Vertical balusters between sleek and simple top and bottom rails are a classic look that will never go out of style. They're easy to match with your deck design with many color and shape choices. Lightweight aluminum is easy to install for a sharp, wrought iron look, while PVC offers an elevated, ultra-durable design.
Built-in seating
Consider how you can build deck seating into your design if your pool deck is the hot spot of the summer. Install custom benches as part of your railing, following all deck railing codes, to create a functional perimeter for guests to sit back and relax.
Alternatively, place long benches or sectional seating along your existing pool deck railing to maximize your open deck space. This can even work in combination with convenient drink rails. 
Double-duty drink rails
Beyond its design, the top rail can be functional. The TimberTech Drink Rail is extra wide and flat on top, so guests can set down their drinks while chatting. Sometimes called cocktail rails, they're also a fun addition for little decor items like pool party frills or deck railing planters. 
Illuminated late nights
Built-in lighting is another railing feature that elevates your pool deck design and illuminates late-night swims. You can install deck lights in your railing post caps, under railings, flush with the deck surface, and in stair risers to add a gentle glow for safety and ambiance. 
Curvy custom railing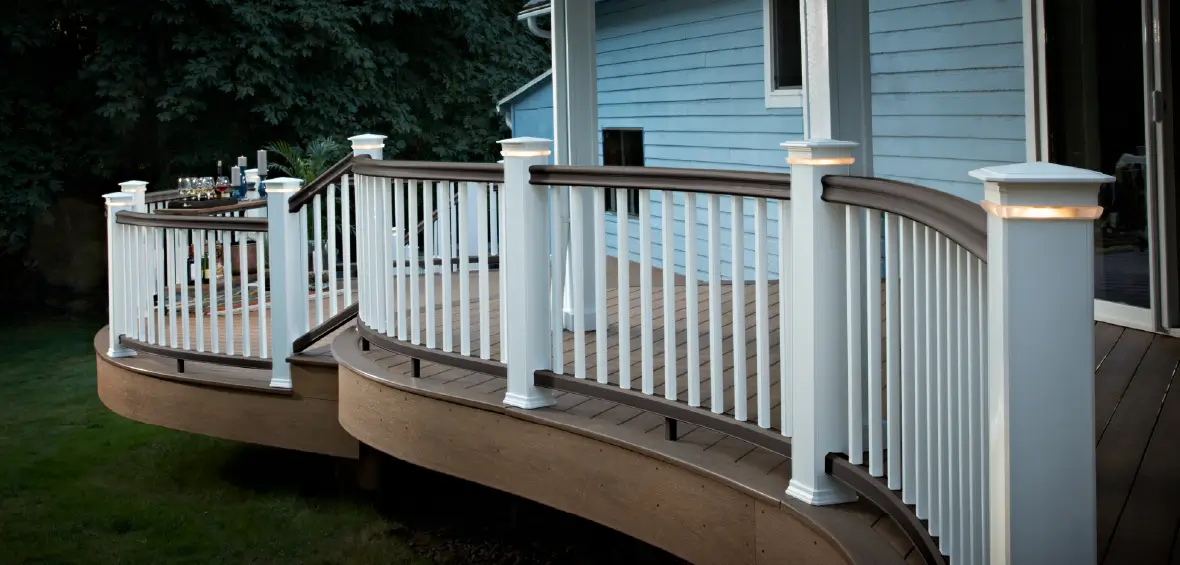 Your deck and railing could also follow the natural curve of your pool, whether it's a circle, oval, or bean-shaped. Professional contractors can use a heat-bending method to shape composite or PVC railing into curvy and custom designs for your deck.
Experiment with height
You don't have to install the same railing around your whole pool deck. Instead, consider playing with the height and style of your railing.
For example, you might build extra-tall railing to the west to provide shade and block the setting sun. Or you might want some extra privacy from your neighbors, so you could install shade sails or a trellis over part of your railing. 
Cool contrasting colors
Every part of your deck is an opportunity to play with color, from your surface decking all the way to your top rail. While matching the railing and decking colors might be your go-to, contrasting colors or even colorful decking patterns create a wow factor and luxury aesthetic for your design. 
Playful infill patterns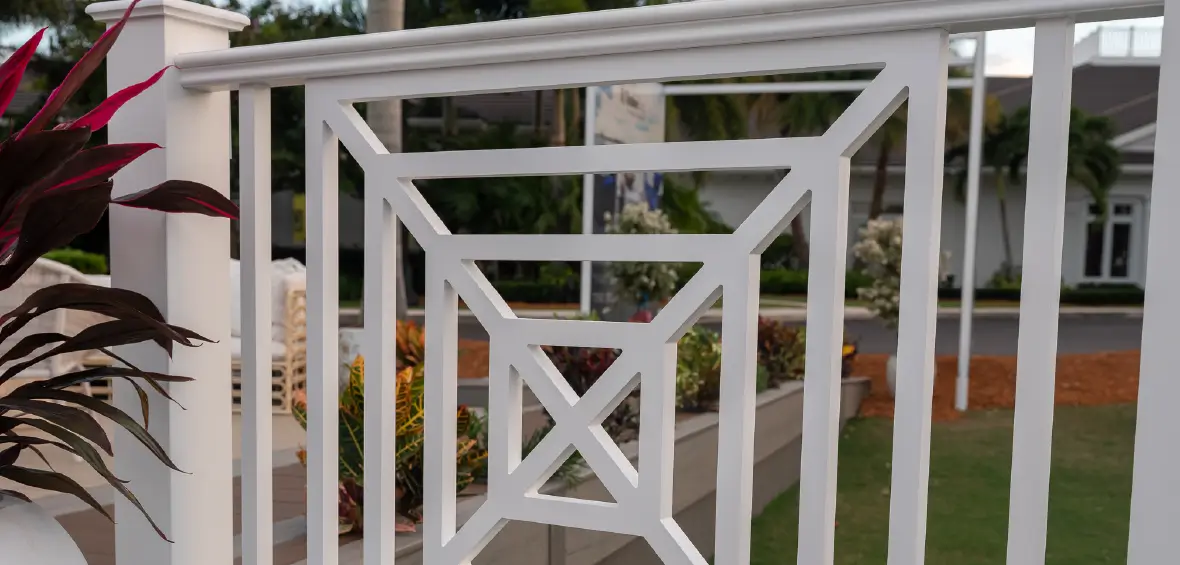 Infills are typically oriented vertically or horizontally, but there are much more creative panels available. TimberTech's square web panels play with repeating, geometric squares for an intricate and elevated style.
You could also explore privacy panels with cut-out shapes or even alternate your vertical and horizontal infill panels for a fun alternating striped pattern.
Deck railing for the perfect pool
Finding the perfect pool deck railing is a matter of personal taste and function. Clear railings are great for a safe view into the pool if you have kids or pets, while square web patterns add privacy and visual interest.
Whichever deck railing type you choose, customize the infill color, top rail design, and even curve panels to match your pool's shape. Your creativity is the limit, so explore our free 3D Deck Designer to see just how beautiful your pool deck could be.