With the right design and décor, small outdoor spaces can have just as much design impact and functionality as larger spaces. It all boils down to keeping things simple and making space-maximizing choices. Looking for small deck ideas to optimize your home and garden? We have the tips and inspiration to help you start.
TimberTech Tip:
Prioritize items that are proportional to your deck size, offer multi-functional use, and match your deck's function.
In This Article:
1.) Build a custom deck
Decks add function to a small outdoor space, but it's important to get your deck design just right for a perfect fit. Enter: custom deck designs.
A custom deck is a uniquely designed structure that meets your specific needs and design preferences. It often features customizations like eye-catching borders, Multiwidth Decking, or unique shapes. Working with a contractor for a custom deck ensures your deck is built to maximize your space – and with the right specifications for lasting performance.
2.) Make the most of your surrounding space
Small decks with limited space likely can't do triple duty with dining, entertainment, and lounging, but that doesn't mean you can't enjoy the best of both worlds. Extending the party into your backyard allows you to make the most of your space and can help integrate your deck with your yard design.
A serene garden space is ideal for Sunday brunch or a peaceful reading nook for after work. Adjoining patios can host barbecues and fire pits to socialize with friends and family.
3.) Choose transparent railings
Ornate railing infills are beautiful to look at, but they can really close off a space. Transparent infills like cable or glass railing provide a clear view and make a space feel more expansive.
If you're looking for privacy, consider sheer curtains that you can open or close as needed. Decorative panels may also let light in while reducing visibility and sound pollution.
4.) Embrace minimalism and maximize your deck use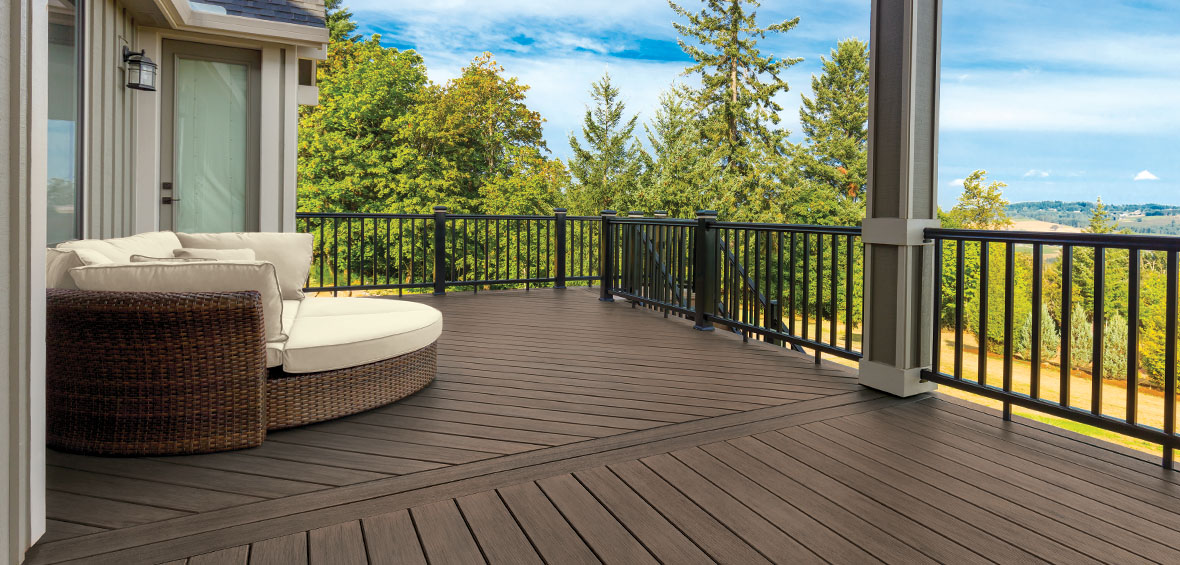 When it comes to small outdoor space ideas, less is more. Minimalist design lends itself well to small outdoor spaces thanks to its emphasis on clean, open areas, simplicity in form and function, and little to no ornamentation.
Embrace clean, defined lines by sticking to simple shapes such as squares and rectangles. For furniture and decor, choose pieces with simple forms, natural materials, and neutral colors for a clean, sleek look. Versatile outdoor furniture is a smart investment, too — like a dining table with benches that can easily be repurposed into a refreshments bar with seating for parties.
5.) Plan for a smooth flow
Flow between spaces is key for comfort and safety. So, whether you're hosting a casual brunch with your friends or a backyard bash, make sure there's room for your guests to move between activities, your yard, and home to avoid overcrowding.
When designing your deck, identify the key areas for socializing, dining, and games. Make sure there are clear spaces to enter and exit each of these areas. Don't overdo the furniture or decor to avoid cluttering floor space, and tweak your furniture layout as you invite guests and notice how they use your deck.
6.) Add ambiance with lighting
Small outdoor spaces are already intimate and romantic by nature, so why not increase the ambiance with outdoor lighting? Outdoor lighting can either be temporary, such as lanterns or string lights, or more permanent, such as built-in deck lighting in your deck surface, stairs, or railing.
7.) Use vertical space
Hanging plants or lattice fences can help distinguish spaces on your deck while providing privacy and decoration without taking up excessive room. Hanging chairs and swings or floating bar tables also provide function without crowding the floor space so your deck feels open and inviting.
8.) Choose a curved design
Curved decks create a natural focal point and are great for socializing. They take up less yard space than traditional deck shapes, and curved platform decks provide easy access to the rest of your yard so no spaces are closed off.
9.) Consider low-lying decks
Depending on your local building codes, low-lying decks often don't require railing, which means guests can easily move between the garden and deck as they see fit. This also means you get to enjoy unobstructed views of your surrounding yard or garden. Use raised planters, landscaping, and garden lights to decorate your deck to match your backyard space.
10.) Build function into your design
Built-in deck features give small outdoor spaces greater functionality without encroaching on the limited available space. Built-in benches can help you accommodate your guests, and planters give you a designated place to incorporate color and texture into your space.
11.) Integrate style with your deck
Decor doesn't have to include towering vases or trays of candles that take up the whole coffee table. The best style choices for your small deck are pieces that work with your existing deck features so they don't take up any excess space.
Instead of candles, hang string lights above your deck — well out of the way of foot traffic. Rugs under furniture tie a space together, and decorative garlands on railings and walls add personality without claiming valuable floor space.
12.) Shop for mixed-use pieces
A chair can be so much more than just seating. Built-in cup holders reduce the need for coffee tables, while under-seat storage is a great place for blankets and games.
For maximum versatility and a totally curated space, opt for modular furniture and decor. Modular pieces are easily rearranged and sometimes nest inside each other for optimal flexibility and functionality. So, whether you're hosting a small intimate gathering or a big family get-together, your space can accommodate your needs.
13.) Decorate with levels
Your decor can look stale or crowded if it's all the same size and height, so it's important to play with levels. You can use fewer items by utilizing different sizes, shapes, and heights in your choices. For example, try pairing two differently sized pillar candles with a tall candelabra, and you'll create more visual interest than if you place three matching pillar candles on a buffet together.
Just stay mindful of your proportions when pairing pieces. A huge vase will overwhelm a small succulent placed right next to it. You want items to sit in similar eye lines so nothing is lost and the decor works together to create a cohesive look.
14.) Bring your garden on deck
Clever landscaping incorporates your deck into your garden design. A unified aesthetic with landscaping, lighting, and color palettes creates visual cohesion among your yard, deck, and home, so no space feels too small or separated.
15.) Work with the perimeter
Small outdoor space ideas should help you maximize the use of your space without causing it to feel busy or cluttered. One way to achieve this? Keep the center of your space open by arranging furniture and decor around the perimeter and in the corners of your space. Being intentional about open and occupied space will prevent your space from feeling crowded while still allowing you optimal functionality.
16.) Create separate spaces
If your deck is large enough, consider creating separate spaces for different functions. Clear divisions created by your deck design, landscaping, or furniture placement can help the space feel functional without feeling crowded.Your splice boards — those that run at an angle (often perpendicular) to the rest of your deck surface — can create a natural border to help segment spaces. They're an ideal way to create attractive dimensions and demarcation. Positioning decor and furniture on each side of the splice boards reinforces the division while giving you intentional spaces with different functions.
17.) Consider platform decks
Platform decks are small, low-lying, and detached structures that are some of the simplest deck designs to build.
Platform decks are super versatile because they can be placed anywhere — near your pool, fire pit, or flower garden — so you can use existing features in your yard to establish feel and function. Since they're low profile, you can also easily share decor items between your deck and adjacent spaces.
18.) Design a multi-level deck
Multi-level decks can segment spaces by use, and help each section feel roomier when you only have a little bit of space to work with. If you have a slope to your yard, a multi-level deck design may also take the place of an existing staircase, so you lose less yard space and gain outdoor living room.
19.) Build to your needs
Some homeowners may just want a place to sit and unwind in the evening, while others dream of monthly dinner parties and summer barbecues. Identifying your needs helps you envision your ideal deck so you can plan your furniture, space, and decor needs ahead of time.
Needs can include more than the deck's purpose. If you have kids who love to play in the yard, then a deck close to the house leaves plenty of backyard for them to enjoy. If you want to entertain with deck parties, then you'll want to plan for seating and socializing.
20.) Consider your property's proportions
If you own a tiny home on a small property, a huge deck just wouldn't look right. On the other hand, several sprawling acres with a multi-story home may overwhelm a small deck design.
Find balance between your property features when planning the size and shape of your deck. Many builders recommend a deck no larger than 20% of your home's size.
21.) Connect your spaces
The aesthetic across your property should be cohesive so everything feels intentional and there's a natural flow between spaces. Consider your color palette, garden design, home shape, and more when planning your deck build.
Now that you're thinking through all of the small deck ideas to optimize your outdoor spaces, you're ready to start planning your own project.
Bring your deck goals to a professional to make your dreams a reality. Find qualified contractors to help you design and build the perfect space for your yard — no matter how big or small.