Considering adding a deck to your home? A deck gives you a beautiful, functional outdoor living space where you can enjoy the great outdoors without leaving behind all the comforts of home. To learn how to plan a deck, you'll need to think through several factors, from cost considerations right down to installation.
A Brief Look at Deck Anatomy
---
Before learning the steps for how to plan a deck, you need to know just what a deck's components are.
Get insight on everything from footers to joist spacing, so you can plan like a pro.
To plan for your deck project, start by thinking through these important factors.
Step 1: Decide if You'll DIY or Work With a Contractor
DIY
DIY-ing your deck will save you on labor costs, but it also may influence certain factors of your build based on your skillset and time constraints.
Learn more about what questions to ask yourself to help you decide whether a DIY deck project is right for you.
Work With a Contractor
Working with a contractor will add to your overall deck costs but a contractor's skillset and equipment better ensures your deck will meet your needs and aesthetic preferences — and is built up to code.
Plus, you'll avoid doing the work yourself.
CHECK IN AS YOU GO
As you learn more about how to plan a deck, ask yourself whether you're comfortable DIY-ing the build at each step.
Step 2: Consider Cost Factors
The cost to build a deck will depend primarily on the following factors:
Additional Costs: Will Your Deck Require Pre-Work?
Pre-work refers to any work that needs to happen prior to your deck build to ensure the success of your project. These measures can affect the cost of your build, as well as the time it takes to complete.
Examples include:
An existing substructure that needs to be torn down.
Landscaping work to clear or level the area your deck will be built.
Addressing any jobsite access restraints.
Step 3: Determine Deck Shape & Size
To think through the right size and shape for your build, you'll need to consider several factors, including:
Deck Function
How do you primarily plan to use your deck? A low, sprawling deck will suit large gatherings, but might not give you the cozy feel you want for a quiet retreat.
Home Architectural Style
Your deck should complement your home exterior both in size and shape. To keep it simple, a classic rectangle is a good choice for any style of home.
Yard Layout
Space available in your yard as well as existing features such as landscaping or a patio, pool, or a slope will all affect your deck size and shape.
Before you confirm your deck design, it's a good idea to confirm it's safe to dig in your backyard. US residents can call 811, while Canadian residents can visit Click Before Your Dig. The presence of electrical wires, plumbing, sewer lines, and other utilities underground can affect where your footings go — which, in turn, could influence the location and size of your deck.
PRO TIP
Be aware that larger decks and non-traditional shapes and angles will add costs and complexity to your build. Keep your budget and DIY skillset in mind when considering your deck layout.
Keep It Simple: Common Deck Shapes & Sizes
When thinking through how to plan a deck, you can minimize complexity by sticking to simple deck sizes and shapes. Then, launch the template of your choice in our 3D Deck Designer to fit your specific needs and preferences.
Square Island Deck
CHOOSE FOR:
✓ A build that can be placed almost anywhere in your yard.
✓ Typically a straightforward installation.
✓ The option for railing (rather than the requirement), thanks to the deck's low height.
12' x 16' Raised Deck
CHOOSE FOR:
✓ A spacious design to suit different functions.
✓ A traditional shape that can be straightforward to DIY.
✓ Versatility that works with a wide range of home styles and yard layouts.
Wraparound Deck
CHOOSE FOR:
✓ A place to take in panoramic views of your yard.
✓ A build that takes up minimal space by hugging your home's facade.
Note that DIY difficulty can vary due to how boards lay at the corner.
Step 4: Acquire Your Residential Building Permit
Once you have a basic idea of your deck plan, the next step for how to plan a deck? Acquiring a building permit.
While every municipality is different, acquiring a permit usually requires submitting a drawing for approval to your local building codes department and then undergoing an inspection process.
If you choose to work with a contractor, they will guide you through the permit acquisition process or secure the building permit for you.
Step 5: Decide on Deck Material
When considering your deck material options, you'll want to think through not only the upfront price, but also long-term costs for maintenance and repairs or replacements.
Your primary deck material choices include:
Traditional Wood
Includes pressure-treated lumber, softwoods like cedar, and hardwoods, like Ipe.
CHOOSE FOR:
Regular maintenance (seriously). All traditional wood options will require costly, rigorous maintenance every year or two after installation, increasing your workload.
Capped Composite
A blend of recycled wood and high-performance polymers, protected with a fully engineered cap and made from majority recycled material.
CHOOSE FOR:
An enduringly beautiful deck with minimal upkeep.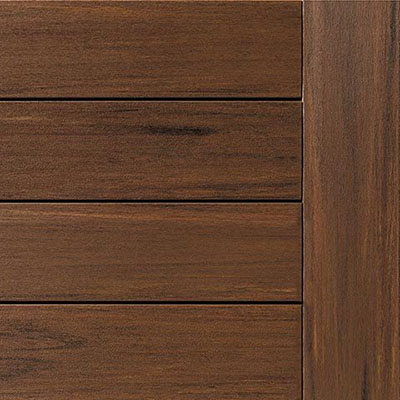 Capped Polymer
A unique blend of high-performance polymers, from core to cap. Sourced from majority recycled material and defined by the real wood looks you love.
CHOOSE FOR:
High-performance, low-maintenance decking that delivers your best life outdoors.
How to Plan a Deck: Toolkit & Installation Best Practices
Now that you've thought through the first few steps for how to plan a deck, it's time to dive into installation best practices so you can turn your vision into reality.
RATHER WORK WITH A PROFESSIONAL?
Find local contractors ready to offer guidance on how to plan a deck. FIND A CONTRACTOR
Step 6: Collect the Tools You'll Need
While there are many tools that can be used for your deck project, these are the basics. If you don't own one or more of these items, you can likely buy or rent them from your local hardware or big box store.
Measuring & Leveling Tools
✓ Tape measure
✓ Carpenter square
✓ Deck spacer/spacing tool
✓ String line and/or level
Cutting Tools
✓ Miter saw
✓ Jigsaw
Fastening Tools
✓ Cordless driver
✓ Hammer
To install proper concrete footings, you'll need to rent an auger or use shovels to dig holes to the proper depth.
Step 7: Get Familiar With Deck Building Best Practices
Understanding the best practices for installing a deck is essential to your DIY deck project. Plan on working with a contractor? Even so, knowing what goes into your deck build can be crucial to communicating effectively with your pro and ensuring you get everything you want out of your build.
IMPORTANT
Always refer to the installation guides for your chosen building material before breaking ground on your project. READ INSTALL GUIDES
Building Your Substructure
A deck is only ever as healthy as its substructure — that is, the posts, joists, beams, and footings that make up the frame of your deck.
Key installation best practices for your substructure include:
Footings
Footings are typically made of concrete poured or inserted into holes dug into the ground. In colder climates, they will need to extend below the frostline to prevent frost heave.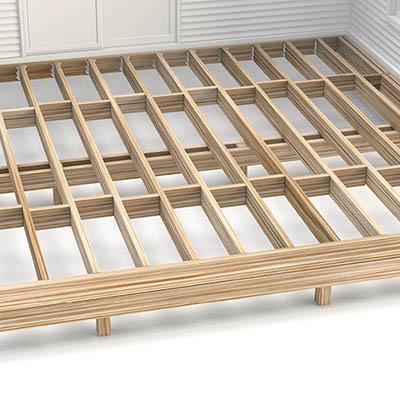 Joists & Blocking
Joists and blocking make up the frame of your deck. Joists are typically spaced 12" to 16" on center, while blocking is inserted between joists, 4' to 6' apart, to prevent movement of the joists.
Proper Hardware
Hardware includes fasteners, joist hangers, screws, and other pieces that secure your deck components together. Using the proper hardware is essential to your deck's structural integrity.
ENSURE YOU SUBSTRUCTURE LASTS
Prevent moisture build-up by applying joist tape to the tops of your joists and ledger board. LEARN MORE
Installation Guidance
Your decking installation will depend on several factors, including which decking material and fastener type you choose, as well as whether you plan a deck pattern for the surface of your deck.
DISCOVER THE EASIEST WAY TO BUILD A DECK
Choose TimberTech Advanced PVC decking with top-down fasteners and a panelized metal railing system. LEARN MORE
Installation Guidance by TimberTech Material Type
---
Capped Polymer Decking
Find out how to install TimberTech Advanced PVC decking, which shares many of the same best practices as traditional wood.
Capped Composite Decking
Learn how to install TimberTech Composite with CONCEALoc® hidden fasteners for a polished, fastener-free surface.
Don't Forget About Your Finishing Touches
All your hard work leads up to this moment. Get ideas for finishing touches to transform your deck.
Time to Bring Your Vision to Life
Now that you're familiar with the basics of how to plan a deck, you're ready to take the next steps toward completing your deck project.
Visit our Start Your Journey page for insight on our 3 decking lines, where to purchase your materials, and so much more. Have any questions along the way? Talk to a TimberTech Pro to get the answers you need.