If you're looking for stainless steel cable railing, you're likely interested in a sleek, modern look for your outdoor living space. But you might still have questions and wonder just how to incorporate it into your deck design. That's where we come in.
What Is Stainless Steel Cable Railing?
Stainless steel cable is a railing infill (the part in between the top and bottom rails) made of marine-grade steel cords pulled taut between the railing posts for a perimeter that is both sleek and secure.
Choose for a Modern, Inviting Feel
Stainless steel cable rail infills:
✓ Deliver clear sightlines for an unobstructed view.
✓ Provide a chic, contemporary aesthetic to perfectly complement your design-forward deck.
✓ Boast longevity and durability, with minimal maintenance needs.
How Do I Incorporate Stainless Steel Cable Railing Into My Design?
Stainless steel cable infill is an option for our Classic Composite Series railing profiles and Reserve Rail.
INTERESTED IN MORE RAILING OPTIONS?
Explore the entire TimberTech® railing portfolio, including Reserve Rail, to find the right perimeter for your deck. EXPLORE RAILING
Inspiring Stainless Steel Cable Railing Ideas by Design Style
When combined with specific design elements, a stainless steel cable railing can capture different moods and align with different types of homes.
Discover the inspiration you need to curate your own outdoor living space with the ideas below.
1.) Coastal-Style Home
Coastal-style homes boast stunning views of the ocean, but are exposed to strong winds, saltwater spray, and occasional extreme weather. Such harsh exposure makes durability key in every aspect of the home's exterior.
Stainless steel cable railing keeps the ocean views unobstructed while providing exceptional resilience thanks to its attractive, marine-grade construction.
What Defines the Coastal Style?
Coastal-style homes are typically defined by:
Fresh, light colors, especially white, blues, and contemporary grays.
Understated textures via material like rattan, white brick or stone, and jute.
Achieving a Coastal-Style Railing
Stainless steel cable railing is an ideal infill for coastal-style railings thanks to its slender, refined look. With a light and airy feel, this railing still maintains exceptional strength and durability.
California Coastal Cool
This stainless steel cable railing evokes a breezy coastal feel thanks to:
2.) Urban Modern Building
When there's little to no room for an outdoor living space on the ground, the rooftop is the way to go.
Rooftop decks are typical of city buildings and often evoke an urban modern style. And, just like a regular roof, they are sure to be exposed to UV rays and other weathering agents. That's why it's important to choose superior building materials, for your roof deck build. Enter stainless steel cable railing from TimberTech.
What Defines the Urban Modern Style?
Key characteristics of the urban modern style include:
Soft neutral tones and warm colors.
Lots of natural light.
Mixed materials such as stone, metal, and wood.
Soothing textures like plush furniture.
Embrace Mixed Materials for an Urban Modern Railing
A TimberTech Classic Composite Series railing with a stainless steel cable infill is a natural fit for an urban modern aesthetic. Why? It allows you to mix and match railing materials, like metal, glass, and composite to get a chic industrial look.
Rooftop Deck With a View
This rooftop deck embraces an urban modern feel with a railing that features:
3.) Modern Alpine Home
If you live in the mountains or the forested foothills, you know a thing or two about excellent views. You are also likely familiar with weather in the extremes, from freezing winters to hot summers.
With stainless steel cable railing from TimberTech, you can keep your spectacular views unobstructed while maintaining confidence in your railing's strength and enduring good looks.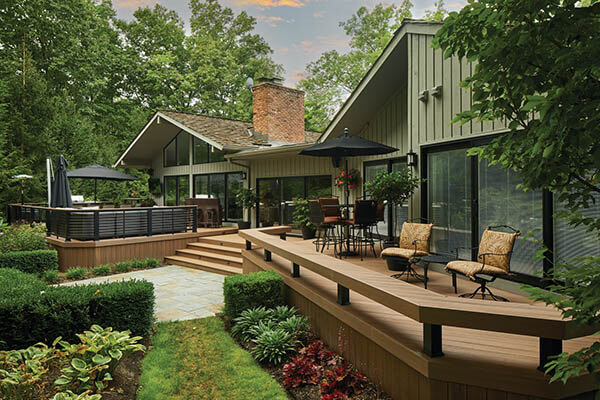 What Defines the Modern Alpine Style?
A modern alpine style is characterized by:
Clean, bold lines.
A mix of indoor and outdoor elements.
Nature-inspired materials and textures.
Warm, natural colors.
Go for a Bold, Natural Look
For a look that suits the modern alpine style, choose stainless steel cable railing with nature-inspired aesthetics.
The Classic Composite Series Drink Rail features a TimberTech composite deck board as a top rail, giving you a handsome, real wood aesthetic.
Plus, TimberTech composite decking is designed with advanced materials science, so you get the nature-inspired look you want, with the high performance railing you need.
Curating a Modern Alpine-Style Railing
Create your eye-catching modern alpine-style railing with the following features:
Modern Alpine-Style Railings in Action
---
Tranquil Forest Retreat
Stainless steel cable railing lends a sophisticated, contemporary aesthetic to this timeless forest retreat. Top rail deck board: English Walnut® from the TimberTech AZEK® Vintage Collection®.
Relaxing Mountain Lodge
The stunning views from this mountain home are unencumbered with a stainless steel cable railing perimeter. Top rail deck board: Antique Leather™ from the TimberTech PRO® Reserve Collection.
Deck Lighting That Doesn't Steal the Show.
Add gentle rail lighting into your deck design to improve visibility
without outshining the sunset glimmering behind mountain peaks.
With ideas to inspire your customized stainless steel cable railing, you're ready to curate the right railing for your space. Download the Railing Guide for the latest options to make your railing uniquely you.