Mixing deck railing materials gives you plenty of options to create a custom look for your deck's perimeter. With TimberTech® Railing, many railing components are compatible with each other, giving you countless combinations.
Before you create your unique look with different deck railing materials, it's important to first understand:
✓ What a deck railing system is
✓ What your railing material options are
✓ How to mix and match different deck railing materials
WANT TO EXPLORE ALL YOUR OPTIONS FOR RAILING?
Get the deck railing ideas you need with our Deck Railing Ideas Guide. READ THE GUIDE
What Is a Railing System?
Your deck railing system is more than just a handrail; all railing systems are made of several different components. With certain TimberTech railing systems, you can customize nearly all of these components in terms of color and which deck railing materials you select.
The top rail is the uppermost piece of rail that connects to the top of the infill.

The bottom rail is the piece that runs along bottom beneath the infill.

The infill is what fits between the top and bottom rail, filling the inside of the rail. It can be made of glass, composite or metal balusters, or CableRail.

The skirt is a covering that surrounds the bottom of the post.

The post is a vertical piece that sits in between the infill and connects the top and bottom rails.

The cap is the piece that sits on top of the post. It can sometimes include lighting.
How to Mix & Match Different Deck Railing Materials
Mixing and matching your deck railing materials gives you the opportunity to fully express your design preferences and create a custom look that's all your own.
We offer six railing system options that let you mix-and-match materials: The railings of the Classic Composite Series and Impression Rail Express®.
As you conceptualize your ideal railing system, you will follow these steps:
Choose your primary railing material.
Choose your top rail profile, where applicable.
Choose your infill.
Choose your post sleeves and cap.
Finally, an optional step you can take to truly set your railing apart from the rest:
Choose your outdoor lighting.
Step 1: Choose Your Primary Rail Material
Your Very First Step In Your Railing Journey
Choosing your key railing components.
Why? Because your preferred primary railing material determines which infills, post sleeves, and post cap options are available to you.
Choices for Deck Railing Materials: Key Railing Components
The TimberTech railing portfolio is divided between the two types of materials: aluminum and composite railing. Remember: This doesn't mean that every component in your rail system will necessarily be made of aluminum or composite — it will depend on the railing system you choose. You can mix and match deck railing materials within certain railing systems.
While aluminum and composite are the two main materials in our portfolio, your final railing system can potentially contain elements of both — as well as unique infill options such as cable and glass.
Aluminum Railing
Our powder-coated aluminum railing options provide both sturdy functionality and sleek design.
Why choose aluminum railing:
Safe and sturdy – Aluminum provides strong stability throughout the railing system.
Durability – Powder-coated aluminum resists moisture and weathering damage.
Compatible with composite components – Aluminum railing is compatible with some composite components, allowing you to mix and match materials for a truly unique look.
Composite Railing
Our composite railings are made of durable composite material and offer a range of looks from traditional milled wood to modern sleek lines.
Why choose composite railing:
Enduring beauty – Capped composite material offers premium durability that ensures your railing looks beautiful for years to come.
Low-maintenance – Does not require staining and sealing like traditional wood.
Multiple design options – Mix and match colors and materials to create a railing that reflects your personal style.
PREFER TO THINK IN COLOR?
Check out our railing options sorted by hue. Choose from black, brown/bronze, and white color families.
Step 2: Choose Your Top Rail Profile
Within the two main railing categories of aluminum and composite railing, there are several top rail profile options. When choosing a top rail, you'll want to think about:
The preferred material.
The overall aesthetic look and feel of your outdoor living space.
Traditional
Traditional railing styles typically have the look of milled wood, with elegantly sculpted details befitting many different styles of homes.
The Classic Composite Series gives you beautifully crafted top rail designs and is a versatile option because of its universal bottom rail that makes customization, ordering, and installation easier.
Classic Composite Series: Traditional Railing
---
Premier Railing®
This elegantly sculpted top rail brings a high level of sophistication to your deck.
Compatibility: All four infill options.
Radiance Rail®
A classic railing profile, RadianceRail® complements any home's style.
Compatibility: All four infill options.
Trademark Rail™
With a stylist profile, the Trademark Rail brings high style to your outdoor living space.
Compatibility: All four infill options.
For a sleek look with no lack of elegance, consider RadianceRail Express®.
Traditional Composite Railing
---
RadianceRail Express
RadianceRail Express® offers easy installation as well as an elegant look with its beautifully sculpted top rail.
Compatibility: Composite balusters or round aluminum balusters.
Modern
Modern railings embrace simple, defined shapes that suit mid-century modern and contemporary-style homes.
Classic Composite Series: Contemporary Railing
---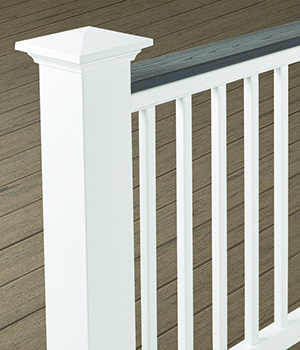 Drink Rail
The Drink Rail makes a bold statement and features a deck board laid on the top rail.
Compatibility: All four infill options.
Contemporary Rail
The sleek, linear look of the Contemporary Rail profile gives a nod to both design and function.
Compatibility: All four infill options.
Minimalist
Looking for a minimalist approach to railing? Our aluminum railing options offer a sleek look and narrow lines that keep your view unobstructed.
Impression Rail Express® offers a pre-assembled aluminum panel, where the top and bottom rails have pre-drilled holes for the balusters which makes for an easier installation.
Aluminum Railing Options
---
Impression Rail Express®
Impression Rail Express gives you two top rail options: the functional and stylish Drink Rail and the sleek aluminum Modern Rail.

Compatibility: Aluminum balusters and glass infill options.
Impression Rail™
Impression Rail is a minimalist metal railing that gives you a beautiful, durable design and keeps your backyard view unobstructed.

Compatibility: Aluminum balusters only.

Step 3: Choose Your Infill
The infill you choose contributes to your railing's style and how well your railing integrates with your natural surroundings. Cable rail and glass, for instance, offer greater visibility than traditional balusters.
Keep in mind that not every infill option is compatible with every rail choice.
Infill Materials
---
Aluminum Balusters
Choose from either round balusters or square.
Composite Balusters
Composite balusters are square and come in various colors.
Cable Rail
The Cable Rail gives you clear sightlines and is perfect for scenic areas.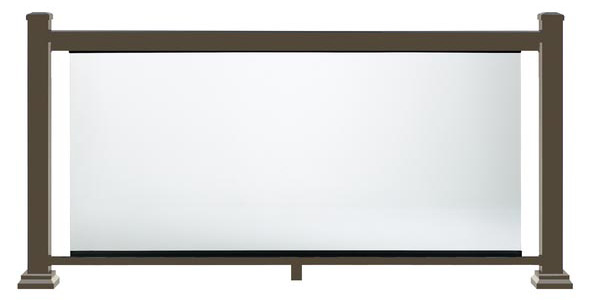 Glass
A glass panel offers a clean look and unobstructed visibility.
Step 4: Choose Your Posts & Caps
Your posts and caps can either match the material and color of your top and bottom rails or contrast them. Remember that not all top and bottom rails are compatible with contrasting post materials.
Posts & Post Sleeves
Choose from composite post sleeves or aluminum posts.
Multiple color options, depending on post material chosen.
Mix and match with different top and bottom rails as well as infills.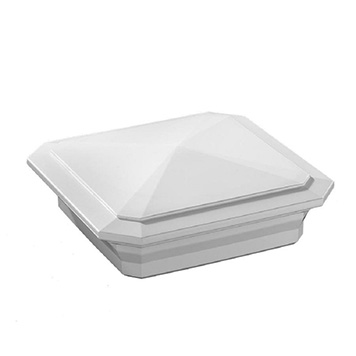 Caps
Cap choice depends on rail and post sleeve chosen.
Multiple cap options in the Classic Composite Series.
Over-the-post options for a flat, continuous top rail.
Step 5: Consider Rail Lighting
Add deck lighting elements to your posts, caps, and/or under-rail for inviting ambiance and enhanced visibility.
Step 6: Get Deck Railing Inspiration
Whether your style is more traditional, contemporary, or something in between, mixing deck railing materials will give you the look you want. Find your inspiration from these combinations.
Traditional
Preferring symmetry and modest ornamentation, the traditionalist will lean toward a railing that complements their deck boards and home while offering a touch of elegance.
Modern
Characterized by sleek lines, crisp angles, and minimal ornamentation, a modern-style railing will be one that embraces simple shapes and revealing sightlines.
Minimalist
Minimalism champions the bare essentials of design with simple elements, clean lines, and little to no ornamentation.
A Sophisticated Minimalist Look
Impression Rail Express railing in Black with black aluminum balusters offers functional elegance while making the view the star of the show.
Finish your minimalist railing with Classic Composite Series contrasting composite posts with post cap lights to create a gentle distinction from the industrial metal railing.
Step 7: Start Designing
Design your customized railing by following these steps on our TimberTech railing portfolio page:
Filter on the left-hand side for your preferred top rail material:

Aluminum, or
Composite

Choose the top rail or top rail series you want to explore (for example, Reserve Rail™, or Classic Composite Series).
Use the Railing Configurator tool at the bottom of the page to mix and match compatible deck railing materials.
Example: Rail Configurator for RadianceRail Express
1.) Filter for Composite
On the railing portfolio page, set your top rail material as composite from the left-hand filter.
2.) Choose Your Top Rail
For this example, we've selected RadianceRail Express in (top rail color) White.*
3.) Use the Railing Configurator
Explore the Configure portion of the page to mix and match top rail, post sleeves, and infill options.
*You can change the colors of the overall rail system in the Railing Configurator. For Step 2, just first select your top rail color.
Now that you're brimming with inspiration and railing knowledge, explore the Outdoor Living Catalog to expertly mix and match your deck railing materials.