Wondering how to extend a deck? If you have an existing deck and are thinking about extending it, you know the importance of an optimized, inviting backyard. The best way to ensure optimal outdoor living is by making sure your deck is the right size for you and your family, and constructed with only the best materials.
Widening or lengthening your deck with TimberTech® decking means you enhance your backyard — and then some.
Recommendations for How to Extend a Deck
We know there's a lot to consider when thinking through a deck extension project. Most of all, you will want a high-style, low-maintenance addition to your backyard — one that you don't have to worry about putting more labor into on the other side of your extension project.
That's Why We Recommend
✓ Choosing superior deck materials: TimberTech composite decking captures all the nuanced beauty of wood, without the upkeep.

✓ Installing new deck boards across the entire surface, both over the pre-existing structure, and the newly installed extension.

We will focus primarily on this approach when discussing how to extend a deck.
DO YOU KNOW YOUR DECK ANATOMY TERMS?
Be better prepared for your project by learning about the components of a deck first. EXPLORE DECK ANATOMY
Before You Begin
Before learning how to extend a deck, follow this checklist to ensure you're ready to move forward with your build:
Step 1: Ensure Code Compliance With Your New Build
Review local building codes to ensure your deck extension plan is up to code. For instance, if your deck extension will be built as a step up from your existing deck, you may need to plan for a railing on the higher platform.
Step 2: Get a Permit, if Needed
Check with your local town or city hall, or your homeowner's association, to see if you need a building permit for your new deck extension. Be sure to bring a drawn-out plan with dimensions to give them a complete picture of your project.
Step 3: Inspect Your Existing Deck Substructure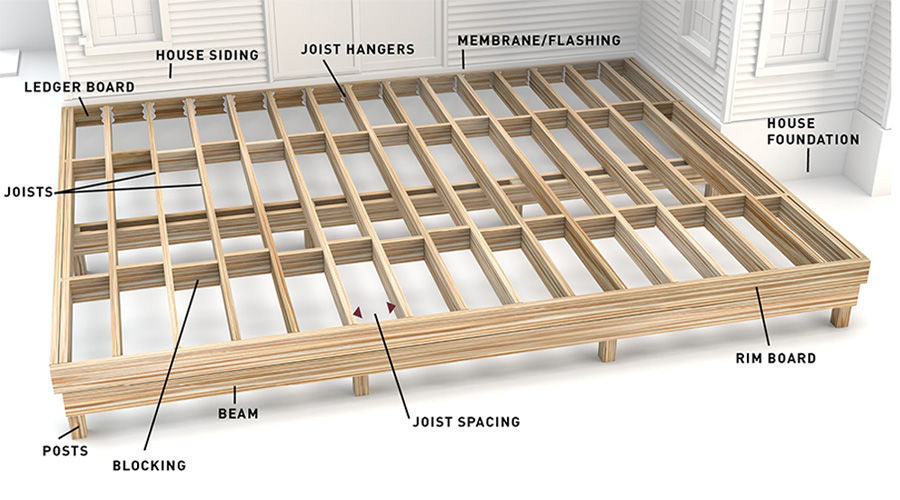 Your existing deck's substructure needs to be in top condition to support the new addition.
Inspecting Your Substructure by Preferred Deck Extension Plan
Applying Boards Only to the Extension
NOT Recommended.
If you're only installing new deck boards over the extended portion, you'll need to look for issues within the deck surface that could indicate problems with the substructure.* We recommend a full resurfacing.
Resurfacing the Entire Deck
RECOMMENDED.
If you're resurfacing your existing deck AND the new extension, you will need to remove the deck boards (and railing, if your deck has one) so you can perform a more thorough inspection.
*NOTE: We recommend resurfacing all of the newly extended substructure, rather than just the newly added portion, to ensure consistent aesthetics and no color mismatch across the entire surface.
Step 4: Check Joists for Load & Span Rating Compliance
Your existing substructure should be compliant with current load and span ratings. Load and span ratings affect the spacing of your joists and blocking.
Deck Joist Blocking & Spacing
Standard deck joist spacing is 12" to 16" on center. For a more rigid foot feel, go for 12" on center.
Blocking (the supports between the joists) should be spaced 4′ to 6′ apart.*
Note that blocking and spacing can depend on the orientation of your surface deck boards.
*NOTE: Blocking and joist spacing needs can change depending on the type of decking you're using, or the orientation of the deck boards. For instance, diagonal decking requires joist spacing of 12" on center while a picture frame deck requires extra blocking along the perimeter.
Step 5: Determine Whether to Repair or Replace
If your substructure shows minor issues, such as crowned joists (joists out of plane with one another) or loose fasteners, you can continue to use your existing substructure after completing the repairs or replacements. Always make sure your joists are level and in plane across the tops before proceeding with your build.
However, if you find more severe issues, such as pervasive rot or compromised portions such as a ledger board issue or rotted post, you may need to do a full deck substructure replacement.
Best Practices for How to Extend a Deck
Review these tips and best practices on how to extend a deck to familiarize yourself with factors that will influence your project.
REMEMBER
Before beginning any renovation or installation project, closely read the Installation Guide for your chosen deck material and fastener type.
GET INSTALL GUIDANCE
Decide on Your Goals & Extension Plan
The best way to widen or lengthen your deck?
By following our recommendation to install new decking across the entire deck surface, both the pre-existing portion and the new extended area.
A Full Resurfacing Will
✓ Allow you to upgrade your existing wood deck to high-performance, low-maintenance composite decking.

✓ Keep deck board aesthetics consistent across the full deck surface. That means you won't have mismatched color portions across your deck.
If You Don't Want to Complete a Full Resurfacing
Because all decking materials will respond to weathering and UV exposure, having deck boards of the same color — but different ages — across your deck surface is not recommended.
However, if this is your preferred path, the way to solve for any perceived tonal variation is by getting creative with color.
Capture the Right Look.
Play with complementary deck colors or deck patterns to create a curated contrast between your original and extended deck sections. Order up to 4 free samples to find the right complement — but be sure to compare existing and sample boards side-by-side.
Remove the Appropriate Boards & Components of Your Existing Deck
The next step in extending a deck — and resurfacing both the pre-existing and new substructure — is to complete another inspection of your deck substructure to ensure your substructure is sound.
If you are not resurfacing your existing deck, you'll need to remove the fascia board on the side of your deck where the extension is being added. If your deck has a railing, you'll also need to remove the section of the railing where the extension will be added.
Laying Out Your Perimeter & Installing Posts & Footings
Measure out the perimeter of the new addition with string line attached to wood stakes to find where support posts and footings will need to go along the frame. The locations of the posts will depend on the size of joists you're using, and what their span rating is.
After you locate post placements, install the concrete footings and posts, making sure the footings sit below the frost line in your area.
Attaching & Building the New Extended Substructure
After removing your deck boards and laying out the perimeter of your addition, you're ready to construct the extension's frame.
How to extend a deck will depend on whether you'll extend at the same level, a step down, or a step up.
Same-Level Extension
Use one of your existing substructure's support beams as the ledger board for your extended section.
You will attach your other support beams and joists to this board to form the frame for the extended section.
Step-Down Extension
To take this route, you'll need enough space below your existing deck to install the joists and support beams.
Your existing deck's support beam can act as the ledger board for this application, but the joists will be attached to the bottom rather than the top.
Step-Up Extension
For this option, you'll start your new substructure frame on top of the old substructure.
Secure a support beam to the top of the existing substructure and use that beam as the ledger board to attach the rest of your frame.
For each scenario, continually run string line as you install the joists to ensure all your joists are in-plane.
Installing Your Deck Boards
The installation best practices for deck boards will depend on which TimberTech board material type, board profile, and corresponding fastener you elect for the application.
Here are some common combinations:
TimberTech® AZEK®
& TOPLoc®
TOPLoc is a top-down screw, color-matched to your deck boards for a blended-in look.
TimberTech AZEK
& Cortex®
Gives you a polished deck surface thanks to plugs made from our decking to conceal the Cortex screws.
TimberTech PRO® or EDGE® & CONCEALoc®
CONCEALoc hidden fasteners are installed between grooved boards for a fastener-free surface.
How to Extend a Deck: Why Working With a Contractor Is Important
Now that you have a high-level idea of how to extend a deck, you're ready to assess your project — and your abilities. A deck extension project requires time, as well as the right tools and skills to be done right.
If you're feeling uncertain about how to extend a deck or have questions, partner with a TimberTech-registered contractor. Our contractors have the industry expertise and vast product knowledge to ensure your deck extension is built to perfection.