What's better than slipping into your own personal spa after a long day at work or to top off the perfect weekend of relaxation? Not much, except maybe a fully private spa experience away from the sounds of neighborhood chatter and evening commutes.
To help you achieve this dream spa experience at home, we've gathered our favorite backyard hot tub privacy ideas to revamp your yard into an excluded oasis. From fresh fences to lush gardens, these tips will ensure your spa is always serene.
1. Build a custom hot tub deck
Where and how you install your hot tub has a significant impact on privacy. Working with a contractor to design a custom hot tub deck provides a lot of opportunity to control outside sights and sounds. You can choose to elevate your hot tub, build adjacent benches and fences, or position your hot tub where your home and existing landscaping provide cover.
Consider the materials used in your hot tub deck as some decks are much more water-resistant than others. TimberTech's Advanced PVC decking is made of high-performance and recycled polymers so it's super resistant to moisture and decay.
2. Consider a full enclosure
The ultimate choice for a secluded spa is a fully enclosed cover featuring a roof and sides or curtains so nobody can see inside. An enclosed hot tub is also an opportunity to customize your experience with lighting, sounds, and scents. You could build a custom structure or even temporary enclosures like pop-up canopies for the same effect.
3. Enjoy a breezy pergola cover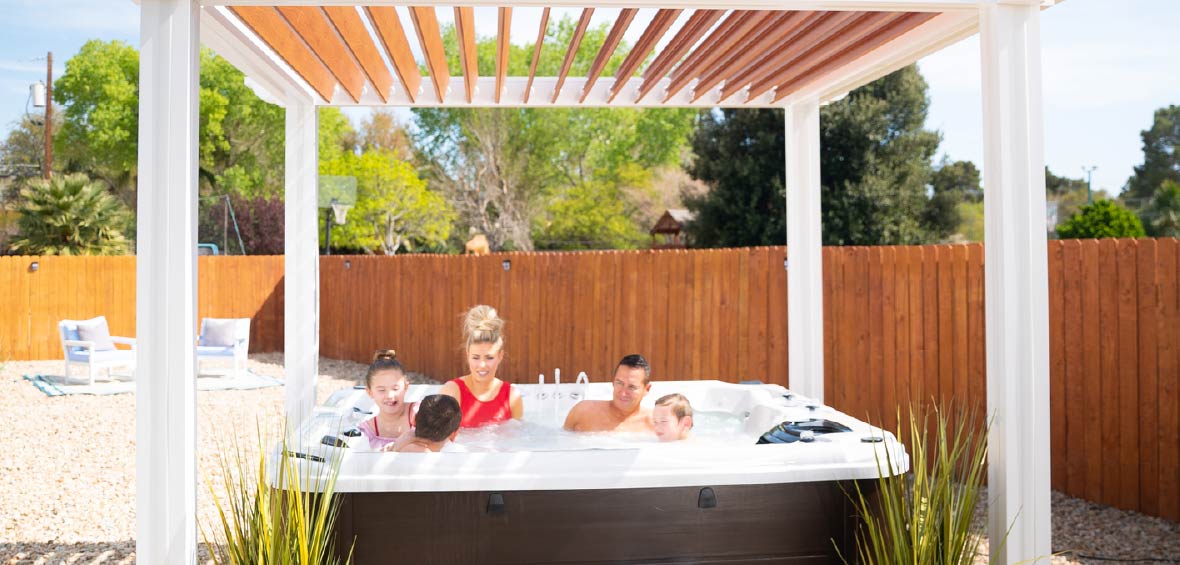 Pergolas are versatile structures that provide overhead protection from the sun and debris that would litter your hot tub. They vary in design from simple wooden structures to high-tech pergolas with motorized louvers and blinds. Accessories like curtains and blinds allow you to control your sun exposure and privacy so you're always comfortable.
4. Grow a privacy garden
Vertical growth like tall hedges, full trees, and vining flowers can provide privacy around your spa and serve as a natural wall between you and your neighbors. It may take some time to grow, but privacy landscaping adds color and life for a serene hot tub space you'll love. Just be mindful of the plants you choose, since overhead and messy plants can drop seeds, leaves, and flowers into your hot tub.
5. Plan your location
In addition to hot tub accessories, you can plan ahead to determine which area of your yard naturally offers the most privacy. Consider how you can make use of existing fences, small decks, or landscaping for added protection.
6. Try privacy railing
Hot tubs installed into a deck design or placed on a balcony may require guardrails, which improve privacy a bit. You can increase privacy with railing safety screens or decorative infills that help to block sight lines to your space. These range in transparency and materials, so you can explore railing options to decide what works for you.
7. Elevate your spa
Instead of blocking your spa view with a wall, consider how you can break others' sight lines with an elevated hot tub. A raised deck is a great opportunity to get some visual privacy without hiding in your spa, but it won't improve soundproofing like some other privacy methods.
8. Install a fence
Fences are one of the easiest ways to block unwanted sights and sounds, and there are several styles, shapes, and colors to choose from. A tall privacy fence provides the most protection, but even a lattice fence can reduce visibility and sound without blocking the sun.
9. Set screens for security
Blinds and sun screens are relatively easy to install on an existing patio, pergola, or other frame to add privacy from the sides. These can be simple sun sails that stay in place, blinds that can be opened and closed, or even motorized screens you have full control over.
10. Try a trellis
Trellises are popular garden features for vining flowers and plants, and they provide a little privacy, too. They're a great alternative to a full fence since they won't block out the sun and are much more affordable and easy to install. They're also available in a number of shapes and sizes so you can customize your privacy.
11. Block views with bamboo
Bamboo is a popular outdoor fence and shade material since it's affordable, comes in easy-to-install rolls, and is rather weather-resistant. Because it is an organic material that will decompose over time, you'll have to replace it once it begins to degrade.
12. Relax under a dome
Some tented domes are just large enough to fit your hot tub underneath, so you can enjoy a little privacy in your backyard without affecting your existing landscape. Since they're temporary, you can remove and replace it as you feel you need extra privacy. Tents may also have screens with covers, so you can adjust where you want privacy and prevent bugs from ruining your relaxation.
13. Install stone walls
A stone fence or hardscaping feature can integrate with your hot tub design to add privacy and even hide the hot tub itself. This way you have a gorgeous garden and private spa to enjoy as you please. Elevate the experience with built-in fountains or flat tops for drinks and accessories.
14. Hang curtains
Curtains are great functional decor both inside and outside your home. Hang curtains around your hot tub for elevated privacy and a soft aesthetic, but make sure they're water- and weather-resistant. There are plenty of outdoor styles available, from sheer curtains to heavy drapes.
15. Opt for an overhang
Overhangs like awnings provide coverage from above, which is great if you live next to multi-unit properties or tall single-family homes. They're often slanted and attached to a wall, so there's some privacy from the side. Side awnings are also available if you're interested in blocking out a busy road or noisy neighbor.
16. Get patterned glass
Glass makes for a beautiful railing or fence that lets the light in for an open and inviting space. It may not seem like the best choice for privacy, but glass that's frosted or etched with patterns obscures details without closing off the backyard.
17. Open an umbrella
Umbrellas are a simple way to add some privacy to your spa setup. It may not cover your whole hot tub, but it can be positioned in different directions and even extended to place privacy where you want it most. Of course, umbrellas are also great for blocking the sun and can be moved around the yard.
Your spa is your personal backyard getaway to relax, unwind and enjoy nature. If you're worried about noisy roads or nosey neighbors, try out one of these backyard hot tub privacy ideas to enjoy peace and serenity.
A beautiful deck can be the perfect place to install your new hot tub. Customize existing deck designs to envision your private backyard retreat.