If you've been thinking about building an enduringly beautiful composite deck, you've likely thought about the overall look and feel you want to achieve. If you're seeking a seamless finish for your outdoor space, hidden deck fasteners are the solution you need.
Step 1: Learn What Hidden Deck Fasteners Are & Why to Choose Them
Pictured: TimberTech® PRO® grooved deck boards installed with CONCEALoc® hidden fasteners.
What: Hidden fasteners secure your deck boards from beneath the deck surface — either via collated plugs or with clips that fit into grooves along the side of your deck boards.
The result is a clean look reminiscent of hardwood flooring.
Why: Opt for hidden deck fasteners if you want:
Improved aesthetic appeal.
No fasteners visible from your deck surface.
A safer fastening finish for children and pets; no exposed fasteners to step on.
Step 2: Discover When to Use Hidden Deck Fasteners
Which hidden fastener you choose for your deck will depend on:
The type of decking you choose.

Capped polymer boards: TimberTech AZEK® decking
Capped composite boards: TimberTech PRO® and TimberTech EDGE® decking

The shape of the deck boards.

TimberTech hidden fasteners apply to boards with either square or grooved shoulders.
Why Deck Board Shapes Matter When Choosing Hidden Fasteners
TimberTech® capped composite and capped polymer deck boards come in several different shapes. This matters for your backyard build because certain hidden deck fasteners are only compatible with certain board shapes.
Pictured: A full-profile board.
Board Profile
Two choices: scalloped and full.
Depends on how the underside of the board looks.
Pictured: A grooved board.
Board Shoulder
Two choices: square-shoulder and grooved.
Depends on how the board appears from the side.
Step 3: Choose Your Decking Line, Collection, & Board Shape
You have your choice of two different deck board profiles to choose from if you opt for hidden deck fasteners. Within the TimberTech fasteners portfolio, you'll select between:
Hidden fasteners for grooved deck boards.
Hidden fasteners for square-shoulder deck boards.
All of the following decking collections come in both grooved and square-shoulder / full-profile board options:
TimberTech AZEK® Vintage Collection® – MAX (1.5"-thick) deck boards in Coastline® come in square-shoulder only
TimberTech AZEK Harvest Collection® – MAX (1.5"-thick) deck boards in Slate Gray come in square shoulder only
TimberTech PRO® Reserve Collection
TimberTech PRO Legacy Collection
TimberTech PRO Terrain Collection™
TimberTech EDGE® Premier Collection
TimberTech EDGE Prime+ Collection™
TimberTech AZEK Decking
Superior-performance capped polymer deck boards.
Most advanced synthetic materials technology.
TimberTech PRO Decking
Premium-performance 4-sided capped composite deck boards.
Protected from moisture damage with Mold Guard Technology®.
Vintage Collection®
Dubbed "The Designer Series," this collection features highly realistic wood look with complex color blending.
Harvest Collection®
The solid colors of this collection achieve a painted wood-look finish.
Reserve Collection
Comes in four complex, rustic colors, including two contemporary grays.
Legacy Collection
Cascading color blending for a complex, artisanal wood look.
Terrain Collection™
Made up of both monochromatic and minimally blended colors for a variety of finish options.
Premier Collection
Made up of monochromatic or solid colors that can be used to achieve an opaque or painted wood-look finish.
Prime+ Collection
Offers moderate color blending for a subtle look and straight grain pattern.
Need Help Evaluating Your Board Aesthetics? Learn the differences in color blending, grain patterns, and finishes available across our composite decking portfolio. EXPLORE COMPOSITE DECK DESIGNS
Choose Your Board Shape Within That Collection
Square-Shoulder
Grooved
Since both square-shoulder and grooved deck boards offer hidden fastener options, you'll choose your board shape based on several factors:
Step 4: Find the Right Hidden Fastener for Your Project
Now that you know which decking line, collection, and board shape you'll be working with, you can choose the hidden fastener option that best suits your needs.
Hidden Deck Fasteners for Square-Shoulder Boards
Cortex® Hidden Fastener
Works with: All TimberTech AZEK, TimberTech PRO, and TimberTech EDGE square-shoulder and full-profile boards.
Can be used on the entire deck surface, including stairs and perimeters, where other hidden fasteners cannot.
Strongest hidden fastener connection offered by TimberTech.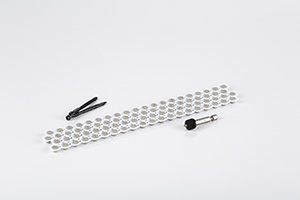 Cortex Hidden Fastener for MAX
SIDELoc™ Hidden Fastener
Works with: TimberTech AZEK decking in square-shoulder/full-profile.
Fast, easy start and no pre-drilling.
Unique geometry to minimize "pig tail" on the side of the board.
Durable stainless steel.
Hidden Deck Fasteners for Grooved Boards
CONCEALoc® Hidden Fastener
Works with: All TimberTech AZEK, TimberTech PRO, and TimberTech EDGE grooved boards.
Hidden appearance between boards — matte brown finish.
Fastener-free surface.
Simple, one-step installation.
FUSIONLoc® Hidden Fastener
Works with: All TimberTech AZEK, TimberTech PRO, and TimberTech EDGE grooved boards.
Every clip provides 3 points of board-to-joist connection.
Resists deck frame racking (lateral movement).
Stronger hold for tighter butt joints and miters.
If you find yourself thinking: "There are a lot of factors to consider when choosing the right fastener for my project..." — we couldn't agree more.
Partnering with a TimberTech-registered contractor means you get the insight you need to build your ideal deck, all from an industry expert familiar with our product lines and application best practices.
Bring the Beauty of TimberTech to Your Backyard
Work with one of our registered contractors for a build that transforms your outdoor living space.