Wood, like all organic materials, rots over time and requires regular maintenance to stay in good condition. If you've owned a wood deck for some time, you know how weather, extreme temperatures, and UV exposure can damage it. The good news is there are plenty of sealers and products available to prevent harm if you know how to waterproof a deck.
Wood Deck Maintenance:
Wood decks should be protected with a sealer application every one to three years as needed.
There's no way to 100% waterproof a wood deck, but best practices like annually resealing exterior wood or installing flashing tape can extend the life of your deck. You can also choose to install composite or PVC decking, which is at least partially made of inorganic materials that are less prone to decomposition and doesn't need sealing.
If you want to improve the look and health of your deck, here are our tips for waterproofing a wood deck. If you'd rather not spend every spring sealing your wood deck, contact a contractor to talk about low-maintenance decking options like composite or PVC boards.
In This Article:
Step 1. Gather Your Waterproofing Materials
You'll need to pick up a few items from your local home improvement store to clean and seal your wood deck properly. Do some research to decide what products are right for your wood decking before picking up these materials:
Exterior wood sealer
Paintbrush or roller
Random orbital sander
60-80 grit sandpaper
100+ grit sandpaper
Deck cleaner
Step 2: Inspect Your Deck
There's no reason to invest your time and money sealing a wood deck that's already well protected, so your first step should be a water test to confirm your deck is due for care. All you have to do is place a drop or two of water on your decking. If the wood decking absorbs it, it's ready to be re-sealed and you should remove existing paint or sealer. If the water stays bubbled on the surface, your existing sealer is working well. 
Even if you don't need to reseal your deck, it's a good idea to complete a thorough inspection annually. Look for mold or mildew, and damage like split or warped wood decking that need to be repaired.
While composite or PVC decking won't need to be sealed, it's important to inspect and clean your deck joists and support structure. If it's made of wood, you can also seal these sections to extend your substructure's life and luster.
Step 3: Prepare and Clean Your Deck
Preparation is key for a proper seal. Before you get started, check the weather to ensure you have the time to complete your project. When refinishing a deck, temperatures should stay between 50-90°F, and you should avoid rain or direct sunlight.
If the forecast is clear, remove all furniture and items from the deck's surface. Any remaining debris should be swept with a broom or cleared with a leaf blower. Don't forget to clean out the cracks between deck boards, too.
When all debris is removed, you can then clean your deck with the appropriate deck cleaner to remove the remaining dirt and residue. Finally, you should sand the wood deck with 60-80 grit sandpaper. If necessary, you can do a second pass with a higher grit sandpaper of around 100 for a smoother finish.
Give your deck another wash or rinse with a pressure washer, and you're ready to start sealing.
TimberTech Tip:
Always wear protective gloves and safety glasses when sanding and pressure washing.
Step 4: Seal Your Deck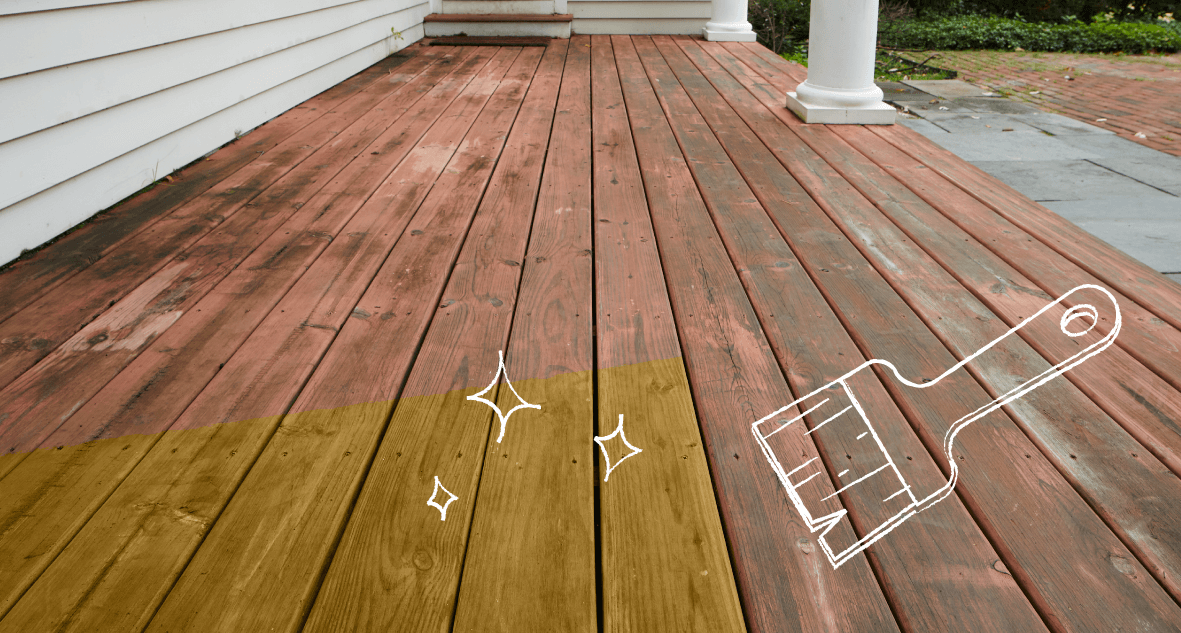 After your wood deck is clean and completely dry, you can apply your first layer of sealer. It's easiest to use a paint roller, but you can also use a paintbrush or paint sprayer.
Use a moderate amount of sealer for your first coat and apply it evenly to all wood surfaces while working with the direction of the grain. Be sure not to apply your coat too thickly, which can cause the finish to peel or chip.
You can apply a thin second coat if you prefer, but each coat of sealer should dry for at least 24 hours before applying the next layer.
Step 5: Dry for 48 Hours and Enjoy
It will take 48 hours from the last sealer application for it to cure. Until then, avoid using your deck. It may look and feel dry, but using it before the sealer is fully cured can damage the seal and you may have to restart the process.
After two days, you're welcome to replace all of your patio furniture and enjoy your freshly-sealed wood deck.
How To Waterproof Under Your Deck
Protecting the space under your deck can prevent structural degradation and potentially extend your usable space. It's a good idea to also seal wooden under-deck joists, even if you have a composite deck that doesn't need to be sealed.
If you're planning to build a new deck, you can also apply flashing tape to the top of joists. This reduces water penetration and can protect your lumber from rotting.
Homeowners with a raised deck may consider installing an under deck water management system like DrySpace. This feature collects water that flows through your deck and redirects it away from the space underneath, similar to your roof's gutters. A water management system allows you to use the space under your deck without worrying about rain, and it resists mold and mildew from water exposure.
Deck Waterproofing FAQS
You can't fully waterproof a wood deck, but sealers go a long way in reducing water damage and extending the life of your deck. If you still have some questions before you're ready to seal your deck, check out these answers to common questions.
What Are the Best Deck Sealers to Use?
Different sealers offer different perks and levels of protection based on your deck's needs. When shopping for sealer, consider if your deck is exposed to:
Direct sunlight
Pool chemicals
Saltwater
Extreme weather
You'll also have to choose between water- and oil-based sealers. Overall, water-based sealers are easier to use and clean up, but oil-based sealers are more durable and affordable.
Your decking material, budget, and desired finish also affect what sealer is best for you. To help you search, here are some of the top-rated products available by need:
If you want to compare a few sealers, try applying one to two coats on a single wood decking board. Once dry, you can compare the waterproofing and finishes to determine which look and protection is best for you.
Can You Buy Waterproof Decking?
No decking material is entirely waterproof, but PVC and composite materials are often more water-resistant with less maintenance than all wood decks. PVC deck boards are especially efficient since they're made entirely of synthetic materials, while mold thrives on organic materials like wood and paper.
Do You Need to Seal Composite or PVC Decks?
The actual decking of a composite or PVC deck doesn't need to be sealed because it's not lumber. However, you should still treat any traditional lumber below your composite or PVC decking, including joists and posts.
Composite decking may still be vulnerable to water damage if it's cut and left unprotected. End coating products are available to protect your decking while enhancing its real wood look. On the other hand, PVC decking isn't made of organic materials and is your best option for guarding against moisture.
There are sealers on the market for uncapped composite decking, but they may not work on all products and shouldn't be applied to TimberTech decking. Always check your manufacturer's care guidelines before trying new treatments.
How Often Should You Reseal a Deck?
Wood decks should be sealed every one to three years, and most wood can benefit from a fresh seal annually. You can see if your deck is ready for a new seal with a water test. Simply drop water on your decking and see if it's absorbed or if it bubbles on the surface. If it bubbles, your previous sealer is still working fine.
How Do You Waterproof a Second Story Deck?
Waterproofing a second story wood deck follows the same process as above, but you also have the option to install an under-deck water management system to keep the space underneath your elevated deck drier. These systems redirect water falling through the deck to a designated exit, similar to your rain gutters. This way, you can expand your outdoor living space to include storage or a patio underneath your deck.
All decks benefit from annual maintenance, but it's especially important to know how to waterproof a deck if yours is made of wood. Wood joists, decking boards, and deck railings are all prone to water damage and rot if left unattended.
Looking for all the perks of a beautiful deck with less maintenance? Feel and see the TimberTech advantage with free decking samples of our composite and PVC products.