The decking industry has grown tremendously since the introduction of composite decking a few decades ago. Terms like "PVC decking," "composite decking," and "polymer decking" are sometimes used interchangeably by industry pros — despite differences between them. However, they are all types of engineered decking you can choose from for your home project.
If you're unsure of the difference between each option, we're here with easy-to-understand explanations to help. You'll understand the benefits of PVC decking, how it relates to composite decking, and which option is right for your new deck build or deck renovation.
What Is PVC Decking?
PVC decking is decking made from polyvinyl chloride (a type of plastic), with no organic material such as wood flour. Because there's no organic material, PVC is engineered to avoid some of the pitfalls of organic decking — such as moisture invasion — which leads to mold, mildew, and rot.
Occasionally, a third party may include TimberTech Advanced PVC decking in the category of "PVC decking". And while both are synthetic deck boards made from plastics with no organic materials, it's important to note that there are key differences between PVC decking and TimberTech Advanced PVC Decking. Most notably — TimberTech Advanced PVC Decking features a high-performance cap made with innovative technology that helps it perform better than traditional PVC and gives it the most realistic wood looks.
PVC Decking vs Composite: Similarities & Differences
PVC and composite decking are two engineered decking options for your outdoor project. PVC decking is a type of polymer deck board that contains no organic material whatsoever. Composite decking features cores made of a mix of wood and plastic fibers.
Additionally, both composite and PVC deck boards have the option of a protective cap that resists moisture for increased durability against the elements. Giving you a greater variety of options when searching for the right decking material for your home build.
Both PVC decking and composite decking options share similarities like their low-maintenance needs and long-lasting durability. However, they do have notable differences in whether they're manufactured with 100% polymer material or recycled wood and plastic. The differences these manufacturing processes have in design and durability may sway your decision towards one or the other.
Why Choose PVC Decking?
PVC decking made its debut in the market over 25+ years ago and was revolutionary for tis time. PVC decking came with a number of benefits that made it ideal for homeowners who were looking to invest in a durable decking material.
Benefits to PVC Decking
---
✓ Doesn't need to be painted or stained for protection or aesthetics.
✓ Is durable since it has no organic material, like wood, in the cap or core.
✓ Easy to maintain.
✓ Most PVC deck products come with industry-best warranties.
While PVC decking made a name for itself when it first came to the market, most PVC deck brands haven't evolved past a plastic-y look. When you want a PVC decking line that looks and feels the most like real wood, you want TimberTech Advanced PVC capped polymer decking.
Choose Better Than PVC, Choose TimberTech Advanced PVC Capped Polymer Decking
When you choose TimberTech Advanced PVC capped polymer decking, you're choosing a product that's revolutionized the decking industry with innovative material science. The TimberTech Advanced PVC line has evolved beyond the plastic-y look and feel of typical PVC decking to a material that has all the beauty of natural wood without the drawbacks. Plus, it's as straightforward to install as wood.
Benefits Unique to TimberTech Advanced PVC Capped Polymer Decking
---
✓ Looks the most like real wood — Gives you all the beauty of natural wood — including realistic grain patterns — without the drawbacks.
✓ Premier durability — Boasts proprietary polymer blend from core to cap that delivers incredible protection from fading, staining, weathering, mold, and rot.
✓ Protected by the best — Backed by industry-best warranties including a Lifetime Limited Warranty and 50-Year Fade & Stain Limited Warranty.
✓ Low maintenance — No more sanding, sealing, or staining for protection. With a TimberTech deck, you'll just need to clean the deck periodically.
✓ Long-term Value — Can improve your home's value by bringing beauty to your home for decades with custom deck applications or being used as exterior cladding.
The TimberTech Advanced PVC capped polymer line gives you the real wood looks you love with even more benefits than traditional PVC. Unrivaled in design and performance, our TimberTech Advanced PVC decking collection will give you the lasting beauty and durability you want in a new deck.
Enjoy Long-Term Value With TimberTech Advanced PVC Decking
The long-term benefits of choosing TimberTech Advanced PVC capped polymer decking outweighs the cheaper upfront cost of a traditional wood deck. At first, the cost of a capped polymer deck can be higher than a wood deck. However, once you factor in the costs for maintenance, re-coloring, re-staining, and repair on a wood deck, a capped polymer deck can offer more in long-term savings.
In just a matter of years, a capped composite or capped polymer deck can pay for itself while you enjoy its long-lasting rich color and minimal maintenance.
Which TimberTech Advanced PVC Collection Is Right for Me?
There are three TimberTech Advanced PVC collections you can choose from for your outdoor space: the Vintage Collection®, the Landmark Collection™, and the Harvest Collection®. Each decking line features a unique realistic wood finish and nature-inspired colors, so you can find the perfect match for your home.
TimberTech Advanced PVC Vintage Collection®
Revel in the rich, classical beauty of the Vintage Collection® with its natural-looking colors and its subtle wire-brushed, low-gloss finish for an authentic premium hardwood look.
Dark Hickory
Model your deck with a striking, dark color for a touch of the dramatic in your outdoor space.
Cypress
With a close resemblance to exotic hardwood species, you'll enjoy a popular look without light and dark mineral streaks.
TimberTech Advanced PVC Landmark Collection™
The Landmark Collection™ is inspired by the stunning designs of reclaimed wood. Enjoy color-blended boards with a rustic, crosscut grain pattern and a matte finish for your outdoor space.
French White Oak®
French White Oak will give your home a cozy and effortless look that radiates casual sophistication.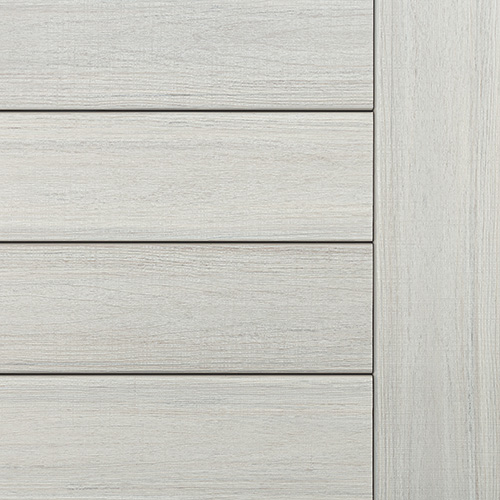 Boardwalk
Enjoy the look of a weathered coastal boardwalk with this light, warm gray hue.
TimberTech Advanced PVC Harvest Collection®
The TimberTech Advanced PVC Harvest Collection® offers, nature-inspired hues that complement a wide range of home exteriors. With its cathedral wood grain patterns, this collection brings classically attractive real wood aesthetics to your space.
Brownstone
Enjoy the light, neutral tone offered by Brownstone that complements practically any style and space.
Start Planning Your Better-Than-PVC Deck Today
Skip traditional PVC decking and upgrade your life outdoors with TimberTech Advanced PVC capped polymer decking. Discover the right color for your space by ordering free samples. Be sure to place the samples outside to get a sense of their true beauty in different lighting—and see how they perform in the elements.