Modern decking materials have so much more to offer than traditional lumber. Manufactured products, like PVC and composite, use polymer blends and capping to improve the durability and longevity of decks.
Both high-performance materials are at least partially synthetic, so how do you decide between PVC vs. composite? The best decking choice for your home depends on a number of factors, so learn more about manufactured composite materials and their benefits below.
Real Wood Looks
Water Resistance
Mold Resistance
Maintenance
Life Span
Upfront Cost
PVC
⭐⭐⭐
Great
⭐⭐⭐
High
⭐⭐⭐
High
⭐⭐⭐
Low
⭐⭐⭐
50+ years
💲💲💲
Composite
⭐⭐
Good
⭐⭐
Moderate
⭐⭐⭐
High
⭐⭐⭐
Low
⭐⭐
25-30+ years
💲💲
Wood
⭐⭐⭐
Great
⭐
Low
⭐⭐
Moderate
⭐
High
⭐
10-15 years
💲
In This Article:
PVC decking
PVC decking is made of plastic called polyvinyl chloride and doesn't feature any organic materials like wood pulp. Because it's made of synthetic polymers, PVC decking is extremely low maintenance, and water and weather resistant. You won't have to seal it every year and it can last 50 years or longer.
Understand that PVC decking varies in quality and appearance, and it has advanced over the decades. Older and low-quality PVC decking has a reputation for looking like plastic or getting hot in the sun.
Modern PVC from high-quality manufacturers corrects many of these concerns. In fact, TimberTech's Advanced PVC decking offers hyperrealistic wood looks and grain patterns in a variety of stunning colors.
Pros
Cons
• Versatile color options
• Durable
• Weather resistant
• Mold and mildew resistant
• Real wood looks
• Lightweight
• Low maintenance
• Best choice for fire zones
• Upfront cost
• Low-quality or outdated PVC materials may be slippery or retain heat buildup
Composite decking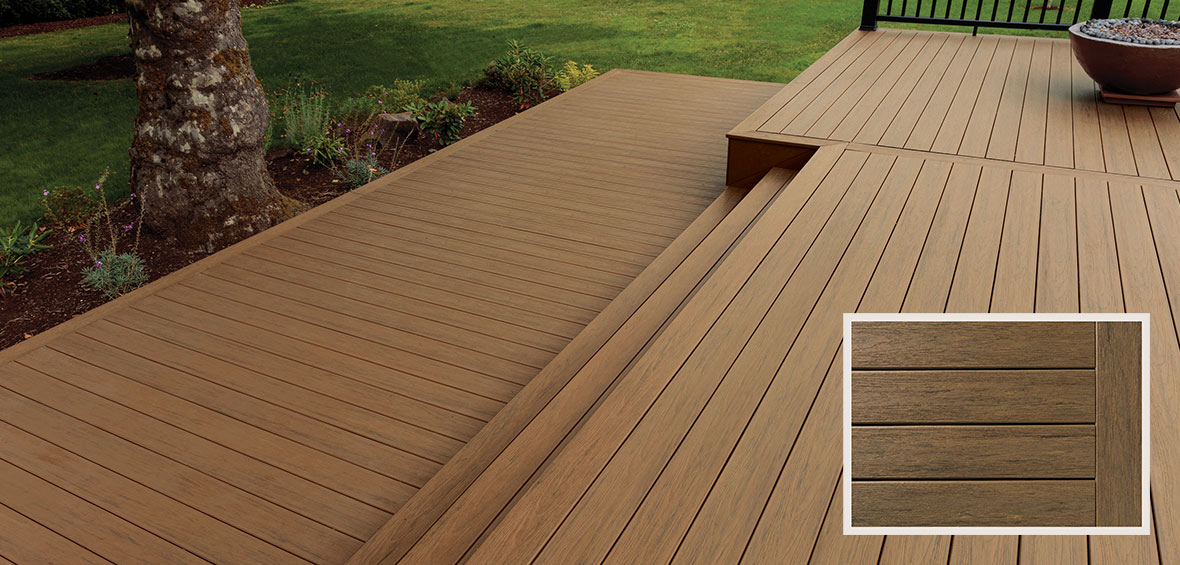 Composite materials are created with a blend of polymers and organic wood fibers for improved durability and weather resistance. They often feature three- or four-sided polymer caps that prevent water penetration to protect the decking board's core.
TimberTech's composite core is made entirely of organic fibers with three- or four-sided polymer capping for maximum performance and protection. The four-sided cap improves water resistance from all sides, including the bottom of the board, so your deck lasts longer without fading, cracks, or rot.
Like PVC decking, composite decking technology continues to advance and offers excellent wood grain textures and aesthetics. It looks great and outperforms wood decking, but it doesn't last quite as long as PVC boards. Homeowners working with a budget will also appreciate composite's lower upfront costs.
Pros
Cons
• Versatile color options
• Durable
• Weather resistant
• Mold and mildew resistant
• Real wood looks
• Low maintenance
• Slip resistant
• UV resistant
• Flexible boards require specific substructure installation
• Uncapped boards may be prone to water and mold damage
Capped manufactured decking
Manufactured decking includes composite and PVC materials that feature protective polymer caps. Boards may have three- or four-sided caps depending on the manufacturer and quality. Four-sided caps are the most protective since they prevent moisture penetration from every direction.
Beyond moisture protection, the decking caps prevent mold and mildew growth and they won't crack or fade like wood decking. All of these features reduce homeowners' maintenance costs and labor, and improve the longevity of their deck and its appearance.
Which is better? PVC or composite decking
Both materials are low-maintenance and durable alternatives to wood decking. Either is a great choice if appearance, maintenance, and sustainability are top factors for you.
Still, there are a few key considerations that can help you decide between composite and PVC.
Longest life span: PVC
PVC lasts much longer than other decking materials because it's entirely synthetic and resistant to rot and weathering. TimberTech's Advanced PVC has a lifespan of 50 years or more, so you can enjoy your dream deck for decades to come.
Composite decking still outperforms traditional wood with a 25-to-30-year life span.
Best for water: PVC
Synthetic PVC wins again for water resistance, so it's great for poolside decks and properties exposed to saltwater. TimberTech Advanced PVC decking is also slip resistant and protected against algae, mold, and mildew, so it's safer for wet surfaces than other materials.
Best for your budget: Composite
Composite decking is typically more affordable than PVC boards upfront, so it's your best choice for initial savings. Both composite and PVC decking are rot resistant and low maintenance, so you'll also save on long-term maintenance costs compared to the 10-year cost of wood decks.
Easiest to install: PVC
PVC and composite decking installations follow very similar processes, and difficulty varies between deck size and design more than the boards themselves. However, PVC decking is ultra lightweight compared to wood and composite, so it's easier to work with and especially convenient for DIYers.
The key to great installation is following your manufacturer guidelines and building codes, regardless of the material you choose. Before building, ensure all parts of your deck are adequate for your decking choice.
Both PVC and composite decking materials build stunning, durable decks with a fraction of the maintenance required of traditional wood. At the end of the day, the best choice for you comes down to the right wood look for your home and personal lifestyle.
Still on the fence? Order free decking samples to see and feel the difference of high-quality composite and Advanced PVC Decking.