Let's talk about Ipe — a Brazilian species of wood that is one of the most sought-after materials for premium hardwood decks. But does premium hardwood actually translate into premium performance? And is the high Ipe decking cost truly worth it? While Ipe is frequently touted as an extremely dense and durable traditional wood option, the truth is a bit more complicated.
What Is Ipe?
Ipe (pronounced "ee-pay") is a Brazilian hardwood prized for its beautiful brown and amber tones, as well as its impressive density which lends it better performance when compared with other wood options.
So, what's the catch?
As a highly desirable deck material, Ipe decking is also one of the priciest. And when it comes to sourcing it? The environmental costs include deforestation, greenhouse gas emissions, and other harmful practices that are wholly unsustainable.
The good news is that Ipe decking isn't the only option that gives you the hardwood aesthetic you love or the impressive durability you need.
Enter the TimberTech® AZEK® Vintage Collection®.
TimberTech AZEK Vintage Collection: Everything Ipe Should Be
TimberTech AZEK capped polymer decking is a type of composite decking made from absolutely 100% high-performance polymers, a majority of which are recycled. Despite having absolutely no wood in the core or cap, the TimberTech AZEK Vintage Collection boasts the most realistic wood looks to rival the beauty of Ipe. And what's even better? You get everything you love about Ipe without the drawbacks like fading, maintenance needs, or environmental harm.
Take a deeper dive into how the TimberTech AZEK Vintage Collection outperforms Ipe in terms of:
Performance
Aesthetics
Value
Sustainability
Performance: Ipe vs TimberTech
When it comes to performance, an organic material like Ipe will always fall short compared to engineered options like TimberTech capped polymer decking which contain no wood. Why? Because as an organic material, wood — whether pressure-treated or a premium hardwood — is highly vulnerable to the elements. And over time, your wood deck will inevitably deteriorate from exposure.
Ipe: Decking That Deteriorates
Even with Ipe's impressive density and tight grain pattern, moisture and UV rays will still take their toll over time, causing fading and moisture damage.
MOLD, MILDEW, & ROT GROWTH

Despite Ipe's tight grain pattern and natural resistance to fungus, moisture can still worm its way in and, in time, that natural resistance will break down. The result? Wood that's vulnerable to mold, mildew, and rot growth.

Pictured: Ipe control on the left and test sample on the right after a moisture contact test.*

CRACKING, SPLINTERING, & WARPING

All wood expands and contracts with changes in moisture. And when moisture accumulates or dissipates too quickly, it can cause the boards to crack, splinter, and warp, which are not only unsightly, but can affect the structural integrity of your boards.

COLOR THAT FADES

Over time, UV rays cause the pigments in wood boards to change, causing fading and discoloration. Unless you're dedicated to regular rigorous — and costly — cleaning and oiling, your Ipe decking will eventually fade to a dull gray.

Pictured: Untreated Ipe control on the left and test sample on the right after about 11 months of weathering outside.**
*Comparison of Ipe wood before and after placement on top of a wet sponge for 26 days. The 1.5" high sponges were placed in a water tank where the water level was maintained at a height of 1".
**Ipe exposure test demonstrates results of internal testing whereby the Ipe sample was placed on a rooftop and left exposed to the elements continuously for approximately 11 months.
TimberTech: High-Performance Decking
While the performance of Ipe decking is dependent on its dense nature, the performance of TimberTech AZEK capped polymer decking boils down to something much more consistent: technology. Our boards are engineered with advanced materials science, giving you highly durable decking you can count on for decades to come.
UNBEATABLE MOISTURE RESISTANCE

With absolutely no wood in the core or cap, moisture is superbly resisted — that means little to no risk of moisture issues like mold, mildew, and rot.

Pictured: TimberTech AZEK control on the left and test sample on the right after a moisture contact test.*

NO CRACKING OR SPLINTERING

Our protective capping resists damage from moisture and weathering, so your deck surface stays splinter-free, safe, and attractive. And with an industry-best Lifetime Limited Product Warranty, you can trust your deck will last for the long-term.

COLOR THAT ENDURES

While moisture is resisted from penetrating our boards, rich color is locked in — and protected with a 50-Year Fade & Stain Warranty for your peace of mind.**

Pictured: TimberTech AZEK control sample on the left and test sample on the right exposed to UV rays***
*Comparison of TimberTech AZEK decking material before and after placement on top of a wet sponge for 34 months. The 1.5" high sponges were placed in a water tank where the water level was maintained at a height of 1".
**Depending on environmental conditions, TimberTech AZEK deck colors may appear to change over time as part of the natural weathering process consistent with the warranty guarantees where applicable.
***TimberTech AZEK® decking control on the left and test sample on the right after third-party UV exposure test. The lab test was conducted per ASTM D2244 and ASTM G154 standards on material purchased from consumer channels. Samples tested in weatherometer chamber for a total of 2,150 hours; subjected to cycles of 8 hours of UV radiation followed by 4 hours of darkness to ASTM specs.
Aesthetics: Ipe vs TimberTech
One of Ipe decking's biggest claims to fame is its gorgeous premium hardwood aesthetics. The warm, rich color is hard to beat — that is, until it fades and discolors.
Ipe: Beauty That Fades
Ipe's extreme density can't protect it from the power of UV rays. In as little as 6 months or less, Ipe decking will turn to a silvery gray. While you can restore Ipe's color, it isn't easy — and you'll need to repeat the process regularly.
For a more in-depth breakdown of both the upfront and long-term costs associated with Ipe decking vs. TimberTech, see the graphs below, then read about the average cost of composite deck boards.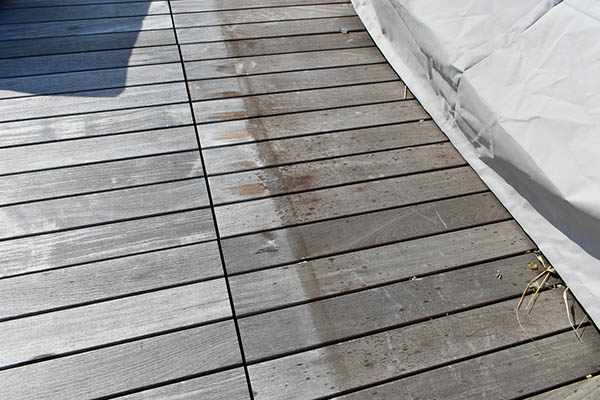 Going Gray Time & Time Again
Ipe's density actually makes it harder for the wood to absorb any stain or sealer, so you'll need to buy and apply a specific Ipe oil — and sometimes even that isn't enough. Sanding, power-washing, and applying a brightener may also be needed. And you'll have to repeat all that maintenance every year — or more frequently —to retain Ipe's rich color.
TimberTech: Beauty That Endures
While it may be hard to imagine non-wood decking being as beautiful as Ipe, TimberTech AZEK decking looks just like the real thing. And the best part? It resists fading discoloration, and cracking, unlike real Ipe.
Achieving a Real Wood Look
Our deck boards are engineered with superior technology that delivers the nuanced, nature-inspired beauty of Ipe, including:
✓ Multi-tonal color blending
✓ A tight grain pattern
✓ Wire-brushed, low-gloss finish
If you're wondering what it takes to maintain your TimberTech AZEK deck's rich color, fear not. It's a simple matter of scrubbing and rinsing periodically with a natural fiber brush and TimberTech DeckCleaner™.
Value: Ipe vs TimberTech
As one of the most sought-after hardwoods, Ipe decking cost is also one of the highest. And that high price tag doesn't translate to long-term value. Ipe decking cost will accumulate over time, meaning upfront costs aren't the only line items you'll need to budget for.
Ipe: High Upfront Costs, Low Long-Term Value
The high upfront costs coupled with long-term maintenance expenses mean you'll accrue hefty expenses for your Ipe decking throughout its lifetime.
Just take a look at upfront and long-term Ipe decking cost compared with TimberTech AZEK decking to see just how much more Ipe will cost you over time.
Ipe Decking Cost vs TimberTech AZEK Decking: Upfront Expenses
Ipe Decking Cost vs TimberTech AZEK Decking: 10-Year Expenses
And not only with your Ipe decking cost you more money, but it'll also cost you more precious time as you complete these maintenance tasks. Say goodbye to enjoying every weekend on your deck and hello to routine maintenance work.
But what if you could avoid that rigorous maintenance work altogether? For a similar upfront price to Ipe decking cost, you can. TimberTech AZEK decking features the same rich amber tones of Ipe without the costly, rigorous maintenance needs.
TimberTech: Exceptional Long-Term Value
With TimberTech, you'll enjoy peaceful weekends spent on your gorgeous, richly hued deck throughout the entire year without a grueling maintenance schedule hanging over your head.
Sustainability: Ipe vs TimberTech
Ipe decking is made of natural wood, so it's sustainable, right? Not quite. When it comes to the harvesting of exotic hardwoods like Ipe, sustainability gets complicated quickly.
If making sustainable choices is important to you and your family, you know that sometimes the most sustainable choice isn't always the most obvious. In this case? Your sustainable choice isn't wood at all — it's composite.
Ipe: Harmful to the Environment
As a Brazilian hardwood, Ipe comes from the Amazon — one of the Earth's most diverse and precious ecosystems. Plus, it's a massive carbon reserve, storing an estimated 123 billion tons of carbon above and below ground.
When trees are cut down and cleared from the rainforest, it not only diminishes the carbon reserve, but also destroys habitats for the unique plants and animals that call the Amazon home.
But it gets worse.
Deforestation isn't the only concern — there's also the matter of transportation of Ipe to US markets which requires substantial fossil fuel consumption. And once it's installed in your home? Environmentally harmful maintenance work delivers yet another blow to the environment.
How Ipe Harms the Environment
Deforestation
Deforestation has serious consequences to the environment, including:
X Habitat loss for the unique flora and fauna of the Amazon.
X Carbon reserve loss.
X Greater damage to the land due to the building of roadways leading to the logging site.
Transportation
In a base scenario, Ipe decking travels about 7,874 miles* from Brazil to the US. And from there, it travels even further to make its way to your home. During transport, gasoline, diesel, and lubricating oil for the trucks and ships are injecting CO2 into the atmosphere.
Maintenance
Nearly every year, or more, after install, maintenance will include:
X Chemical cleaning agents.
X Water consumption to rinse the deck.
X Use of Ipe oil, many of which contain potentially harmful volatile organic compounds (VOCs).
*Transportation miles calculated in a base scenario within a life cycle assessment of Ipe decking performed by ACV Brasil in partnership with The AZEK Company.
TimberTech: Your Sustainable Decking Choice
As an engineered decking material, TimberTech AZEK is actually a much more sustainable choice than Ipe decking. How? Thanks to our commitment to sustainability which includes using recycled materials, embracing sustainable manufacturing, and ensuring your deck's maintenance is both safe and environmentally friendly.
What Makes TimberTech Decking Sustainable
Recycled Materials
Both our capped polymer and capped composite decking is made of a majority recycled material. That means no trees are cut down to make our decking and our use of post-consumer plastics helps keep plastic waste — including hard-to-recycle plastics — out of landfills.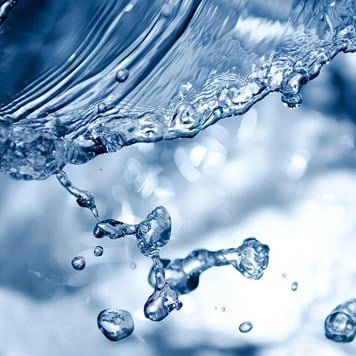 Sustainable Manufacturing
Our decking is proudly made in the USA, so transportation to you is a cinch. And in manufacturing, we:
Re-use up to 97% of the water in our close-loop filtration systems + about 99% of internal scrap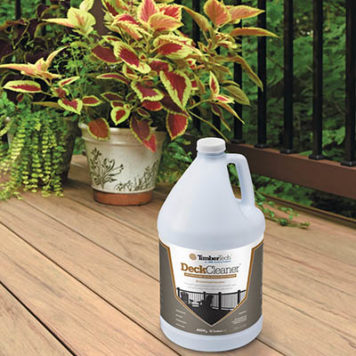 Safe Maintenance
Forget harmful chemicals to clean and stain your deck. Our TimberTech DeckCleaner is made with a biodegradable formula for a safer maintenance experience. Plus, our low-maintenance decking requires far less frequent cleaning than wood, so you use less water for rinsing, too.
Skip Ipe Decking & Upgrade to TimberTech
For all its natural beauty, Ipe decking comes from an ugly background — and it won't take long for it to look the part, either. If you treasure those rich amber tones as well as making sustainable decisions, your choice is clear.
The TimberTech AZEK Vintage Collection is everything Ipe should be:
✓ Natural, nuanced beauty
✓ Impressive durability for a long lifespan
✓ Long-term value with minimal maintenance
✓ A sustainable choice that's better for you and the planet
See the beauty and feel the durability for yourself by ordering free samples of your favorite TimberTech decking colors — including those that resemble the aesthetics of Ipe. Be sure to place the samples outdoors to get a true sense of their beauty, and to experience their durability in your area's climate.