If you have a raised deck, composite deck skirting is a surefire way to lend a clean and practical finish to your outdoor living space and give your deck design a refresh.
Choosing composite deck skirting for your deck comes with several aesthetic and performance benefits, including:
Promoting your deck's health: Deck skirting minimizes the likelihood that animals, mold, or moisture will gather below your deck surface and harm your deck's substructure.
Polishing your design: Skirting unifies the overall look and feel of your outdoor living space.
In This Article:
What Is Deck Skirting?
Deck skirting means adding a "skirt" around the substructure of your deck so its underside is hidden. Adding skirting will not only create additional protection to extend your deck's life, but it also provides a practical design opportunity so you can unify the feel of your outdoor space.

Traditionally, deck skirting is made up of boards that run perpendicular to the deck surface and the ground. Alternative options, like cellular PVC wraps, are also available.

Deck skirting is related to, but distinct from, deck fascia boards. Deck fascia covers the wood perimeter joist of the deck frame and is sometimes called a "rim joist cover."
Deck Skirting Ideas
1. Composite deck skirting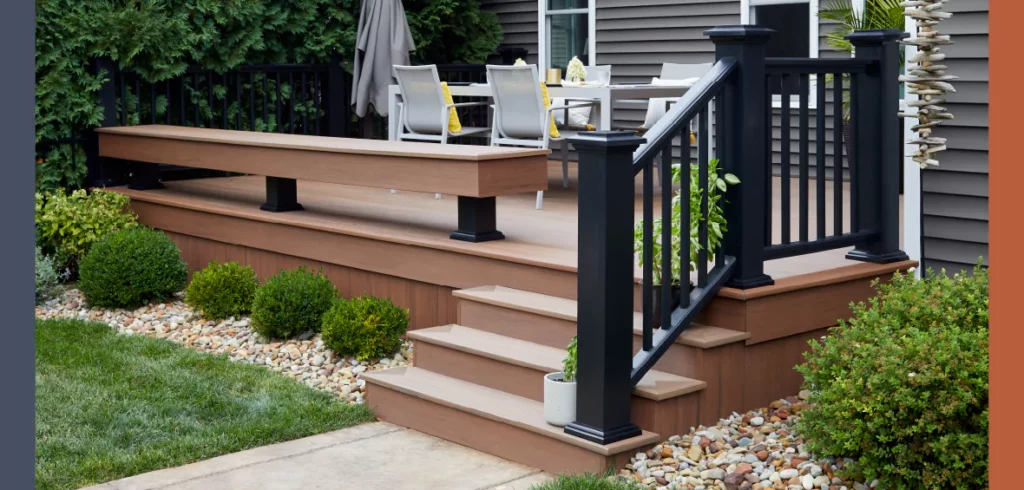 Deck skirting made from composite wood boards is an exceptional choice for those seeking low-maintenance solutions without compromising on the aesthetic appeal of natural wood. Composite materials resist weathering and insects, minimizing the need for frequent upkeep. It's a durable solution that keeps your deck looking fresh and well-maintained year-round.
2. Contrasting fascia
Fascia are the boards used to cover the end cuts and rim joists of your deck surface. While they're not part of actual deck skirting, fascia is still an important factor to keep in mind when determining your overall deck design. The fascia and skirting will meet at the edge of the deck to form a clean, continuous look.
If you want to harness modern deck design trends, go for a picture frame pattern. Choose fascia deck boards in a different color from your skirting and deck surface to showcase the clean lines of your composite deck while adding some dimension to your backyard.
3. PVC Wraps
For a crisp finish that matches the trim on your home, you can also use PVC wraps as skirting. Like composite deck skirting, the cellular PVC of AZEK® Trim offers a clean look and serious resistance to fading, staining, moisture, and mildew.Ready to find the right skirting for your deck project? Work with a TimberTech-registered contractor to begin bringing your ideal deck to life.
4. Under deck living space
If you have an elevated deck, take advantage of the square footage underneath to double your outdoor living space. If you have enough height, consider adding pavers and outdoor lounge seating for ground-level gatherings. You can keep the space open and airy, or add skirting on a few sides to improve your privacy. If you're aiming to create a secluded space that's perfect for unwinding, adding skirting on just a few sides can create a nice quiet space where you can relax in private.
5. Latticework panels
The timeless appeal of lattice panels makes them an ideal choice for deck skirting. With their distinctive crisscross design, these panels are not just cost-effective but also versatile. They easily mask any unattractive aspects beneath your deck, and their supportive structure can even assist your climbing plants, fostering a harmonious coexistence between your deck and garden.
6. Slat fencing
Horizontal or vertical slats deliver a streamlined, modern aesthetic to your deck decor. The simplicity of their design leaves room for individual interpretation, providing flexibility for homeowners. You can use multiwidth boards to create unique patterns and designs that help your deck to stand out.
7. Stone skirting
Stone skirting can set your deck apart from others, offering an equally stylish alternative to wood and composite materials. With stone, you can create a personalized look that adds a touch of elegance to your outdoor space. While as durable as wood and composite materials, stone offers a unique, custom look that will impress.  
8. Plank fencing
Opting for planks that match or complement your deck surface can achieve a harmonious, visually pleasing look. Whether you decide to go with natural wood or manufactured materials, coordinating your skirting with your deck enhances the overall design and can make your outdoor space appear larger and more cohesive.
Deck boards, which offer a similar look to planks, are thicker and more durable, making them a better choice for longevity. If you're looking to strike a similar look with a sturdier material, you may want to opt for deck boards instead.
9. Under deck storage
With a well-thought-out design, your deck skirting can double as concealed storage space. By installing a door within your skirting, you gain easy access to the under deck area, creating a practical, hidden storage solution. Whether you're stowing away gardening tools or outdoor furniture during off-seasons, this clever design adds significant utility to your deck.
10. Landscape lining
Thoughtful landscaping can naturally hide your deck's underside without the need for traditional skirting, while also enhancing your home's overall appeal. However, maintaining an adequate distance between plants and wooden supports is crucial to prevent moisture and bacteria buildup, which can cause rot.
11. Decorative panels
For those wanting to inject a bit of personality into their outdoor space, decorative panels are an ideal choice for deck skirting. With a wide variety of unique designs and cutouts available, panels allow you to express your personal style while also serving the functional purpose of protecting your deck's structure from the elements.
12. Brick skirting
Brick skirting lends a warm, classic aesthetic to your deck. Whether you want it to blend with a brick exterior or create a striking contrast with wood and greenery, brick skirting makes a bold statement. It's a timeless option that brings a sense of history and character to your deck design.
13. Stairs as skirting
For low-profile decks, wraparound stairs offer an elegant and practical solution to skirting. They provide a seamless transition from your deck to your yard, eliminating any concerns about the deck's underside. This design combines aesthetics and practicality, creating a smooth flow that enhances the overall look of your outdoor space while ensuring the health and longevity of your deck.
How to choose your deck skirting
Pressure-Treated Lumber
TimberTech Composite Decking
A new joist may be slightly narrower/ shorter than existing joists. Add a moisture-resistant shim to raise it to correct height.
When choosing your deck skirting, there are a few key elements to consider, including:
Ventilation: Having proper ventilation is critical if you have a wood deck, as wood relies on airflow to fend off excess moisture and water damage.
Maintenance: Some deck skirting ideas can significantly reduce regular deck maintenance. If you want to decrease manual upkeep, consider a skirting option that requires limited maintenance, like composite deck skirting.
Function: Skirting can have both practical and visual benefits. If you want to entertain or host gatherings on your deck, consider a skirting option that opens up your space, like wraparound stairs or a carefully considered layer of landscaping.
Cost: Some skirting options are more affordable than others. Do some research before investing in skirting to ensure the project is within your budget. 
Materials: Deck skirting is relatively flexible in terms of the variety of material options. Some materials that work well for skirting include: 
While wood decks are beautiful, composite decking is considered superior to wood in many ways. Opting for TimberTech Advanced PVS and Composite Decking over wood translates to:
Leading design: Take your pick from nature-inspired colors, realistic grain patterns, and innovative options like Multiwidth Decking.
Improved long-term value: Traditional pressure-treated wood skirting will need regular staining and cleaning and more frequent replacement. TimberTech Composite deck skirting cuts those associated maintenance costs.
Unrivaled performance: While the average lifespan of a wood deck is only 10 to 15 years, capped composite decking typically lasts twice as long –– at an estimated 25 to 30 years. Advanced PVC also lasts 50 years and beyond. Additionally, our decking comes backed by industry-leading warranties.
Deck skirting can be an affordable and effective way to increase your deck's functionality, update its style, and extend its life — and you can do it in a way that fits your taste and budget. If one of our deck skirting ideas inspires you to upgrade your outdoor living space, contact a professional who can make your vision come to life.