If you're considering ways to bring your unique eye for design to your home's façade, go for exterior cladding. Cladding allows you to bring your personal style from the interior to the exterior and truly elevate your home's curb appeal.
Exterior Cladding: What It Is & Why Use It
Cladding is a type of siding that covers part or all of your home's exterior walls.
Common types of exterior cladding materials include composite cladding — a category which also includes capped polymer products — traditional wood, aluminum, vinyl, brick, and rendering.
Cladding can be used in different ways, such as:
To highlight an entryway.
Add design detail to a porch ceiling.
As one element among mixed building materials for a unique finish.
However, not all cladding materials are created equal.
While each material has its benefits, choosing the capped polymer boards of AZEK Cladding® means you lock in unique advantages.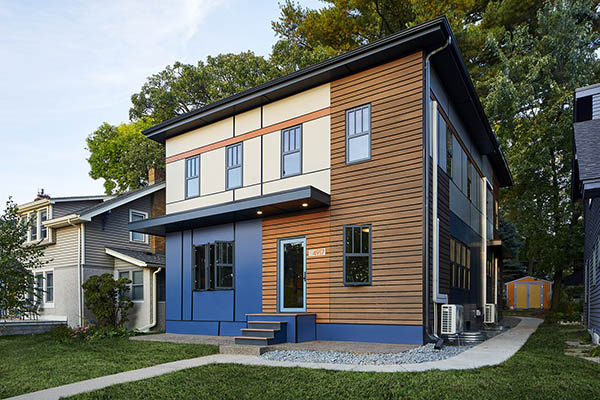 Benefits of Capped Polymer
Exterior Cladding
Popular Composite Cladding Alternatives
Cladding has been used for centuries, with stone, brick, and wood being used as building materials since ancient times. Wood remains a primary cladding material due to its easy accessibility, even with new materials, such as vinyl, being introduced into the market.
Nowadays, wood and vinyl cladding are two of the most common cladding materials used.
Traditional Wood Cladding
Traditional wood has historically been chosen for certain benefits: its ease of acquisition; handsome grain patterns and cascading colors; and variety of applications, such as:
Board & batten
Clapboard
Tongue-and-groove
While these benefits may make wood seem like a viable choice, there are definite issues.
As an organic material, wood is vulnerable to moisture damage and weathering. Even pressure-treated wood fades quickly and will warp with moisture penetration and evaporation — even with regular maintenance work.
What's No Good About Wood
Inferior durability: Traditional wood is susceptible to mold and mildew, cracking, and warping.
Costly over time: Traditional wood may be more affordable upfront, but rigorous maintenance, repair, and replacement contribute to higher costs over time.
Unsustainable: Traditional lumber can contribute to deforestation and may require harmful chemicals called Volatile Organic Compounds (VOCs) to maintain its appearance.
Traditional Vinyl Cladding
In the 1950s, vinyl siding emerged as an alternative to aluminum treatments. Early vinyl siding, often applied parallel to the home as clapboard, was a popular choice. This material seemed great because unlike wood, vinyl didn't need to be painted. But vinyl had serious drawbacks. Early-generation vinyl products sometimes:
Retained too much heat.
Had a fake-looking, "plastic-y" appearance.
Innovation was sorely needed. Enter TimberTech.
Choosing the Right Exterior Cladding for Your Home
When it comes to choosing the right cladding material for your exterior, you'll need to consider several factors. How important each factor is will depend on your individual goals for your home.
Aesthetics
When it comes to aesthetics, exteriors play a major role in achieving a desired look and feel for your home. After all, your home's façade is one of the first things passerby will see.
Myth: Only organic materials, like wood, can deliver a sophisticated finish that looks natural.
Reality: AZEK exterior cladding gives you all the beauty of highly sought-after hardwood or artisanal cladding — with none of the drawbacks.
AZEK Capped Polymer Cladding: Designed for Creativity, Engineered to Endure
AZEK Cladding is made from capped polymer boards from the TimberTech® AZEK® Vintage Collection® or Harvest Collection®.
Composite cladding can be utilized in the same high-end design applications as wood cladding, but with greater longevity and less upkeep.
Exterior Cladding by AZEK
---
Beauty
Delivers the most realistic wood look available, without additional staining or painting.
A Sampling of Nature-Inspired Colors
Defined by natural-looking colors and a subtle wire-brushed, low-gloss finish, this elegant cladding collection ensures a truly authentic wood look.
Coastline®
Choose for: A coastal-inspired or boldly contemporary finish and unique touch.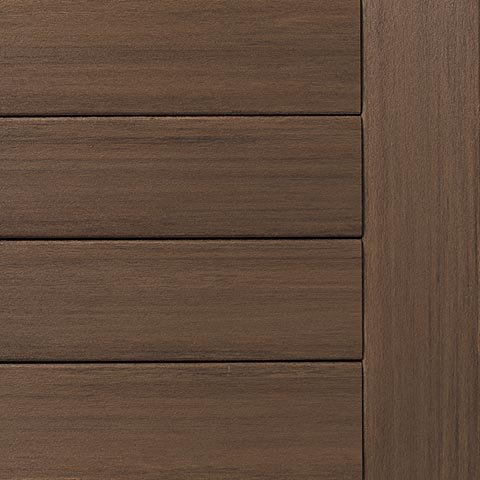 English Walnut®
Choose for: A sophisticated feel that works well with many styles of homes.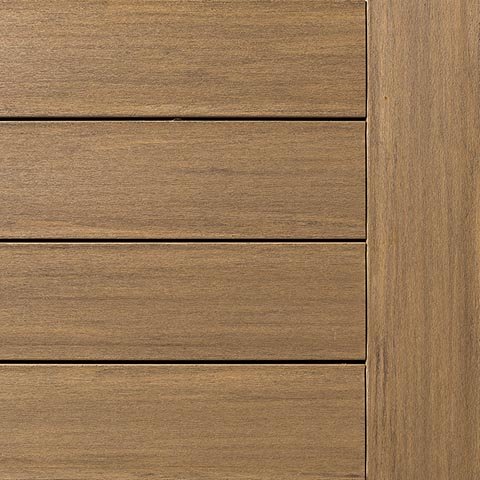 Weathered Teak®
Choose for: A timeless, inviting feel that brightens your home's façade.
FIND YOUR PERFECT COLOR
Discover more cladding color options so you can find the perfect one for your home's exterior. EXPLORE COLORS
Performance
In terms of performance, you want exterior cladding that will provide:
Protection for your home's exterior.
Premium durability to last you decades.
Minimal maintenance
Myth: While you may think you're ditching the costly upkeep associated with wood by choosing vinyl, not all PVC siding is made to be as durable and low-maintenance as ours.
Reality: AZEK capped polymer cladding, made with advanced materials science, gives you exceptional strength and durability — and doesn't require costly upkeep to maintain.
If you're looking for something that looks as beautiful on day 1 as 1,000, choose composite cladding.
Choose AZEK Cladding for Premium Performance
Our capped polymer cladding delivers advanced performance benefits, including:
Value
When you think about the value of exterior cladding, you need to look at both the upfront costs of the material as well as the long-term value.
Myths: Traditional wood seems like an affordable option due to its lower upfront costs, and vinyl seems like a low-maintenance option because it doesn't need to be painted.
But in both cases, there's more to the story.
Reality: Traditional wood will cost you time and money given its maintenance needs which include painting, staining, repairs, and replacements. Vinyl, while it doesn't need to be painted, is often plastic-y looking and can actually decrease your home's resale value.
AZEK Cladding delivers enduring beauty without the costly and constant upkeep of wood, nor the fake-looking appearance of other vinyl cladding products.
And don't forget, our composite exterior cladding is backed by industry-leading warranties for unrivaled performance.
Up Your Curb Appeal & Resale Value
Attractive cladding elevates your home's curb appeal and can make a big difference in increasing your home's resale value.
AZEK Cladding is both attractive and durable, making it appealing not just to you, but to future home buyers, too.
Sustainability
Considering the sustainability of a cladding material is important for several reasons, including your home's eligibility to become LEED-certified. LEED-certified homes bring a higher home resale value and can help you save on utilities costs.
Myth: Wood, as a natural product, is the "greenest" choice for my home. Vinyl is the low-maintenance, but still nice-looking, alternative to wood.
Reality: Virgin wood sourced for construction contributes to deforestation and is hardly a sustainable option. Certain vinyl cladding can crack or warp, making it far from low-maintenance. Visually, plastic-looking vinyl siding can flatten the exterior of a home.
Long story short? Capped polymer wins, again.
Your Green Choice: AZEK Cladding
AZEK Cladding boasts environmentally friendly attributes other cladding materials don't:
The Best Choice for Your Home? AZEK Cladding

If you're looking for the best exterior cladding choice in terms of performance, aesthetics, value, and sustainability, choose AZEK Cladding.
Don't be shy about taking a closer look. Order up to four free samples today to see the subtle nuances of color and feel the premium durability only offered by TimberTech AZEK.