Looking for deck repair contractors? Deck repair contractors can help you with deck problems, from small aesthetic issues to larger structural problems, to get your deck back in shape.
Before you start deciding which contractor is the right one for your repair job, it's important to first understand what deck problems warrant a search for deck repair contractors.
The problems to look for vary, depending on:
If you have a wood deck.
If you have a composite deck.
A Brief Look at Deck Anatomy
Before we jump into tips for recognizing deck issues, you first need to know basic deck anatomy.
Deck Anatomy Overview
All decks, whether wooden or composite, are made up of:
A substructure, which includes the joists, beams, blockings, and posts that secure the deck.
A deck surface, which includes the deck boards and railing, if your deck has one.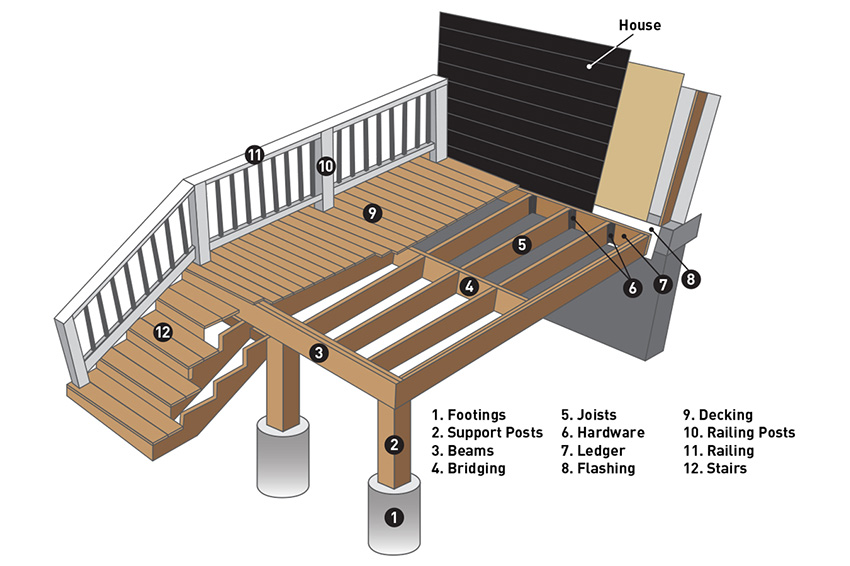 When to Call a Contractor: Problems to Look for
For both wood and composite decks, you should perform an annual deck inspection to check for problems with the substructure and deck surface.
Common Problems With Wood Decks: Surface & Substructure
Traditional wood, as an organic material, is highly vulnerable to moisture and weathering damage, and so is apt to have the following problems.
Rot, Mold, & Mildew
Caused by moisture, all of these can weaken your deck's structure.
Signs of a problem:
A greenish tint.
Black or white fuzzy areas.
Soft, spongy wood.
Cracking & Warping
Usually caused by the penetration and rapid evaporation of moisture.
Signs of a problem:
Cracks or splinters that continue to grow.
Boards that look bent between fastenings.
Rusted or Loose Fasteners
Can occur in the deck surface, substructure, and railing.
Signs of a problem:
Rusted screw or nail heads.
Wobbly railing.
Protruding nails or screws.
Common Problems With Composite Decks: Surface & Substructure
If you have a TimberTech® composite deck, your boards are moisture- and weather-resistant thanks to protective capping, so they are unlikely to have moisture or wear-and-tear related issues.
Still, your deck's substructure is made of wood, so be sure to check the substructure regularly for the problems listed above.
Deciding When to Do a Replacement Rather Than Repairs
Deck repair contractors that come out to see your deck should give you an estimate. The estimate will tell you what the repairs entail and what they will cost, giving you an idea of repair costs against which you can weigh replacement costs.
Indicators it may be better to go for a replacement rather than repairs include:
Cost
You may want to replace if the cost for your deck repairs gets high enough to be equivalent to replacement costs.
Damage
If your deck is damaged, and the damage to your deck makes it structurally unsound.
Need
If your current deck no longer serves your and your family's needs, it may be time to upgrade.
If one or more of these indicators are met, there are two ways you can go about replacing your deck: deck resurfacing or full deck replacement.
Deck Resurfacing
Deck resurfacing is where the existing substructure of your deck stays and only the deck boards are replaced. Deck resurfacing can be done only if the substructure is in good condition. You'll also need to be happy with your deck's current shape, size, and decking pattern.
Benefits of Resurfacing
Cost-effectiveness: Using the existing substructure saves you both labor and material costs.
Less time to replace: Using your existing substructure saves time, so you can get back to enjoying your deck faster.
Full Deck Replacement
A full deck replacement is where both the substructure and the deck surface are completely replaced. A full replacement is necessary if the substructure is damaged beyond repair. It's also essential if you plan on making significant changes to your deck's shape, size, or decking pattern.
Benefits of a Full Deck Replacement
Design freedom: A full deck replacement gives you full rein to redesign your deck just how you want it.
Better function: A new custom-built deck is bound to better meet your needs so you can enjoy your deck in whatever way you want.
Considerations for Deck Resurfacing & Replacement
Resurfacing or replacement jobs bring up a few more concerns than simple repairs, namely, what decking material to use, and which deck repair contractors have the experience your build needs.
Choose Durable Deck Material for a Longer Lasting Deck
Instead of choosing the same traditional wood decking that's bound to require additional repair and replacement over time, level-up with TimberTech® composite decking. Our durable deck material is designed with the nature-inspired beauty of wood, and none of wood's drawbacks.
Why Choose TimberTech Decking
Choosing the Right Contractor for Your Repair or Replacement Job
Once you've identified your deck's issues, and decided whether you'll do a repair or replacement job, it's time to find the right contractor for your project.
Questions to Ask Deck Repair Contractors
For repair jobs:
Do you have experience with my specific problem and how to fix it?
Do you have experience with my deck's material?
Have you completed similar repairs in the past?
Do you offer a craftsmanship warranty for the repair?
For replacement jobs:
Are you familiar with TimberTech decking, railing, and lighting options? If so, which options do you think best fit my project and budget?
How often do you build with TimberTech?
Have you completed any projects similar to mine?
Are you comfortable building my unique design?
Are you experienced with deck patterns? (If you're considering a picture frame border or deck pattern, such as herringbone)
Ready to find deck repair contractors near you who have the expertise for your deck repair or replacement? Discover TimberTech-registered contractors who have vast industry knowledge and product expertise to ensure your deck project is done to perfection.