If you're considering building your own outdoor living space, you're likely wondering: "How hard is it to build a deck?" The answer depends on how complex your deck design is, the size and shape of your space, and whether or not you'll add a picture frame to your deck. No matter how many design elements you include, however, knowing the easiest way to build a deck with TimberTech will introduce you to some of the most important elements to decide on:
✓ Deck material
✓ Fasteners
✓ Railing
How do these elements factor in? And what is the easiest way to build a deck? Get your carpenter's pencil out and settle in.
Before You Build: Select Your Decking Material
Ease is important to you — not just because of initial effort, but because you don't want to have to invest time and money into long-term deck repair and replacement.
The right deck material should be straightforward to install and hassle-free for the long haul. Enter TimberTech® AZEK® decking.
Why Choose Capped Polymer
TimberTech AZEK boasts the most advanced synthetic material technology without the use of wood particles. It also offers some serious additional benefits, like:
30% lighter than competitive products: Save your back, save time on the job, and save money.
Alloy Armour Technology®: Protects from fading, staining, and weathering.
Ultimately, if you're looking for the easiest way to build a deck that delivers nature-inspired beauty – and doesn't deliver traditional wood's headaches – TimberTech AZEK decking is the way to go.
Easiest Way to Build a Deck With TimberTech
For an enduringly beautiful outdoor living space that locks in beauty, kicks out moisture, and saves you time, money, and hassle, our deck experts recommend:
Before installing any decking, run string line frequently to ensure that the tops of the joists are in plane and level.
While a particular joist may be level itself, the top of that joist may still not be in plane with surrounding joists. Joists that aren't level can result in high or low spots throughout the deck, resulting in a wavy-looking deck. TimberTech decking will conform to the contour of the joists to which it is attached.
Capped Polymer Decking
In square-shoulder deck boards in the TimberTech AZEK line.
Panelized Metal Rail
Our Impression Rail Express® is designed to make installation fast and easy.
What & Why: Capped Polymer Decking
TimberTech AZEK capped polymer decking is the premium choice, both in terms of performance and aesthetics.
Performance: Because it's lighter in weight (with no dense organic material) and offers the option for convenient top-down installation, TimberTech AZEK decking lets you optimize time and effort on the job site — whether you DIY your deck or go with an expert contractor.
Aesthetics: It's not just about the easiest way to build a deck; you also want your final build to be as beautiful as possible. With realistic wood grain patterns and nature-inspired hues, TimberTech AZEK is as attractive as it is install-ready.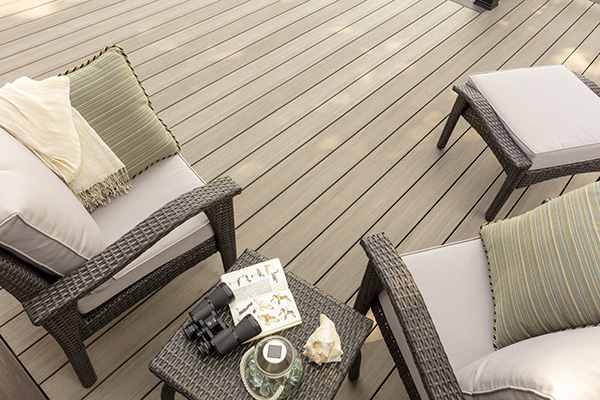 TimberTech AZEK Vintage Collection®
Dubbed our "Designer Collection," the Vintage Collection features complex, multi-color blending.
Choose for:
A super realistic wood look.
TimberTech AZEK Harvest Collection®
The Harvest Collection offers monochromatic hues and a traditional cathedral grain pattern.
Choose for:
A clean painted-wood look.
Option for wide-width deck boards.
What & Why: Top-Down Fasteners
Top-down fasteners are installed simply with pressure applied from above. Top-down installation can mean faster, easier applications at the work site.
Our top-down fasteners are also color-matched or hidden to pair beautifully with your TimberTech deck boards. Enjoy a secure hold without taking away from your deck's beautiful design.
Your Top-Down Fastener Options
---
Cortex® for AZEK®
Cortex hidden plugs offer:
Top-down installation.
Strongest hidden fastener connection.
Can be used on the entire deck surface including stairs and the perimeter.
Plugs to hide the fastener are made from TimberTech decking for a perfect match.
No pre-drilling required for Cortex for AZEK.
TOPLoc® Fastener Pack for AZEK®
Color-matched TOPloc screws offer:
Top-down installation.
Screw heads painted to complement decking colors.
Specially designed fasteners for polymer material.
No pre-drilling required.
How to Install AZEK® with Cortex®
How to Install AZEK® with TOPLoc®
What & Why: Panelized Metal Railing
If you want the easiest way to build a deck with all the elegance of a long-term project, choose a railing system that offers a fast and easy install without compromising on aesthetics.
Panelized Metal Railing: High-Style, Low-Effort
Our Impression Rail Express® is designed to make installation fast and easy, and to keep your railing looking as sleek on day 1,000 as on day 1.
No unsightly weld beads or rattling in the wind per no-weld locking technology.
Safety and clear sightlines thanks to narrow, secured balusters.
Clean look and attractive aesthetic via fully hidden brackets (even for angles and stairs).
For even more information on the easiest way to build a deck, and to access downloadable project guides for your TimberTech AZEK deck project, explore the Deck Building Resource Center.
Remember: Even the easiest way to build a deck with TimberTech can have its nuances. If you're looking for the insight of a decking specialist, partner with a TimberTech-registered contractor to get all the insight you need to do your project right.