Composite decking has evolved significantly over the years to include multiple brands and multiple products — but how do you know which one is best? And is composite decking really better than traditional wood? Let these composite decking reviews be your guide — and learn just how to make low-maintenance outdoor living yours.
How to Get the Most Out of Composite Decking Reviews
Composite decking reviews should give you the insight you need to make the right choice for you. That's why we've paired homeowner insights with the questions that matter to you most. Starting with…
Is Composite Decking Really Better Than Wood?
In a word, yes. Composite decking beats traditional wood.
Why Wood Is No Good
Without capping, moisture can quickly invade both pressure-treated softwood and hardwood boards.
Once it does, it creates a perfect environment for rot, which will make a quick meal of wood.
That translates to time — and investment — lost.
First-generation composite decking was a mix of plastics and wood fibers — without protective capping. Cue quick erosion and fading.
The next innovation was 3-sided capping to shield the core from moisture and erosion agents. A step in the right direction? Sure. But that still left one side of the board exposed, often meant deeply-grained, unrealistic-looking boards — and still didn't include the most advanced materials formula.
Real innovation came next: Enter TimberTech® AZEK® capped polymer decking — which features absolutely no wood from core to cap.
"You're not paying for stripping and prepping, [or] stain — you just keep [your TimberTech deck] clean, and you're good."
– SCOTT AT FANEUIL HOME IMPROVEMENT, NEW ENGLAND


HEAR FROM A
CONTRACTOR
Is TimberTech® Composite Decking Really Better Than the Competition?
Put simply? Yes again.
With continued innovations in materials science, TimberTech decking not only leaves wood in the dust, but seriously outpaces the competition.
Neither wood nor competitive composite decking stands a chance.
"Much better deck than wood and little maintenance."
– BRIAN S., MANHATTAN BEACH, CA


HEAR FROM A
HOMEOWNER
What Makes TimberTech Better?
Put simply, we offer only the most alluring, long-lasting decking backed by leading technology. We don't believe the status quo should hold you back — so we deliver decking that surpasses it.
Looking for the best of the best for your outdoor living space? That's TimberTech AZEK® decking.
What Is TimberTech AZEK Decking?
What: Superior-performance capped polymer boards defined by unrivaled, built-in protection from the elements.
So what: These 100% engineered boards lock in all the nuanced beauty of nature while boasting no wood at all, the primary source of weathering and erosion.
So your deck looks and performs better, longer.
"We have peace of mind regarding maintenance and longevity of our new deck."
– AL & TERRI C., MIDLAND, MI


HEAR FROM A
HOMEOWNER
What Are My TimberTech Decking Options?
TimberTech AZEK is our best-of-the-best capped polymer line — but no matter your style, budget, or project needs, we have the right line for you. With three different ways to Go Against the Grain®, you have your pick of enduringly beautiful decking — all backed by the best tech.
Composite Decking Reviews: Which Option Is Best for Me?
The best composite decking product for you will depend on what you value most:
Performance
Low maintenance
Value for the cost
Nature-inspired colors
Read composite decking reviews on each topic to discover which option suits you best.
Superior Performance
What makes one type of decking perform better than another? It all comes down to technology.
Better Tech, Better Deck™
The advanced materials science of TimberTech decking makes our boards superior to the competition. How? TimberTech AZEK deck boards are made from high-performance polymers — and no wood fibers. So moisture is locked out, while rich hues are locked in.
"If someone wants to use composite, we only use TimberTech."
– SCOTT AT FANEUIL HOME IMPROVEMENT, NEW ENGLAND


HEAR FROM A
CONTRACTOR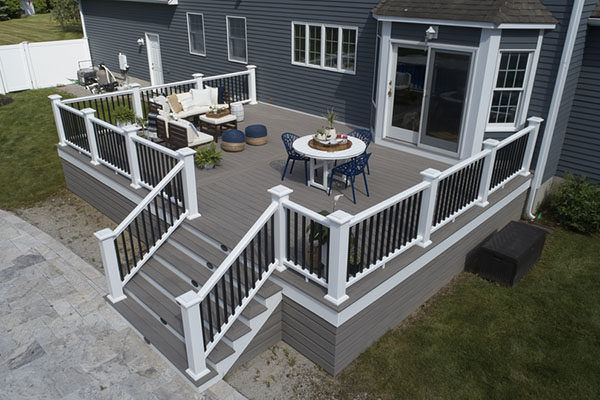 Low-Maintenance Outdoor Living
Your outdoor living space should be somewhere you can relax and enjoy fresh air and good times with family and friends — not be a source of headache.
With low-maintenance composite decking, your deck chores are reduced from a lengthy list to just a couple simple steps.
"I love the ease of care and the durability of the product."
– ROBERT J., EL DORADO, KS


HEAR FROM A
HOMEOWNER
Maintenance Needs for TimberTech Decking
You won't find sanding, staining, or sealing on this list. To stay looking its best, your TimberTech deck needs:
✓ A good scrub with TimberTech DeckCleaner™
and the appropriate brush for your decking line.
✓ A rinse off with a garden hose.
And you're done — so you can get back to doing what you love.
"Great look, easy maintenance, no more staining each year, so we love, love our TimberTech [deck]!"
– RUSSELL B., SALISBURY, MD


HEAR FROM A
HOMEOWNER
Value for the Cost
Composite decking reviews can sometimes focus primarily on material cost — but upfront costs aren't the only thing you'll need to consider.
Long-term costs such as maintenance, repairs, and replacement can rack up your decking costs substantially — if you have a traditional wood deck, that is. Compare long-term costs of low-maintenance TimberTech decking and traditional wood options to crunch the numbers yourself:
Costs Over 10 Years: TimberTech EDGE® Prime+ Collection vs Pressure-Treated Lumber

Costs Over 10 Years: TimberTech AZEK Vintage Collection® vs Ipe Hardwood 
NOTE: The estimated average cost of capped polymer deck boards, Ipe hardwood, capped composite deck boards, and pressure-treated lumber decking costs are based on the national average for a 16' x 20' deck. Meant for visual representation only. Actual costs may vary.
Nature-Inspired Color Options
Traditional wood comes in a wide variety of hues, grain patterns, and finishes — but all those hues will inevitably fade or discolor. If you think going with wood is the only way to get the natural nuances of color and textures you want, think again.
"Besides the overall beautiful appearance, I know I will never have to strip, stain, or seal my deck again!"
– GRADY C., AURORA, IN


HEAR FROM A
HOMEOWNER
TimberTech composite decking is designed with nature-inspired aesthetics to give you the look you want, with far superior performance. Our decking lines feature a wide selection of colors pulled from natural palettes, so you're bound to find the right color for your space.
And the best part? TimberTech decking maintains its rich hues for decades to come — with no staining required.
Get acquainted with how we achieve nature-inspired colors within our decking collections.
Cascading Color Blending
A high level of color variation gives you a one-of-a-kind deck with a reclaimed wood look where each board is unique.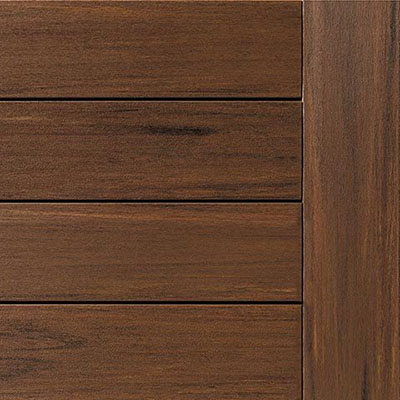 Advanced Color Blending
Advanced color blending gives you boards with subtle markings and color variation for a premium hardwood look.
Monochromatic Coloring
With consistent color throughout the board, you get a chic, painted wood look, ideal for a minimalist aesthetic.
"The color selection [from TimberTech] is more of what people actually want."
– SCOTT AT FANEUIL HOME IMPROVEMENT, NEW ENGLAND


HEAR FROM A
CONTRACTOR
The Composite Decking Reviews Are In — Those Who Choose the Best Choose TimberTech
TimberTech wins across the board in terms of performance, low maintenance, value, and aesthetics.
Now that you've explored composite decking reviews, you're ready to see for yourself what makes TimberTech better than the rest.
See our boards up close by ordering up to four free samples to be delivered right to your home. When you receive them, place them in the area your deck will be built so you can see the color in different lighting and feel the surface when in full sun.