Looking for backyard upgrades to suit your budget? We've got you covered with six groundbreaking ideas — ranging from greenery to grills to fire pits — to take your outdoor space from good to great.
Your backyard has so much more potential than a basic plot of soil and grass behind your house — it can be an outdoor oasis for family and friends. Composite decking is a great way to upgrade your backyard, but if you've already crossed that off your list and are looking to take your outdoor space to the next level, take inspiration from these varied backyard upgrades.
Whether you're looking for lower investment additions, mid-level projects, or higher investments to enhance your outdoor living space, we've got you covered. It's time to take your outdoor living space from good to great.
Low Investment
Greenery
One of the surest ways to spruce up a space, whether interior or exterior, is with the addition of greenery. Container-planted options like small trees, flowers, or succulents work great when paired with the enduring beauty of a TimberTech® capped polymer or capped composite deck.
Outdoor Deck Furniture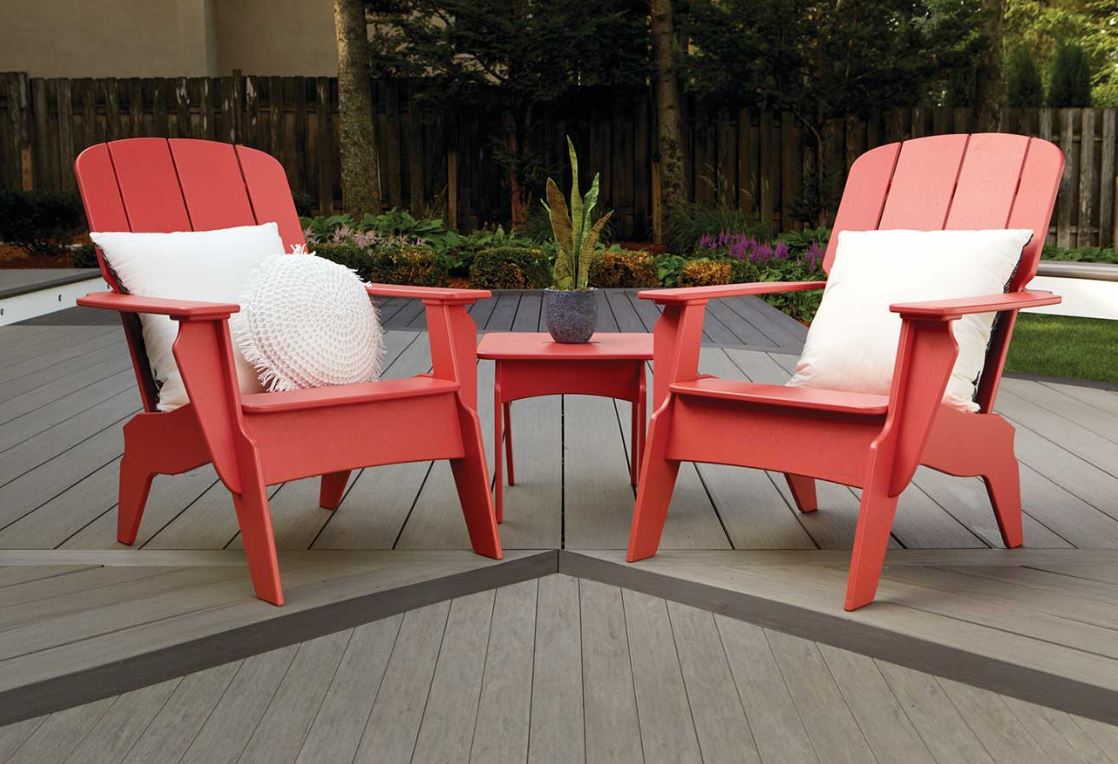 Nothing epitomizes relaxing on a beautiful day like lounge-ready deck furniture — and we have the outdoor living furniture line to draw people in. Our design-forward and comfort-perfected Invite Collection comes in a mix of bold and neutral hues, so you can find the right complementary pieces for your space. The collection is also defined by classic shapes and conveniently hidden fasteners. Best yet, just like our composite decking, our Invite Collection is super-durable and made from recycled material.
No matter what outdoor deck furniture you reach for, make sure the products are crafted from weather-resistant materials such as aluminum, resin wicker, and recycled plastic.
Medium Investment
Grill
For a little bit more of an investment in the realm of backyard upgrades, you can add a grill to your outdoor living space. Since there are always safety concerns when grilling — whether you're using a charcoal or gas grill — keep these tips in mind:
Make sure the grill is at least 10 feet away from deck railings, siding, and other heat-sensitive areas. The exact distance from the railing can vary depending on the type of grill and size. Most grill manufacturers will have recommendations for placement in proximity to vinyl siding.
Never leave your cooking unattended.
Store starter fluid away from heat sources.
Finally, remember to use protective plastic, rubber, or felt leg pads under free-standing grills to help protect the surface of your deck. Our capped composite and capped polymer decking have a high scratch-resistance rating, but these easy extra steps can provide additional protection. For grill mats, a natural fiber mat that does not hold moisture will provide the best protection.
Pavers
Pavers are a great way to bring the dimensionality and practicality of hardscaping to your outdoor living space. Historically, people used bricks, stone, or concrete as exterior flooring — but like all traditional materials, these other pavers were hard to replace and bad for water stagnation. Our TimberTech composite pavers come in three lines — standard, permeable, and resurfacing — and combine the natural beauty of traditional exterior flooring with innovative materials science. The comparative investment of pavers will of course depend on the scale of your project, but for an inviting walkway or landing, you can't go wrong.
Lightweight and moisture-resistant, composite pavers keep your steps clear of dirt, mud, and debris. Plus, they can help promote runoff and protect the substructure of your deck or patio, bolstering the integrity of your outdoor living space and keeping it inviting for years to come.
Higher Investment
Fire pit
If you're ready to truly transform the atmosphere of your composite deck, nothing says "backyard upgrades" quite like a fire pit. Fire pits can be permanent installations or portable additions, and you can choose between wood-fired or gas.
Just like a grill, fire pits require close attention to safety procedures and best practices. Before rounding up the kids for s'mores, remember:
Make sure your municipality has no laws or restrictions against open fires.
Avoid using soft woods like pine or cedar, as these can "pop" and emit sparks.
Wear fitted clothing.
Fire pits also punctuate a space, so make sure you choose a firepit design that aligns with your outdoor aesthetics.
Lighting
The mark of truly successful backyard upgrades? An outdoor living space that no one ever wants to leave. You can keep lively conversations going even after the stars come out with the addition of full-scale permanent outdoor lighting.
When it comes to giving your outdoor living space the glow up, there are ample options. Whether you prefer accent lights along posts, lighted caps or posts along your railing, or discreet riser lights to keep you stepping safely, TimberTech has everything you need to enhance visibility and safety.
Different types of lighting have varying degrees of installation difficulty, so it's always a good idea to visit your local dealer or retailer to learn more.
Now that you're steeped in ideas for backyard upgrades, you're ready to take your inspiration to the next level with our Deck Designer software. Explore deck plans, play with design, calculate possible costs, and even order free samples, all with one handy tool.
Backyard upgrades: on deck!
Turn Your Deck Dream Into Design
Play with shapes, colors, lighting, and railing to bring your deck ideas to life with our custom Deck Designer tool.