If you're considering building a new deck or revamping your existing deck, you may have run into the term "engineered decking" in your research.
Over the past few decades, engineered deck materials have been making significant headway in the decking market, challenging the historical market leader, traditional wood.
But what is engineered decking, and why choose it over wood? In a nutshell: Because Better Tech, Better Deck.™
What Is Engineered Decking?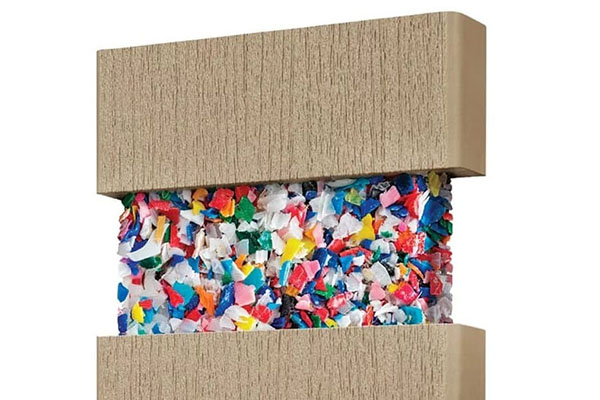 Engineered decking is a manufactured product made of both
organic and non-organic materials.
The advanced materials science behind these boards makes them far more durable than traditional wood.
Engineered decking refers to the marketplace category called "composite decking." Within the composite decking category, there are two types to know: capped polymer decking and capped composite decking.
Capped Polymer Decking
Capped polymer decking is a fully synthetic product made
from a majority of recycled plastics.
Capped Composite Decking
Capped composite decking features a durable core made of
recycled plastics and wood fibers covered by a 3- or 4-sided protective cap.
Why Choose Engineered Decking
So, how do you know if engineered decking is the right choice for you?
We'll cover the key factors you need to make your decision by evaluating the benefits of engineered decking that you can't get with wood, including:
Better performance
Long-term value
Enduring beauty
A more sustainable choice
Learn what each of these benefits means for you — and how they contribute to a better outdoor living experience.
Better Performance Than Wood
Thanks to its superior performance in relation to wood, engineered decking gives you greater peace of mind in your deck's durability — as well as far less maintenance to take on.
Why Is Wood No Good?
As an organic material, traditional wood — whether pressure-treated lumber or exotic hardwoods like Ipe — is vulnerable to moisture and UV exposure. Exposure to the elements causes not only aesthetic changes to a wood deck, like discoloration, but it can also cause rot, splitting, cupping, and other structural issues that make your deck unsafe.
But what if you keep up on a wood deck's routine maintenance, you ask?
Even with regular maintenance, your wood deck will still deteriorate over time — because no stain or sealer can keep out moisture for good.
Engineered deck materials offer you a more durable, longer-lasting alternative to traditional wood.
Enjoy Low-Maintenance Living
Forget the laborious and frequent maintenance needs of wood decking, like sanding, staining, and sealing. TimberTech engineered decking needs a periodic wash and rinse to keep it looking its best. So, lay out on your deck and soak in the sunshine — not the wet deck stain.
Long-Term Value
Traditional wood is often assumed to be the more affordable option versus engineered decking — but there's more to that story than meets the eye.
Why Wood Will Cost You More Long- Term
Because traditional wood is vulnerable to the elements, you'll need to perform strenuous and costly maintenance to keep it in top shape.
And even then, it is still prone to needing frequent repairs — and eventually, full replacement.
Opt for Decking With Long-Term Value
Choosing TimberTech composite decking means you'll enjoy cost savings over time.
How? TimberTech decking requires minimal maintenance and is unlikely to require costly repairs or replacements over time.
This means you can trust that your TimberTech deck will stand the test of time — without breaking the bank.
Enduring Beauty
Love the look of premium hardwoods and think engineered decking couldn't possibly compare? Think again.
Take a look at these samples of real hardwoods and capped polymer deck boards from the TimberTech® AZEK® Vintage Collection®, and ask yourself if you'd be able to pick out which is which:
So, what actually does separate these beauties in terms of aesthetics? Well, one boasts nature-inspired beauty that endures… and the other one is soon-to-fade hardwood.
Why Wood's Beauty Fades
All wood — from pressure-treated pine to premium hardwoods — will lose its luster in time. Weathering agents like UV rays and moisture cause the pigments in the boards to change, causing discoloration.
The cure? Wood deck stain or replenishing oil — but it's a temporary remedy.
Prefer to have a deck that retains its rich color for years to come? Choose engineered deck boards from TimberTech.
*Our TimberTech AZEK decking line offers a 50-Year Limited Fade & Stain Warranty, as well as a Lifetime Limited Product Warranty.
Sustainability
It may not be the first benefit you think of, but engineered decking is indeed a more sustainable option to traditional wood. From mitigating deforestation to reducing your exposure to harmful chemicals that may be found in traditional wood deck stains, engineered deck boards boast serious sustainability benefits.
Traditional Wood Is Far From Harmless
The very nature of pressure-treated lumber is that it is infused with potentially harmful chemicals to make it moisture- and insect-resistant. Add stain and sealer that contain volatile organic compounds (VOCs), and you've got quite the chemical cocktail.
Steer Clear of Harmful Products
TimberTech decking is manufactured without the potentially harmful chemicals required by pressure-treated lumber — and it offers superior durability for a longer-lasting deck.
Plus, our TimberTech DeckCleaner™ is biodegradable, so you can clean your deck worry-free.
Play a Role in Ending Deforestation
Keep your conscience clean by choosing engineered decking from TimberTech.
Made of a majority of recycled materials, TimberTech decking doesn't contribute to deforestation — which can't be said for wood decking, least of all exotic hardwoods like Ipe.
Not All Engineered Decking Is Created Equal
Now that you know engineered decking surpasses wood, you're ready to explore your engineered decking options.
But remember: Just like not all wood deck boards are the same, neither are all types of composite decking products.
Across the composite decking market are products with significant differences in performance, aesthetics, and value for the cost. To choose the best option for you, you'll need a head-to-head comparison of the top brands.
With the knowledge that TimberTech engineered decking delivers you the best in terms of performance, value, aesthetics, and sustainability, you're ready to start planning for your build or redesign.
Start by ordering up to four free samples of TimberTech decking to decide which color is the right fit for your space and preferences. Make sure to observe your samples in the area your deck will be built (or replaced) to get a feel for how it looks and feels, come rain or shine.
And see how TimberTech is engineered to deliver.