A herringbone deck pattern is an intricate, sophisticated pattern that will make your deck stand out from the crowd. The herringbone design is created by repeatedly laying two deck boards that meet at a 45-degree angle to the deck frame. Due to the tightness of the pattern, herringbone pairs best with larger decks that have the space for the pattern to recur.
WANT EVEN MORE PATTERN PLAY?
Get inspired with different deck board pattern ideas. EXPLORE THE SERIES
Substructure Needs for a Herringbone Pattern
To support a herringbone deck pattern securely, your substructure will require appropriate joist spacing and blocking.
The Importance of Joists
Because of the angle of the deck boards, herringbone patterning will require a combination of single and double joists (two joists installed side-by-side) to provide support where the ends of the boards meet. Specific substructure construction regarding joist spacing and blocking will depend on:
NOTE
Due to the intricacy of this pattern, we recommend working with a TimberTech-registered contractor who can ensure your deck's substructure and pattern are laid out properly.
How a Herringbone Design Elevates Your Space
A herringbone deck pattern creates a tight, textured pattern that exudes a sense of luxury. Because of its uniqueness, it elevates your deck design in several ways.
Breaks the Mold
Herringbone is pleasantly unexpected and adds visual interest in your deck. If you're looking to Go Against the Grain® with your deck design, a herringbone pattern is the way to go.
Keeps Your Space Design-Forward
The tight, woven textile look of a herringbone deck pattern brings dimensionality and the designer deck flooring trend to your outdoor living space.
Shows Off Your Style
A herringbone design delivers a truly striking feature that will wow guests. It also gives you a unique canvas to design around with furniture, decor, and greenery.
How to Customize Your Herringbone Pattern
Use different options in deck board size, color, and arrangement to customize your deck's herringbone design.
Use Multi-Width Decking
A herringbone deck pattern is usually constructed with narrow-width (3.5") boards to accentuate the tightness of the pattern. However, you can use standard-width or even wide-width boards for a larger pattern.
Go With a Patterned Inlay
A patterned inlay is a smaller section of your deck that features a pattern, while the rest of the boards are laid in a standard, single-width pattern. Combine herringbone with other patterned inlays for a look that's truly all your own.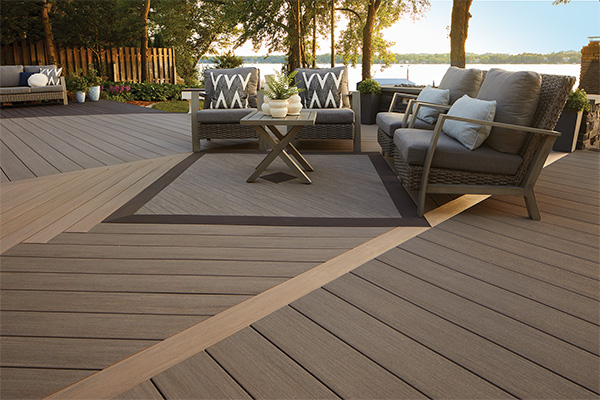 Choose Different Colors for Your Pattern
For a subtle textural difference, use the same color boards for the herringbone design as for the rest of the deck surface. Or, make the pattern pop by using different deck colors for the inlay.
Feeling adventurous and considering a herringbone deck pattern in your design? Partner with a TimberTech-registered contractor to discuss your vision and ensure your deck is built safely and to perfection.