Considering upgrading your backyard with a new composite deck — and wondering if you can DIY the build? (Spoiler: you likely can). Or, are you thinking of resurfacing your existing deck with low-maintenance decking? Before you begin, make sure you've asked yourself the right questions — and considered the variables that will influence your build — so you know if a DIY project is right for you.
Benefits of DIY-ing Your Composite Deck
---
✓ Saves you on labor costs
✓ Gives you complete control of your deck build
✓ Can be a challenging but fulfilling project
ALREADY KNOW YOU WILL DIY?
Jump into our Deck Building Resource Center for step-by-step tips and best practices, as well as guided install videos. EXPLORE
Step 1: Determine if You're Ready to Build Your Own Deck
The first step in your DIY composite deck journey is deciding if you're ready for it. The deck building process will vary depending on whether you're building a brand new structure, resurfacing an existing substructure, or extending your deck.
Questions to Ask Yourself Before Deciding to DIY Your Deck
---
Step 2: Choose the Right DIY Decking Materials
As far as the highest-performance DIY decking materials go, you have two primary options:
Capped Polymer Decking
Our premium decking option, made of fully engineered material with no wood, TimberTech Advanced PVC Decking™ offers:
Capped Composite Decking
A superior option made of organic and engineered material, TimberTech Composite Decking™ capped composite decking deliver:
Each of our decking lines boast superior performance vs traditional wood — with some differences across product lines.
Step 3: Design Your Composite Deck
When designing your DIY composite deck, there are several factors — and options for an easier build — that you'll want to consider:
Deck Height & Shape
Your deck height and shape will impact the time and effort involved in your DIY project.
For an easier build: Stick to a low- to mid-level deck to avoid installing stairs or a railing which increase the complexity of your build. Choose a simple shape such as a square or rectangle — classic, but far from boring.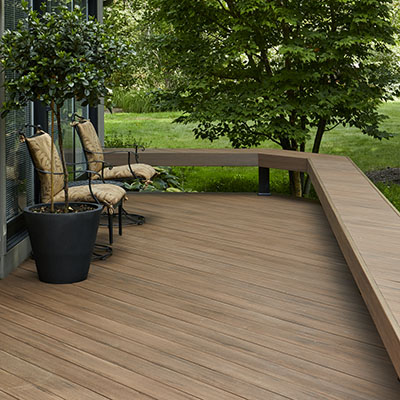 Deck Board Pattern
Blocking should be installed edge to edge to allow for fastening of the interior blocking.
For an easier build: Go with straight-laid deck boards. All patterns other than straight boards will require additional substructure framing and extra cuts and calculations, all of which increase build complexity.
Covering End-Cuts
Use the appropriate Toploc® fasteners to fasten through the outside of the joist. Note: TimberTech Advanced PVC and Composite fascia boards each use different fasteners.
For an easier build: Cover the ends with a fascia board raised to be flush with the deck.

For the most polished look, choose a picture frame border (pictured above) to finish you rends.
While deck board colors won't affect your installation, they do affect the overall look and feel of your deck.
Find the Right Color for You
From deeply saturated hues to light and bright tans, we have just the right color for your space.
Step 4: Get Familiar With Best Practices for Installing Composite Decking
TimberTech composite decking installation shares many of the same best practices as traditional wood installation — with some minor differences. Make sure you're familiar and comfortable with some of the processes you'll be undertaking in a DIY deck build before you commit to the project.
Substructure Framing
Standard deck joist spacing is 16" on center, or 12" for a more rigid feel — same as many traditional wood options. Blocking should be spaced every 4' to 6' in between joists, and joists should always be level and in-plane with one another and across the tops.
Get a firsthand look at substructure framing by watching the video.
Deck Board Spacing
Deck board spacing refers to the gaps between the sides and the ends of the boards. Proper spacing varies between wood and composite decking because the two materials expand and contract in different directions. Accurate deck board spacing will be crucial when DIYing your deck.
Fastener & Deck Board Pairings
Choose between top-down fasteners (like those used with traditional wood) or hidden clip fasteners. Keep in mind that certain fasteners only work with particular decking lines and board profiles.
For easy pairings, go with one of these popular combinations — and check out our instruction video for each to see the installation process and decide which is right for your DIY composite deck project.
Top-down fasteners
Screws hidden by plugs made of TimberTech deck boards
No pre-drilling required
TimberTech Advanced PVC Decking with TOPLoc® Color-Matched Screws
Top-down fasteners
Color-matched screws blend in with deck surface
No pre-drilling required
TimberTech Composite™ Decking with CONCEALoc®
Hidden Fasteners
Hidden clip fasteners between grooved boards
Fastener-free surface
Pneumatic install option
DISCOVER THE EASIEST WAY TO BUILD A DECK
With TimberTech AZEK capped polymer decking, top-down fasteners, and a panelized railing system. LEARN MORE
Step 5: Consider Your Railing Options
No DIY composite deck project would be complete without railing. Just like your composite decking options, TimberTech railing materials are designed with premium aesthetics and exceptional durability — which means minimal maintenance work for you.
Does My Deck Have Code-Related Railing Requirements?
If your deck is below 30" off the ground, it likely will not require a railing. If it's higher than 30" at any point in the design, then that section will require a railing for residential code compliance and safety. Always check with your local building codes for railing requirements.
Regardless of code requirements, you still may opt to choose a railing as a design element or for practical reasons like keeping guests from stepping off into your deck's beautifully landscaped perimeter.
DIY Considerations for Your Railing
The TimberTech railing portfolio offers numerous railing profiles as well as customization options to create a deck perimeter that's all your own.
But when it comes to DIY-ing deck railing, one of the most important considerations to think through is the difficulty level of railing installation. For a straightforward, easy railing installation, it's best to go with a panelized railing system.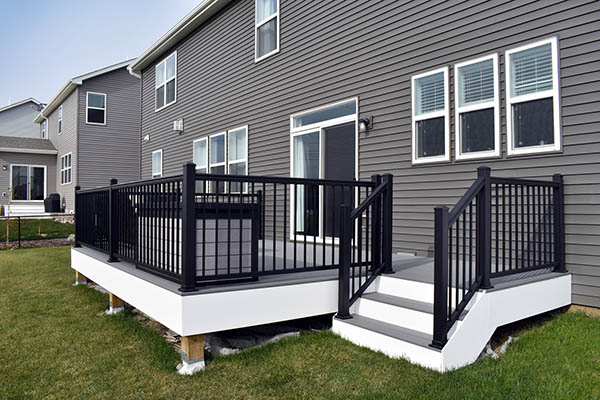 Choose the Easiest Railing Installation
Looking for a straightforward install that gives you a sleek, modern railing? Go with Impression Rail Express®. This panelized railing features pre-assembled railing sections so you can install the railing as one piece, rather than installing each individual baluster.
And yes — they work with stair angles, too.
Step 6: Think Through Deck Lighting
Once you have the bigger pieces like deck design and material figured out, you can start thinking about some of the details. Note that permanent deck lighting will likely need to be installed before you lay your deck surface. Always closely consult appropriate install guides, and make sure you are comfortable with, and knowledgeable of, electric wiring best practices.
Increase Ambiance & Safety With Deck Lights
Enjoy your deck after dark with deck lights. Deck lighting adds ambiance and improves safety through increased visibility.
Lighting options include temporary lights like string lights and permanent lighting for your deck surface and railing.
Permanent lighting may require a contractor to install.
PREFER TO WORK WITH A PRO?
Partner with a TimberTech-registered contractor who can ensure your deck is designed and built just the way you want it — and to code. FIND A CONTRACTOR
Step 7: Start Your DIY Composite Deck Project With Samples
With the guidance you need for your DIY composite deck project, you're ready to begin planning for your build. Get your creative juices flowing by ordering up to four free composite decking samples of your favorite colors. Be sure to place them all in the area your deck will be built to see how they look in different lighting throughout the day.