Your yard and deck have incredible potential to become top destinations for your family and friends — you just need the right backyard inspiration ideas to transform your space.
Creating the perfect outdoor living space where you and your loved ones can hang for hours at a time is more important now than ever before. That's why we've collected several backyard ideas to give you the inspiration you need to create your backyard paradise.
1.) Use Landscaping in Your Deck Design
Bring your landscape right up to your deck — or even on it — to create a smooth, seamless transition from home to yard.
Go for Natural Deck Skirting
Use hedges or bushes in place of traditional deck skirting for a softer, natural look.
The greenery around your deck will help it blend in seamlessly with your yard.
Bring Greenery to the Deck Surface
Bring greenery to your deck surface with potted plants of different shapes and sizes.
Choose spilling plants for an elegant, lush look, or upright plants for a clean, sophisticated finish that draws the eye upward.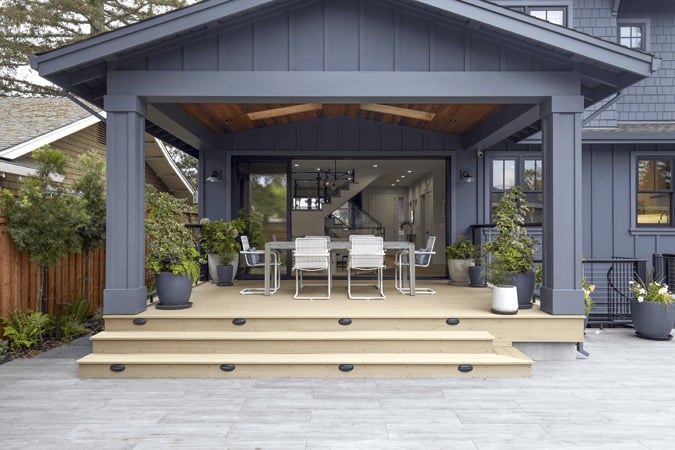 2.) Add Dimension to Your Space With Hardscaping
Combining hardscaping elements, like stones or pavers, with a polished deck design creates visual interest thanks to varied textures. Apply these tips to your backyard inspiration ideas for a more dimensional outdoor living space.
Create Dimension With Stepping Stones
Mix stone, wood, and soft greenery for a multi-textured look.
Slate stepping stones laid in a mosaic pattern are inviting and make for easier steps than a simple dirt path.
Go Traditional With Pavers
Create a simple, elegant hardscape with TimberTech® Pavers.
Opt for a traditional look with single-color pavers in a straight brick pattern, or add visual interest with greenery such as flowers and shrubs.
3.) Build an Outdoor Bar
Few things are as relaxing as sipping an ice-cold beverage on a warm, sunny day. Ensure you, your family, and your friends enjoy plenty of opportunities to quench your thirst with an outdoor bar on your deck.
The bar can be as simple as a cute bar cart you DIY with a few chairs around it or as elaborate as a fully designed structure with refrigeration. While there are plenty of simple DIY options out there, if you're leaning toward a more complex structure, it's best to work with a local contractor to ensure your bar is built to perfection.
4.) Take Movie Nights Outside
Take your family movie nights to the outdoors with a TV or projector in your backyard. While watching a film under the starry night sky might seem dreamy, a sudden rainstorm can kill the vibe — and short-circuit your electronics. To ensure you won't have to raincheck movie night, put your outdoor electronics under a secure — and stylish — covered deck feature.
Choose Optimal Comfort for the Whole Film
Make sure everyone is comfortable from the opening scene to the end credits with outdoor-ready comforts, such as:
5.) Consider Full or Partial Covered Deck Features
Take your backyard inspiration to new heights with a full or partial covered deck feature. Covered features can add dimension to your deck with their height and provide partial to full protection from the elements.
Awning
Awnings come in many different styles, from simple retractable canopies to more permanent structures. For a cohesive look, match your awning to your home exterior and outdoor decor.
Under Deck Space
Transform your under deck space into a new area to enjoy by adding a water management system you can install yourself. Create a cozy outdoor living room under your deck with an outdoor couch and coffee table.
Pergola
Pergolas, with their columns and slatted roofs, add elegance to your deck. Get more sun cover with a shade canopy or a climbing vine.
Now that you have the backyard inspiration you need for your project, it's time to start planning. Not sure where to begin? Let us help guide the way. TimberTech can connect you with our decking experts or professional contractors so you can get the insight you need to start your project.