As you search for the best material for your new deck build, you'll likely read about the many benefits composite decking offers over traditional wood. In addition to being a low-maintenance alternative, composite decking from TimberTech also offers color-rich boards with an authentic wood-like appearance — giving you the natural look you desire along with easy upkeep (and long-term cost savings, too).
What Is Composite Decking?
Composite decking refers to deck boards made from cores comprised of either 100% polymer material or a blend of organic wood flakes and plastics. Composite deck boards can be partially or fully encapsulated — meaning a 3- or 4-sided cap. Unlike traditional wood, most composite deck boards feature a structural layer of protection: the outer capping.
Pictured: A grooved composite deck board with protective capping on all 4 sides
TimberTech Goes Above the Competition
At TimberTech, we believe Better Tech, Better Deck™. Why?
✓ Industry-leading technology to ensure your deck has enduring beauty.
✓ All the nuanced beauty of nature, with realistic grain patterns, finishes, and color blending.
✓ Industry-leading warranties so you have total confidence in your composite deck from day one.
Benefits of Composite Decking: Why Leave Wood for Good
Unlike traditional wood, TimberTech composite deck boards have a core and a cap made with high-performance recycled materials and innovative technology for protection. This makes them resistant to moisture, weathering, and fading — the perfect combination for an outdoor oasis.
Traditional Wood
A weathered pressure-treated wood board. Even "protective" pressure treatments can't compare to the engineered capping of TimberTech composite decking.
TimberTech Decking
Both our capped composite and capped polymer deck boards feature 100% engineered caps that lock in beauty — and lock out moisture and the elements.
The benefits of TimberTech composite decking make it an ideal choice so you can enjoy a low-maintenance deck that will retain its rich color for many years to come.
1.) Enjoy More Time Outside With Less Overall Maintenance
One of the greatest benefits of composite decking is its minimal maintenance. Traditional wood decks need extensive upkeep every 1 to 3 years and will need to be replaced every 10 to 15 years — a labor intensive and costly process. Wood decks also require regular power-washing and staining to keep their color.
By comparison, TimberTech composite boards are easy to maintain, saving you time, effort, and overall costs. A TimberTech deck never needs sanding, staining, or sealing to maintain its lustrous color or protect against weathering agents. To remove dirt, dust, or pollen, a TimberTech deck will only need spot treatment or a proper cleaning with TimberTech® DeckCleaner™.
2.) Choose a More Durable Option Than Wood
When you shop for materials to build your deck, you'll find that you have options for both wood and composite decking. However, TimberTech composite deck boards are engineered to surpass wood — and the competition — thanks to its leading technology.
What Our Technology Means for You
---
A Protected Deck
✓ Mold, mildew, and moisture invasion won't be a concern thanks to protective capping and a proprietary material blend that resists moisture so mold and mildew can't grow.
✓ This also means that capped composite and capped polymer composite deck boards won't warp, split, or crack like traditional wood decks – a big benefit of composite decking compared to wood.
TimberTech has 3 innovative decking lines to choose from: TimberTech® AZEK®, TimberTech PRO®, and TimberTech EDGE®. Each line offers unrivaled design, functionality, and elegance — all protected by high-performance capping.
3.) Capture All the Beauty Of Real Wood — But Nix the Drawbacks
A concern you may have with using composite deck boards is the possibility of an inorganic, fake look or feel.
Not so with TimberTech decking.
Designed with realistic grain patterns, authentic color blending, and nature-inspired hues, TimberTech composite decking innovates beyond the plastic-y-looking deck material found in competing brands.
Realistic Grain Patterns
Embrace the textured look of real wood thanks to grain patterns ranging from classic cathedral to uniquely hand-scraped.
Authentic Color Blending
Enjoy the nuanced colors you associate with real wood with options including board-to-board color variation.
Nature-Inspired Hues
Each of our deck lines is inspired by nature, so you can trust your engineered deck captures all the colors you'd expect in the great outdoors. Plus, you can customize your deck to match your outdoor scenery.
4.) Enjoy High-Performance & Durable Decking
Wood decks require a lot of maintenance that can not only exhaust your energy, but also your finances. In as little as six months, the original luster of wood boards can fade due to exposure to UV rays, precipitation, and other weathering agents.
By contrast, TimberTech composite deck boards are designed to stay beautiful long after their original installation.
TimberTech
After six months of outdoor weathering, the TimberTech AZEK samples on the lower left and the lower middle, and the TimberTech PRO sample on the lower right, maintain an attractive appearance like their control samples above.
Every TimberTech decking line is engineered to lock in color, defend against erosion, and stay looking and performing great for longer.
Traditional Wood
Six months of outdoor weathering can do a lot of damage to traditional wood. These samples (cedar, treated pine, and mahogany) are clearly faded from their original color (upper samples) after being exposed to the elements.
Traditional wood decks — including pressure-treated wood — will fade, crack, cup, or splinter over time. Even premium hardwoods like Ipe will be noticeably affected by the elements.
The Pain of Stain
Staining your deck might not sound like a huge project — but how about when you have to repeat the whole process every 1 to 3 years?
Add in the eventual need to replace your wood deck, and your deck suddenly goes from "haven" to "have-to."
Engineered with incredible durability, TimberTech composite deck boards are built to look and stay beautiful year-round with minimal maintenance. Backed by industry-leading warranties, TimberTech decks resist weathering and protect against the durability-reducing culprit — moisture — so you can enjoy an inviting, color-rich deck that is as beautiful as it was the day it was built.
Beauty Backed By Competitive Warranties
---
We believe a deck should stand the test of time. And we back that up with unprecedented warranties. Of course, when you build the best products, backing them up is easy.
Backed by an industry-best Lifetime Limited Product Warranty and our 50-Year Limited Fade & Stain Warranty.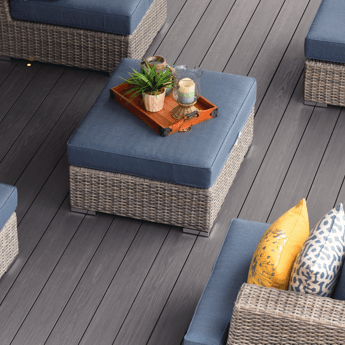 Backed by a 30-Year Limited Product Warranty and our 30-Year Fade & Stain Warranty.
Backed by a 25-Year Limited Product Warranty and our 25-Year Fade & Stain Warranty.
5.) Claim Long-Term Value & Minimize Costs
The long-term benefits of composite decking often outweigh the cheaper cost of a traditional wood deck. Initially, the cost of a composite deck can be higher than a wood deck. However, once you factor in the costs for maintenance, re-coloring, re-staining, and repair on a wood deck, a composite deck can offer more long-term savings.
The takeaway: In a matter of years, a composite deck can pay for itself while you enjoy its sustained rich color and minimal maintenance.
Estimated Upfront & Long-Term Costs By Deck Material
---
Estimated Upfront Costs of Ipe Premium Hardwood vs TimberTech AZEK® Decking – Vintage Collection®

Estimated 10-Year Costs of Ipe Premium Hardwood vs TimberTech AZEK® Decking – Vintage Collection®

Estimated Upfront Costs of Pressure-Treated Lumber vs TimberTech EDGE® Decking – Prime+ Collection

Estimated 10-Year Costs of Pressure-Treated Lumber vs TimberTech EDGE® Decking – Prime+ Collection
NOTE: The estimated average cost of capped polymer deck boards, Ipe hardwood, capped composite deck boards, and pressure-treated lumber decking costs are based on the national average for a 16' x 20' deck. Meant for visual representation only. Actual costs may vary.
6.) Choose a More Sustainable Decking Product
For many years, a wood deck was the only choice if you wanted to design an outdoor getaway. However, this meant that millions of trees were lost to the production and maintenance of wood decks nationwide.
With TimberTech, you can enjoy a beautiful outdoor living space that both looks good and does good.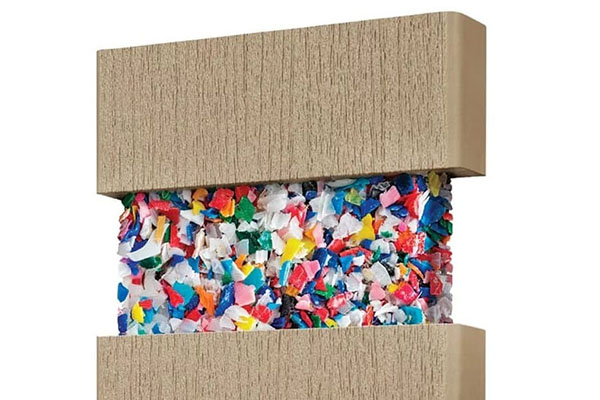 Sustainability Is at Our Core
TimberTech is dedicated to using recycled materials to make a lasting impact.
We diverted approximately 500 million pounds of waste and scrap from landfills in 2021.
We have helped save over 3 million trees since 2001.
We recycle up to 97% of the water in our facilities.
At TimberTech, we bring sustainable deck materials to life.
We use up to 80% recycled materials in our capped composite decking, with 100% recycled wood and plastic materials in the core of our capped composite lines. In fact, we've saved over 1 million trees since 2015 thanks to homeowners like you choosing composite decking over wood.
How Recycled Decking Material Benefits You
---
Gives You High-Value, Low-Maintenance Solutions
Our products require no sanding, staining, or sealing for protection. These processes are costly and can release potentially harmful volatile organic compounds (VOCs).
Delivers Enduring Beauty
Our decking boasts the nature-inspired colors and grain patterns of real wood, without the fading, staining, and weathering associated with traditional lumber.
Helps You First Home, the Planet
Choosing boards made from recycled material means you refrain from contributing to harmful deforestation and instead support a more sustainable future.
Build Your Next Deck With TimberTech
There are many benefits to choosing composite decking for your next home build. TimberTech composite decking pays for itself with minimal maintenance, lasting durability, and sustainable impacts. Experience our color-rich boards and find the right grain pattern for your home when you order free samples and connect with a contractor to bring your yard to life.