You know traditional lumber isn't your only choice for your backyard build — but when it comes to understanding your composite decking material choices, how do you decide?
We've made it easy to explore your composite decking options, see similarities and differences across materials and determine just which decking line is the best for you.
What Is Composite Decking Material?
Pictured: Tigerwood board from the TimberTech PRO® Legacy Collection
TimberTech Capped Composite Decking

Core is made of a mix of recycled wood fibers and synthetic deck material like post-consumer polymers. The cap is made up of 100% polymers.
Pictured: Weathered Teak® board from the TimberTech® AZEK® Vintage Collection®
TimberTech Capped Polymer Decking

Made of 100% synthetic deck material from core to cap, and absolutely no wood.
Where Does 'PVC Decking' Fit In?
Another common term you may hear within discussions of "composite decking" options is PVC decking.
Occasionally, a speaker or a third party will say "PVC decking" when referring to TimberTech capped polymer boards because both are fully synthetic deck material options that contain 0% organic material (that means no wood flakes for moisture to invade).
That said, it's important to note that there are key differences between PVC decking and TimberTech capped polymer decking:
Pictured: PVC decking shows serious signs of warping from extreme exposure
PVC Decking
Can look fake and "plastic-y"
Gets hot in the sun
Comes with concerns about sustainability
Pictured: Weathered Teak® board from the TimberTech® AZEK® Vintage Collection®
TimberTech Capped Polymer Decking
Captures the most realistic wood looks
Stays up to 30° F cooler in the sun*
Is made of approximately 50% recycled synthetic deck material
*Although TimberTech AZEK decking products are cooler to the touch than many other composite deck board products, all decking products will get hot in the sun. Additionally, the darker the decking color, the hotter it will feel. For hotter climates, consider choosing a lighter color.
Why Does Capping Matter So Much for Composite Decking Material?
One of the primary reasons you would choose a composite decking material over traditional lumber is because you know it's engineered to outperform regular wood. There are several reasons for composite decking's comparatively superior performance — but the first one to be familiar with? Prot­ective capping.
Capping 101
When thinking about the durability and performance of any engineered decking product, you'll first want to consider capping.
"CAPPING": A protective layer of engineered synthetic deck material specifically designed to protect the deck board from moisture, mildew, and insect invasion.
Understanding the Core & Cap
COMPOSITE DECK BOARD CORE

We make the CORE of our capped composite deck boards from a mix of post-consumer plastics and recycled lumber.

COMPOSITE DECK BOARD CAP

The CAP is made from a high-performance proprietary polymer blend. This protects the boards against invasion by moisture, the fading effects of UV rays, and other factors that contribute to erosion.
Some composite decking products are uncapped; many on the market are capped on 3 sides of the board. TimberTech offers both 3- and 4-sided capped boards. What's more, we use only high-performance virgin polymers in our capping — not a mix of materials that may have already been subject to wear and tear in their initial applications.
TimberTech
Only offers capped composite and capped polymer decking options
Offers both 3- and 4-sided capped boards
Uses only virgin material in our caps for optimal performance
The Other Guys
Some offer uncapped composite decking — so you're building with an exposed core
Typically only cap 3 of the 4 sides of the board
May use recycled wood and/or plastic in their caps
Not All Capping Is Created Equal
Pictured: A close-up of a Trex deck board which reveals the exposed wood flakes in the capping.

THE COMPETITION

Some caps still have wood fibers in them, such as in competitor decking (pictured). Being exposed to the elements means these wood fibers lighten over time, giving your deck boards an unsightly speckled look. And what's worse, the boards already look fake and plastic-y — far from the beauty of traditional wood.

Pictured: A grooved TimberTech capped composite deck board featuring a 4-sided cap that runs through the groove

YOUR DECKING SOLUTION

The proprietary polymer blend in the caps of all TimberTech deck boards — plus the formula of our boards themselves — means exceptional moisture and weathering resistance. So you get a deck that's built to last for decades.
Is Composite Decking Material Really That Much Better Than Wood?
In a word? Yes.
While it may seem like the affordable, safe, natural option, traditional wood is actually more complicated — and more costly — than it first appears.
Issues With Wood Decking
Affordable?
Wood's fading aesthetics mean costly, unending maintenance needs. Even the most beautiful wood deck quickly goes from being a retreat to yet another item on the to-do list — and your monthly credit card statement.
Safe?
Despite being an organic material, wood is far from safe. Pressure-treated lumber is infused with chemicals to make it moisture- and insect-resistant. Plus, many wood deck stains contain volatile organic compounds (VOCs), which can be harmful to inhale.
All-Natural?
"Wood is natural, so it's sustainable, right?" Wrong. Wood decking causes deforestation, including in some of the world's most treasured habitats, like the Amazon. Not exactly a greater, greener future.
What Brand of Composite Decking Is Best?
You know that composite decking material is better than wood — but which type of composite decking is best? When it comes to innovation, not all composite or synthetic deck material options have been developed to the same standards. Our competitors lag behind in terms of technology, performance, and aesthetics.
WHEN YOU COMPARE, THERE'S NO COMPARISON
See how TimberTech takes the top spot among competitive composite decking. LEARN MORE
Thanks to our advanced materials science, TimberTech decking delivers the unbeatable durability, realistic wood looks, and long-term value our competitors can only dream of. The result? Decking that gives you the looks you want with the performance you need.
*Although TimberTech AZEK decking products are cooler to the touch than many other composite deck board products, all decking products will get hot in the sun. Additionally, the darker the decking color, the hotter it will feel. For hotter climates, consider choosing a lighter color.
And if you want the very best of the best all-around composite or synthetic deck material? You want TimberTech AZEK capped polymer decking.
Durability & Performance Winner: TimberTech, Wood, or Competitor?
When it comes to durability and performance, composite decking material really shines in comparison to traditional wood. Just take a look at two sets of exposed samples: one of TimberTech AZEK decking, and the other of Ipe hardwood.
TimberTech vs Wood: Exposure Test
---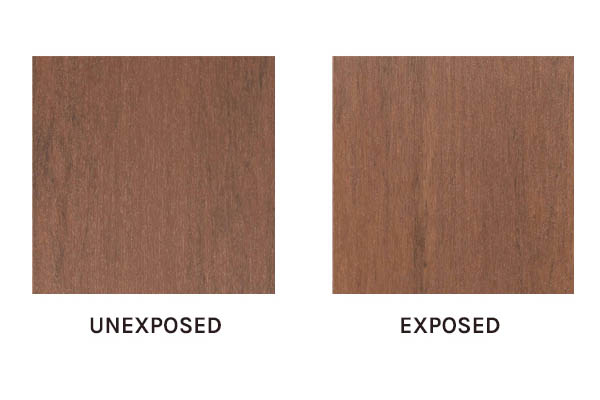 TimberTech AZEK Exposure Test
Ipe Wood Exposure Test
*LEFT: TimberTech AZEK® decking control on the left and test sample on the right after third-party UV exposure test. The lab test was conducted per ASTM D2244 and ASTMG154 standard on material purchased from consumer channels. Samples tested in weatherometer chamber for a total of 2,150 hours; subjected to cycles of 8 hours of UV radiation followed by 4 hours of darkness to ASTM specs.
RIGHT: Ipe exposure tests demonstrate results of internal testing whereby the Ipe wood samples were placed on a rooftop and left exposed to the elements continuously for approximately 11 months.
And the best part? Our high-performance decking doesn't just translate to an enduringly beautiful deck.
A TimberTech deck allows you to live your best life in the Great Outdoors by giving you a low-maintenance, durable haven you can spend more time enjoying than working on.
Before TimberTech
Despite regular maintenance, wood decking will discolor, crack, rot, and splinter, making it an eyesore — and a hazardous place for bare feet.
After TimberTech
With TimberTech, you get an enduringly beautiful, relaxing oasis that's easy on the eyes, and safe for feet (and paws).
Composite Decking Material: How to Assess Cost vs Value
When it comes to composite decking material cost, there are two important factors to consider: upfront costs and long-term value.
Upfront Costs
The upfront costs of composite decking material — and engineered synthetic deck material like TimberTech AZEK — are often discussed as higher than traditional wood options. The reality? Only marginally so. This is even true of premium options like Brazilian Ipe*:
Estimated Upfront Costs of Ipe Premium Hardwood vs TimberTech AZEK® Decking – Vintage Collection®
Long-Term Value
TimberTech capped composite and capped polymer decking actually helps you save money over time.
How? It all boils down to maintenance. Traditional wood — whether pressure-treated lumber, or an exotic hardwood like Ipe — require rigorous, costly maintenance every year for the deck's entire lifespan. In short, wood deck cost adds up quickly.
Estimated 10-Year Costs of Ipe Premium Hardwood vs TimberTech AZEK® Decking – Vintage Collection®
*NOTE: The estimated average cost of capped polymer deck boards, Ipe hardwood, capped composite deck boards, and pressure-treated lumber decking costs are based on the national average for a 16' x 20' deck. Meant for visual representation only. Actual costs may vary.
What's more, not only does TimberTech decking reduce your overall deck costs over time, but it also reduces costs to the planet.
Reducing Cost to the Planet With TimberTech
All traditional wood options contribute to deforestation, some in the world's most precious ecosystems. With TimberTech decking, you get the beauty of real wood, without the harm.
By choosing composite decking material, you don't just get a gorgeous, safe space to enjoy the Great Outdoors. You also get peace of mind knowing you're helping to keep the planet beyond your backyard beautiful as well. And with TimberTech, you can be sure that you're helping to contribute to a better future with sustainably manufactured decking.
MADE WITH A MAJORITY RECYCLED DECKING MATERIAL
Learn how TimberTech decking isn't just the sustainable choice — but the superior one, too. LEARN MORE
Your Best Composite Decking Material Choice? TimberTech
See our nature-inspired deck board colors and feel the durability yourself by ordering free samples. Be sure to place the samples outdoors to get a true sense for how they'll look in different lighting — and how they'll perform in the elements.