As one of the first things visitors will see, your front porch is a place to showcase your design personality. Sometimes, though, this can feel less inspiring and more high-pressure — unless, of course, you have the front porch decorating ideas you need to lock in the look that's right for you.
The right design and décor elements can elevate your curb appeal and make your home's entryway more inviting — which can positively impact your home's value.
Before you dive into front porch decorating ideas, get quick planning tips to help guide your redesign project.
Factors to Keep in Mind When Planning Your Porch Redesign
Your Home's Interior Design
As a transitional space that links the indoors to the outdoors, your porch design should complement your interior design.
How You'll Use the Porch
For an effortlessly functional space, your porch should accommodate your planned activities, whether dining, lounging, or simply ushering guests in and out.
Your Available Space
How much space is available in your current porch design will affect what kind of functions you can plan for the space, and in turn, how you design and decorate the space.
Front Porch Deck Ideas to Decorate Your Space
These front porch decorating ideas are highly varied and versatile to suit not only your style but also different outdoor living spaces. In fact, many of them can be applied to your porch, deck, or patio design.
As you explore these front porch deck ideas, ranging from simple tips for color schemes to larger scale structural projects, be sure to keep your budget as well as the scope of your project in mind.
1.) Establish a Color Palette
The colors you use to bring your front porch decorating ideas to life affect not only the look of the space, but also how you experience it. Lighter, bright colors tend to feel energetic and airy while darker colors evoke coziness and tranquility.
Color schemes typically consist of a primary, secondary, and tertiary color. For a cohesive aesthetic and seamless transition from indoors out, weave a color or two from your interior design into your outdoor décor. Also be sure to think about how the colors used in your front porch deck ideas can complement your home exterior color scheme.
Color Palette Ideas
LIGHT, BRIGHT & AIRY


Capture a breezy, coastal feel with a color scheme that uses whites, blues, and natural wood tones. Light colored porch boards like Oyster® give you a bright, neutral foundation to work in your secondary and tertiary colors.  

DARK, WARM & INVITING


Create a tranquil, cozy space with deep, rich porch boards like Dark Hickory. Keep things warm and inviting with other richly hued colors like dark natural wood tones in your outdoor furniture. Add a touch of brightness with colorful décor pieces like light blue cushions and throw pillows.

HIGH-CONTRAST, DYNAMIC & BOLD


For a striking aesthetic, opt for a high-contrast color scheme. Mix and match furniture and décor of white and black to create a sharp, modern look. To soften the scene and lend warmth to the space, choose sunny tan porch boards like Weathered Teak®.
2.) Create a Focal Point
Your front porch decorating ideas should reflect the core tenants of interior design, one of which is to create a focal point. A focal point draws the eye in and visually anchors your space for a pleasing look and feel. Focal points can be anything from a conversation-starting piece of furniture to a boldly colored front door.
An Ornate Coffee Table

 

Create eye-catching visual interest and give your guests something to talk about with an ornate, uniquely designed coffee table. Keep the rest of your furniture and décor simple and clean in comparison to prevent other pieces from competing with your focal point. Doing so will also prevent your space from feeling too busy.

A Brightly Colored Front Door

Draw your guests into your home with a colorful front door. Your front door is the natural focal point of your porch but painting it an attractive color that stands out from the rest of your home exterior makes it all the more alluring.
3.) Choose Indoor-Inspired Décor & Furniture for Comfort & Style
Want to incorporate the cozy, intimate feel of the indoors into your front porch decorating ideas? Opt for cushioned furniture with indoor-inspired designs to bring home comforts to the outdoors. Cushioned outdoor furniture is particularly suited for a front porch setting where overhead protection will keep your pieces from experiencing the worst of inclement weather. You can also consider adding indoor-inspired décor pieces such as throw pillows, blankets, and vases to evoke the warmth and comfort of your indoor living room.
4.) Go Green With Potted Plants
With their vibrant colors and textural variety, plants are a great consideration for your front porch deck ideas — plus they're perfectly suited for the outdoors. With a porch roof, you have the option to choose hanging planters in addition to standing planters on your porch floor. For hanging planters, consider spiller plants that cascade over the sides of their container for a lush, botanical garden feel.
SUSTAINABILITY TIP
Choose native plants for less maintenance on your part thanks to their natural hardiness to the local climate — which often means less water usage, too.
5.) Designate Specific Areas for Specific Functions
Looking for front porch deck ideas that increase the functionality of your space? With a larger outdoor living area, you can designate separate areas for specific uses to optimize functionality.
Designate Space With Furniture Placement
For functional front porch decorating ideas, consider using furniture to help designate space for different uses, such as a dining area and lounge area. Make sure to place furniture so there is plenty of room for free movement between the different sections. This will help to keep your space feeling open, even with a greater number of furniture pieces.
Designate Space With Porch & Deck Board Designs
In the same way you place furniture to physically create gathering places for different functions, you can also use porch or deck boards arranged in a specific pattern to visually demarcate sections. Discover front porch deck ideas featuring board patterns to create functional boundaries, no matter your porch size.
USE SPLICE BOARDS

Splice boards are those that run at an angle (often perpendicular) to the rest of your porch or deck surface. They are a simple, effective way to divide up your porch into sections, such as separating the entryway from a sitting area.

INLAY A PATTERN

Using an inlaid pattern such as herringbone helps to visually demarcate a section of your porch, such as the entryway to your home or a gathering place. Plus, the pattern is highly textural for a sophisticated appearance.
6.) Upgrade Your Porch Flooring
Your porch boards are both the literal and aesthetic foundation of your front porch. The color and texture of your porch boards sets the tone for the rest of your front porch decorating ideas. To capture the most realistic wood look while minimizing your maintenance efforts, consider upgrading to TimberTech capped polymer porch boards.
Benefits of TimberTech Porch
✓ Authentic wood look thanks to nature-inspired colors and grain patterns.
✓ Exceptional durability thanks to engineering with advanced materials science.
✓ Low maintenance for effortless outdoor living. 
✓ Multi-width options including standard- (3.13") and wide- (5.5") width boards.
7.) Go for a New Porch Railing Design
A railing is more than a safety feature or functional piece of your porch — it's a design element all its own. When thinking through front porch decorating ideas, consider how the materials and colors you choose for your railing will help to create a specific aesthetic for your porch perimeter.
Modern Scandinavian-Inspired Railing
Capture a Scandi-inspired design in your railing with mixed materials. Choose the Classic Composite Series Drink Rail with a deck board top rail for a natural wood tone, matte white composite posts, and black aluminum balusters. The mix of colors and materials gives your railing a dynamic, multi-textured aesthetic.
Traditional Crisp White Railing
Looking for a more classic look? Choose a traditional-style white composite railing such as the Premier Rail (pictured). The elegant, milled-wood look of the railing and posts delivers a natural aesthetic, while the composite material gives you durability with low-maintenance needs.
8.) Create a Stately Entryway With Column Wraps
Elevate your porch design with crisp why PVC column wraps. Choose from straight, classic wraps or opt for tapered designs for a more artisanal, craftsman-inspired feel.
Straight Column Wrap
A straight column gives you sleek, horizontal lines that add dimension to your porch design. Their versatile shape means these columns will suit most home exterior styles.
For more intricacy in your design, opt for elegant crown moulding at the top and bottom of your columns.
Tapered Column Wrap
Tapered columns refer to those that are wide at the bottom and narrow as they reach your porch roof.
These types of columns are common for craftsman-style homes that naturally feature an artisanal look. However, they can work for any home that features a unique, character-rich style.
9.) Polish Your Porch With Beadboard Ceiling
One of the key architectural features of a porch is its roof. While you may be focused on the aesthetics of your porch floor and railing, the ceiling shouldn't be forgotten. For a clean, fresh new look, consider adding a PVC beadboard ceiling from AZEK Exteriors. AZEK® beadboard features the same bead design as traditional wood without wood's vulnerability to moisture damage and the elements.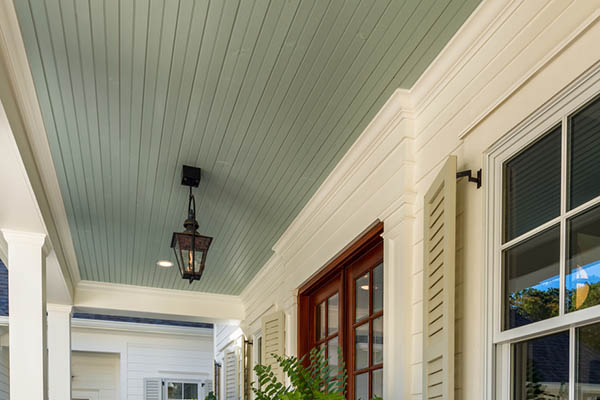 Paint Your Ceiling
While AZEK beadboard comes in a crisp semimatte white finish, you can also paint it for a look all your own. Choose a light color like blue for a bright, open, inviting look that matches the daytime sky. Darker tones can add more character to your ceiling and help the space feel warm and cozy.
10.) Discover More Front Porch Decorating Ideas to Fuel Your Creativity
Now that you have the front porch decorating ideas you need to jumpstart your creativity, it's time to dive deeper into more inspiration. Explore our Inspiration Gallery for more front porch deck ideas to draw even more inspiration for so you can create a front porch look that's all yours.